The recent rally abruptly came to an end yesterday as the market reversed down from key resistance levels. It takes a lot to reverse a major trend in any market and that's why I have been bearish for quite some time on many of the big stocks. Based on the Trade Triangle technology, I feel that we are going to see continued downward pressure on the markets.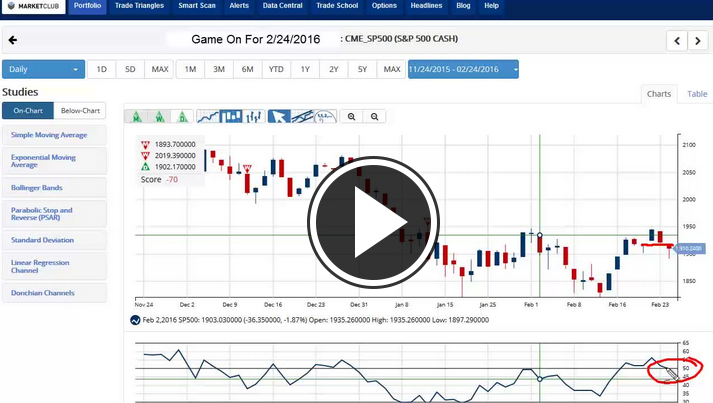 One of the outstanding features of a bear market is that they don't let you out easily. Anyone who bought stocks in the last few days thinking that the market was going to go back up to the highs are now trapped holding losing positions.
A Big Dirty Secret
It would appear as though Saudi Arabia is making the world dance to their tune based on oil prices. There is no question about it, Saudi Arabia is the low-cost producer of oil in the world. What that means is they can pressure other oil-producing entities around the world to make it uneconomical for them to produce oil. It is also a way for Saudi Arabia to put them out of business as the cost of producing oil exceeds what they can sell it for. All done without firing a shot!
Fast-forward that and many of the banks here in the US have loans out to oil production companies. Some of these loans are very solid, but there could be as much 40 to 50% of those loans that are on somewhat less than solid footing. Once this information becomes more public, it could create more problems for the banks and the markets psychologically.
It would appear as though the stock market is married to the price of oil and if the oil market continues to act in a negative fashion and the correlation continues, it will pull down all markets.
What To Do?
The key here is to stay cool and trust the Trade Triangles, remember they are a non-emotional algorithm the doesn't care about the banks, the election or anything else. MarketClub's Trade Triangles simply follow what the markets are telling them and this market-proven strategy pays off over time with nice profits.
Yesterday I talked about Alphabet Inc. (NASDAQ:GOOG), Apple Inc. (NASDAQ:AAPL), Tesla Motors Inc (NASDAQ:TSLA) and The Walt Disney Company (NYSE:DIS). I believe that all of these stocks will continue to be in a longer-term negative trend and I expect to see them all move lower in the weeks and months ahead.
Anadarko Petroleum Corporation (NYSE:APC) triggered a weekly sell signal today and looks set to challenge the lows of around $28 to $30.
Another stock that looks negative is EQT Corporation (NYSE:EQT). It triggered a sell signal today and broke below a key level of support and completed a Twin Peaks top.
I will be looking at both of these stocks today and giving my downside targets.
Stay focused and disciplined.
Every success with MarketClub,
Adam Hewison
President, INO.com
Co-Creator, MarketClub