What do I mean by that?
To put it simply, sometimes being on the sidelines in a cash position can be beneficial to your portfolio. There are times in the market when trends are very clear, whether it be up or down. At the moment when you look at the DOW Index, the Trade Triangle technology is indicating that you should be on the sidelines as the major trend remains down while the intermediate-term trend is positive. Over at the NASDAQ and the S&P 500, you should still be negative on those indices, providing the 4,636.93 and 1947.20 levels are not breached to the upside.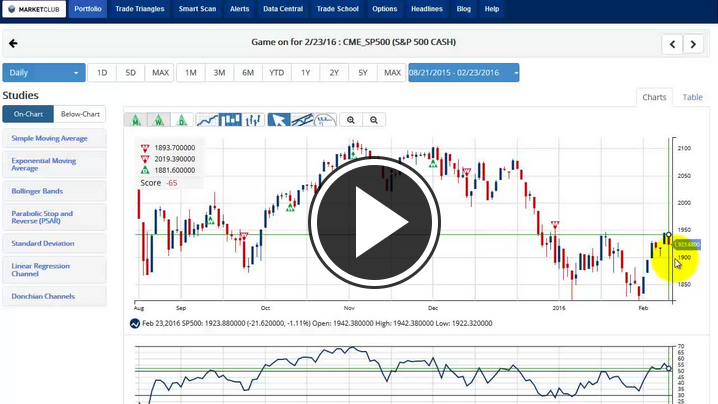 Today could be a very interesting day, we could see the recent upward momentum reverse back down and witness a pullback in the major indices and many stocks that have recently rallied against their longer-term negative trends.
Here are a few of the stocks I'm covering today.
Alphabet Inc. (NASDAQ:GOOG) - One level to be watching is $694.05. A move below that area today will begin to put more downside pressure on the stock.
Apple Inc. (NASDAQ:AAPL) - Is not only battling the FBI, but also market forces as the glow is coming off its iPhone franchise. I will be watching this stock for a move below the $95.80 support level, which will begin to put more downside pressure on the stock.
Tesla Motors Inc. (NASDAQ:TSLA) - Cheap gas in the pipeline is going to spell major problems for this electric car company. Technically speaking Tesla has created what I call a twin mountain top and a pivot point. Measuring down from that formation gives a target zone of approximately $100 a share. I also have a Fibonacci retracement to the downside of $124.74. The other negative is the fact that it is up against the RSI 50 line which should offer resistance at the current levels. Both the weekly and monthly Trade Triangles are negative on Tesla.
The Walt Disney Company (NYSE:DIS) - The Trade Triangles are currently neutral which means the longer-term trend remains negative. However, the intermediate term trend is positive. Disney has resistance at the $97.42 level and a move below $94.56 would begin to put downside pressure on it.
Gold (FOREX:XAUUSDO) - If you missed my analysis in gold yesterday, check it out here.
Crude Oil (NYMEX:CL.J16.E) - A move today below the $31.60 level will once again put downside pressure on crude oil and trigger a red daily Trade Triangle. I believe that this market is trying to put in a base, but it is too early to confirm that.
Stay focused and disciplined.
Every success with MarketClub,
Adam Hewison
President, INO.com
Co-Creator, MarketClub