If you've payed any attention to the markets so far this year, it comes as no surprise that we're teetering on the edge of a major bearish reversal after many years in a bull market. The broader indexes are all down for the year and volatility is on the rise. With all the negative action going on right now, a stock that's on its way up stands out.
Stocks that outperform when the major averages are under performing deserve a closer examination. In order to appreciate amidst the storm of bearish momentum, these companies are generally doing something very right.
One company is undergoing a radical transformation and it's stock price is already beginning to show it. Despite all the negative macroeconomic news, this high-end retailer is belting out upside earnings surprises and growing sales both domestically and internationally – including China.
One high-end retailer has been achieving great success in reinventing its brand and appealing to a wider consumer base. It's a strategy that's paying off, especially in countries with a fast growing middle class like China. Considering the string of analyst upgrades the stock has been receiving over the past couple of months, it seems safe to assume that this turnaround story has only just begun.
A Luxury Brand That's Going Against The Prevailing Winds
Coach Inc. (NYSE:COH) is a $10 billion high-end luxury footwear and accessory company with over 1,000 directly operated stores in five continents. The Coach brand is a name associated with high-end handbags, footwear, and other accessories and has been undergoing a process of reinventing itself after a period of lackluster performance.
The company recently reported an earnings beat of $0.68 per share compared to analysts estimates of $0.66 per share. While the beat wasn't extreme, it represents the 8th straight quarter of beating estimates. Sales grew in the 2nd quarter by 4.4% year-over-year while overall sales met expectations at $1.3 billion.
A look at Coach's chart shows us how quickly the stock price has responded to the latest earnings report.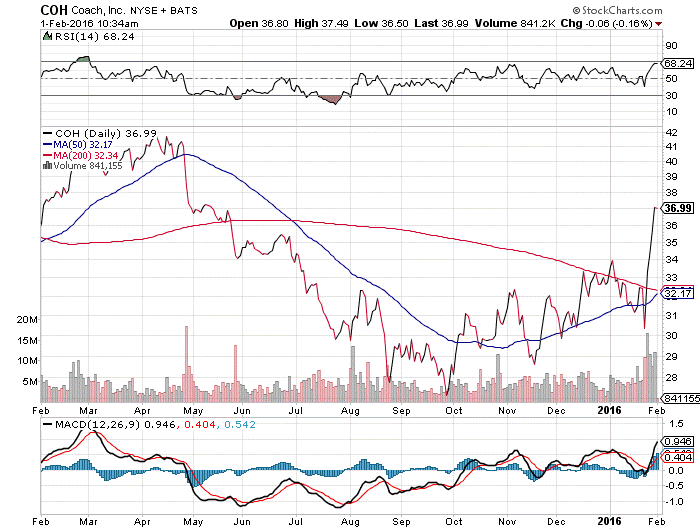 Chart courtesy of StockCharts.com
In the past week, the stock has soared over 14%. Notice how close the 50-day moving average is to crossing over the 200-day – a major bullish signal. Couple that with the positive MACD and we start to get a picture of just how much positive momentum is in this stock. Investors should use caution though as the RSI level of 68 tells us the stock could be overbought right now. Of course, if the signs of positive upwards momentum are to be believed, the stock still has plenty of room to run.
Fundamentally, the stock is a good value as well. It trades at 21 times earnings compared to the industry average of nearly 26 and its one-year EPS growth rate is almost 16% – well above the industry average of 3.9%. The stock also carries a fairly hefty dividend yield of 3.64% helping to protect investors from downside movement.
Since December, the stock has been upgraded three times by three different companies suggesting that Wall Street is aware of this company's potential. Given its full-year earnings estimates and growth rate, this stock could be fairly valued at $42 per share – a potential gain of 13.5%.
Check back to see my next post!
Best,
Daniel Cross
INO.com Contributor - Equities
Disclosure: This contributor does not own any stocks mentioned in this article. This article is the opinion of the contributor themselves. The above is a matter of opinion provided for general information purposes only and is not intended as investment advice. This contributor is not receiving compensation (other than from INO.com) for their opinion.