Hello MarketClub members everywhere, it's Friday and the market action this week reflected what I said in last Friday's post titled, This Rally Will Come To An End Very Soon.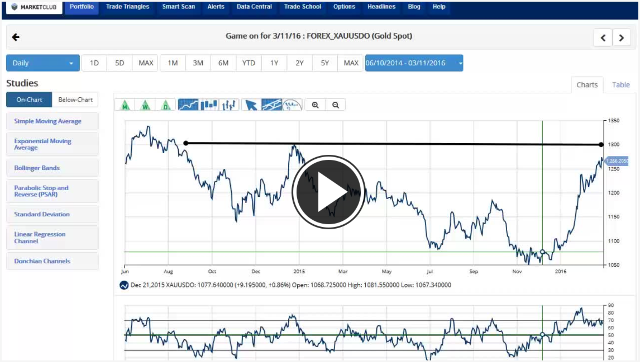 Major Indices
The major indices continue to be in "thin air" as the choppy market action I predicted last week continued this week. I would not be surprised to see further choppy action this coming week as the fight between the bulls and the bears continue.
Here are the major resistance points on a close-only basis that I see each for each of the major indices.
DOW (INDEX:DJI) - 17,178
SP500 (CME:SP500) - 2,011
NASDAQ (NASDAQ:COMP) - 4,830
The two arguments, of course, are:
The Bullish Argument: Happy days are here again (cheap money to fuel stock speculation).
The Bearish Argument: A recession is just around the corner based on the 19 trillion dollar deficit.
Both sides can argue the case, but the reality is the only argument worth following is what the market actually does. At the moment, the monthly Trade Triangle is in a negative mode on all the indices. This indicates that the major trend remains on the downside. What we are seeing at the moment is a counter trend rally that I believe will fail.
Gold
The gold market is positive for the week and continues its upward trend. Based on the daily Trade Triangle, we got stopped out of gold for a $31 profit on Wednesday and we jumped back in gold today based on a daily Trade Triangle at $1,277.86, basis spot gold. If you are trading the ETF GLD, you are still long from $108.84. Yesterday's close in GLD was $121.5. I am looking for spot gold to find resistance around the psychological $1,300 level. Hold all positions and trust in the Trade Triangles.
Crude Oil
Crude oil is looking like it is closing out the week on a very strong note and moving closer to some of the Fibonacci retracement levels of $41.35 and $44.25, which represents a 50% and 61.8% retracement. When crude oil was going down, the stock market was going up, the question now is, with crude oil going up, is the stock market going to go back down? I think that is a good possibility as I believe that the indices are in "thin air."
Stay focused and positive and have a great weekend.
Adam Hewison
President, INO.com
Co-Creator, MarketClub