Nothing excites investors more than a turnaround story. A company or stock that was down on its luck and has finally turned the corner is a feel-good play that's hard to ignore.
One company in the healthcare sector fits this definition perfectly. After soaring to new heights in the early 2000's, the company was racked by scandals and lawsuits nearly driving the company into bankruptcy. However, after a reorganization and a new outlook, the company has rebuilt its image and business into a successful company that's thriving today.
The healthcare industry is a growing field and a defensive one to be in considering how delicate the global economy is. One factor helping the industry along is an aging demographic. As of 2015, 14% of the US population was aged 65 or older. By 2020, that number is expected to rise to 22% thanks largely to the baby boomer generation who are heading into their retirement years.
The other strength in healthcare is its defensive capabilities. Even in a struggling economy, healthcare is considered an essential service and one that will be sought out regardless of economic conditions. The underlying stability in these types of companies make them very attractive for investors who are seeking shelter from a harsh market.
The Turnaround Story Revealed
Healthsouth Corp. (NYSE:HLS) is a $3 billion specialized health service company that focuses on rehabilitation. The company has hospitals and facilities in 34 states and Puerto Rico as well. Ironically, like its business, the company has made a name for itself as a rehabilitation story of its own.
In 2004, the company had over 60,000 employees and 2,000 facilities. But following accounting scandals and ensuing lawsuits, the company plummeted to the verge of bankruptcy. Since reorganization, the company has regained much of its lost ground and is in better shape than ever.
The company reported 4th quarter earnings right on target at $0.59 per share but exceeded revenue estimates with $879.3 million versus $836 million. The big surprise though was that the company raised its guidance for earnings going forward. 2016 earnings estimates were increased from $2.32 per share to $2.44 per share.
Taking a look at Healthsouth's chart shows us a recent dip and subsequent recovery just in the month of February.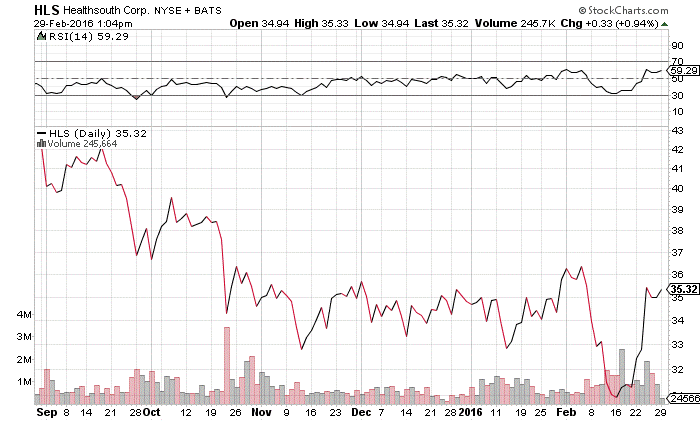 Chart courtesy of StockCharts.com
For the past four months, the stock has been trading in a fairly narrow band of about $33 to $36 per share but could be poised to break out soon. Despite trading near its four-month high range, the stock doesn't appear to be overbought judging by its RSI reading of 59.29. That could mean that further investment activity in the stock will continue and propel it forward.
The stock trades slightly under its industry average – 25.4 times earnings compared to 28.4. It also comes with a healthy dividend yield of 2.6% giving it additional defensive characteristics for investors. Based on its newly raised earnings estimates, this stock looks to be fairly valued at about $42 per share
Check back to see my next post!
Best,
Daniel Cross
INO.com Contributor - Equities
Disclosure: This contributor does not own any stocks mentioned in this article. This article is the opinion of the contributor themselves. The above is a matter of opinion provided for general information purposes only and is not intended as investment advice. This contributor is not receiving compensation (other than from INO.com) for their opinion.