Hello MarketClub members everywhere! Despite the rally on Friday, there's been little change to the overall status quo of a broad trading range that I believe the indices are in.
Indices
On Friday the DOW (INDEX:DJI) closed at its best levels in 10 weeks, bringing it back up to the Nov/Dec lows which should act as natural resistance. The Dow is still in a 61.8% Fibonacci close-only retracement mode and should begin to falter around current levels. That's not to say that it can't go a little higher, but I think that it's doubtful that it can sustain higher values.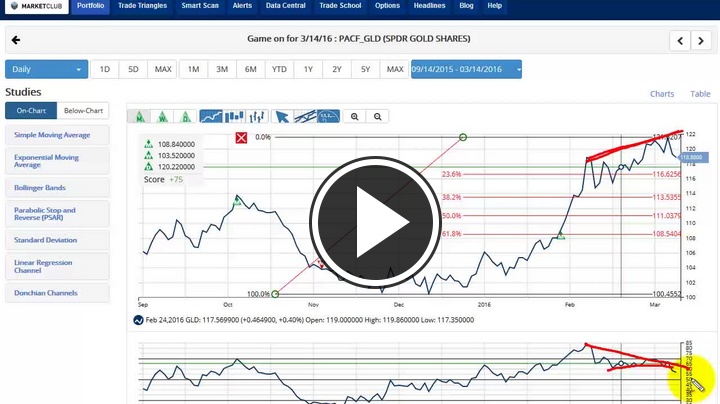 You can see much of the same picture with the S&P 500 (CME:SP500) as it is back into an area of Fibonacci resistance. I still believe that this index is cranking out a major top which began in August 2014. This week should be an interesting one as I expect to see more two-way trading, the key of course is where it closes Friday.
Out of the three major indices, the NASDAQ (NASDAQ:COMP) is by far the weakest one. This index is just back to its 50% Fibonacci retracement level and back to the 50 line on the weekly RSI indicator. The 50 level on the weekly RSI, along with Fibonacci resistance levels should create a trading range environment before this index turns back down.
Crude Oil
In early trading, crude oil (NYMEX:CL.J16.E) has dropped over 4% and the Trade Triangles exited a long position today for a 70% profit. I still believe that crude oil is in the midst of putting in a major bottom and I expect to see back-and-forth trading as this bottom expands. I will be looking at crude oil closely today as I see the potential for much higher prices in the future, if and when this one technical indicator turns around.
Gold
Presently the Trade Triangles are on the sidelines. Based on the large negative divergence on the daily charts along with the Trade Triangles, I think that's the right place to be at the moment. Looking at the daily RSI indicator which is currently at the 57.9 level, I would like to see how it handles itself when it gets to the RSI 50 support line. I remain positive longer-term as I believe that gold (FOREX:XAUUSDO) has made a major low and is likely to be positive for the next several years.
Stay focused and disciplined.
Every success with MarketClub,
Adam Hewison
President, INO.com
Co-Creator, MarketClub