This morning I actually got excited for a split second when the silver price shot northward to $15.85/oz and I almost fired off a tweet (can't believe I am actually using Twitter) saying that "Silver could easily become the Cartel's Achilles Heel" because as silver was creeping up, gold was sliding down, so these Criminal Cretins just continued to lean on gold down to $1,235/oz from $1,262/oz and the algo-bots did the rest with silver succumbing to the intervention/manipulation and now sits at $15.37/oz, down $0.23 instead of up $0.20.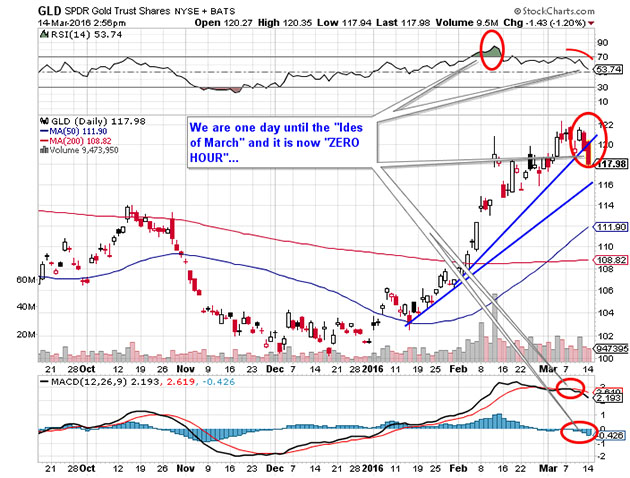 All images/charts courtesy of Michael Ballanger
The blogosphere has been abuzz since the end of PDAC last Wednesday about the impending "Melt-Up" in gold and silver prices, and when I read the litany of rationale behind the impetus for the move, I thought I was reading an old archive from Harry Schultz in 1976. All of the Keynesian diatribe nonsense that gets shoveled in front of us day in and day out is all designed to deflect attention away from this massive global exercise in currency debasement, and thus far, it has been working. Stocks are at five-week highs and the Dow is again above 17,000 with the SP 500 sporting a 20-handle while Mario Draghi talks about the European Central Bank buying every listed stock on the European bourses. The policy "errors" coupled with moral hazard has been transformed into policy "madness" and moral "lunacy" as the bankers around the planet scurry about trying anything and everything to avoid the ultimate day of reckoningsovereign insolvency. So, in order to create an aura of calm and "business as usual," the first order of execution is always "Take care of that goddam gold market!" so sure enough, after a soft-ish close to the Crimex session, the Globex geek squad decided to play tap dance through the Access Market tulips and added another $10 downside between 1:30 and 4:00 p.m. when the GLD closed for the day.
The HUI closed under 170, down 3.37% for the day, and the GDX down 4.30% for the day, but all of these developments have been well-telegraphed in this publication (much to the cackling and hissing of the newbie (and quite late) goldbugs who chased the HUI to 182 last week and who are now seriously underwater with tonight's close under 170). I think it is quite conceivable that the HUI trades down through 140 this week with gold and silver retracing 3050% of the recent up move from 99 to 182 in the HUI and from $1,045 to $1,282 in gold. It's not a very popular view within the gold-loving community these days but after being hung out to dry by the bullion banks and had every kind of inhumanity done to me since 2011 (without even the slightest hint of remorse), I swore a long time ago that I would actually THINK like a bankster in order to extrapolate their next move and once again, some $50 off the intraday highs of last Thursday, it is working.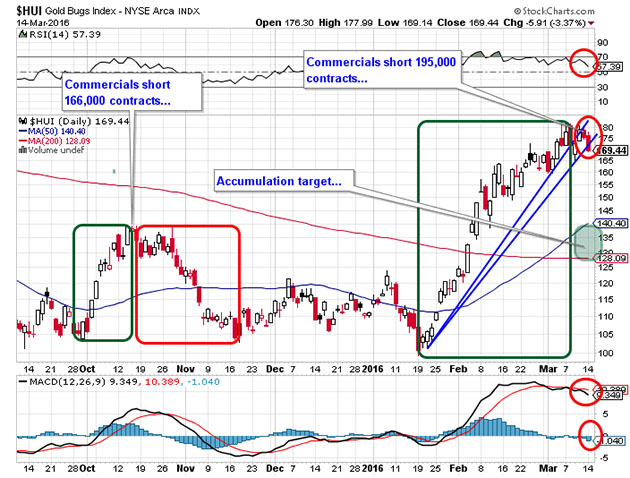 All images/charts courtesy of Michael Ballanger
I added to my hedges this morning with the GLD April (15th) $115 puts, which were $5 out-of-the-money when I bought them but which are now less than $3 out as of the close. With gold giving up $27 from top to bottom in today's session, silver finally threw in the towel as well, so we can pretty much prepare ourselves for the inevitable humiliation that is coming by way of the New York banks and the regulators with eyes wide shut. I hate to sound redundant and I refuse to be classified as "smug" but I must repeat what I have been writing about for the better part of five years and it is this: "To try to go up against the Gold Cartel playing by the rules is like trying to start a booze business back in the 1920s in Chicago where a guy the size of a small piano called Capone owned the warehouses, the speakeasies, the police, the judges, and every politician within five hundred miles." You could try but let's just say that your odds of winning were less than enviable.
So grab some popcorn and some beer and get comfortably ensconced in your favorite chair as you are about to witness the second great robbery of the past six months as the incarceration-insulated bullion banks once again reach into the deep pockets of pension funds, technical funds, private investors and you and remove all money, jewelry and valuables as surely as Goldman Sacks pay bonuses at year endand no one can or will do a thing about it.
Originally trained during the inflationary 1970s, Michael Ballanger is a graduate of Saint Louis University where he earned a Bachelor of Science in finance and a Bachelor of Art in marketing before completing post-graduate work at the Wharton School of Finance. With more than 30 years of experience as a junior mining and exploration specialist, as well as a solid background in corporate finance, Ballanger's adherence to the concept of "Hard Assets" allows him to focus the practice on selecting opportunities in the global resource sector with emphasis on the precious metals exploration and development sector. Ballanger takes great pleasure in visiting mineral properties around the globe in the never-ending hunt for early-stage opportunities.
Want to read more Gold Report interviews like this? Sign up for our free e-newsletter, and you'll learn when new articles have been published. To see a list of recent interviews with industry analysts and commentators, visit our Streetwise Interviews page.
Disclosure: This article does not constitute investment advice. Each reader is encouraged to consult with his or her individual financial professional and any action a reader takes as a result of information presented here is his or her own responsibility. By opening this page, each reader accepts and agrees to Streetwise Reports' terms of use and full legal disclaimer. This article is not a solicitation for investment.
From time to time, Streetwise Reports LLC and its directors, officers, employees or members of their families, as well as persons interviewed for articles and interviews on the site, may have a long or short position in securities mentioned. Directors, officers, employees or members of their families are prohibited from making purchases and/or sales of those securities in the open market or otherwise during the up-to-four-week interval from the time of the interview until after it publishes.