The US consumer is under pressure. Consumer Confidence level fell to 89 in April, and retail sales fell by -0.3 MoM in March. And as if that weren't enough, GDP growth missed the mark for a second consecutive quarter, with Q1 growth falling to as low as 0.5% annualized, well below expectations.
Naturally, those developments are not bringing a Fed rate hike any closer, and it leaves the Dollar widely exposed to short selling. It's the catch-up game, where Dollar peers such as the Euro, Yen, and Aussie are gaining lost ground. The relative advantage of the US economy is narrowing, and the prospect of a tightening cycle from the Fed seems even more remote.
This isn't the first time the Dollar has been hit by the catch-up game. Here's how the game plays out: The Dollar turns weaker, shaving its value by several percentage points only to come back stronger in the end as the US economy regains momentum. That's why one should tread lightly before pouncing on a Dollar short. After a series of disappointments, the chances of an upward surprise in US data is much greater. There's a very real chance that shorting the Dollar at this stage, after a 6.5% correction, will be too late.
What Could Justify Another Short?
In order for the Dollar correction to turn much wider and justify another short two basic assumptions need to break.
The first pillar is credit growth. As long as credit keeps growing, businesses eventually return to spending and growth eventually comes back. Since credit growth doesn't simply just stop that's more of a longer trend. As the chart from the Federal Reserve of St. Louis indicates. Currently, credit is still growing.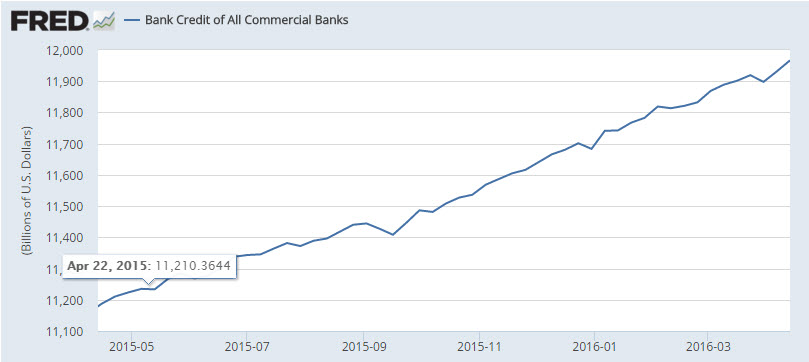 Chart courtesy of Federal Reserve Bank of St.Louis
The second pillar is jobs and employment. As long as employment levels are high, and job creation is steady (as evidenced by Nonfarm payrolls) then consumers return to spending, retail sales recover and the Dollar recovers in turn. But if Nonfarm payrolls grow by less than 100K (or worst it falls below 0) that's a signal for Dollar weakness. One disappointment in Nonfarm payrolls undershooting the consensus isn't enough, though. The data on Nonfarm Payrolls tends to bounce back after a negative reading. However, if two Nonfarm reports miss, that's already suggesting a bigger trend and a deeper dollar correction.
If we narrow it down to practical levels, here is what you must know.
The Dollar Index, as seen in the chart, is trading at close proximity to 92-93 pivot zone. Meanwhile, the US Nonfarm payrolls report for April is due out next week. That leaves the Dollar with a solid chance for a bounce right off its pivot level. If the NFP disappoints by a big margin, well below 200K, it could signal weakness in the near term and the greenback could lose as much as 3% until it hits its next support.
If the next Nonfarm disappoints, we are looking at an even wider correction. And if credit growth starts stalling that's an even longer term correction.
So, for those looking for a longer term short, all three conditions must be fulfilled. For those looking for more of a mid-term trend, two Nonfarm must miss by a wide margin. And for those seeking a quick but risky short, the upcoming Nonfarm report must disappoint first. But until then, shorting the Dollar at this level is just too risky, kind of like jumping out of an airplane without a parachute.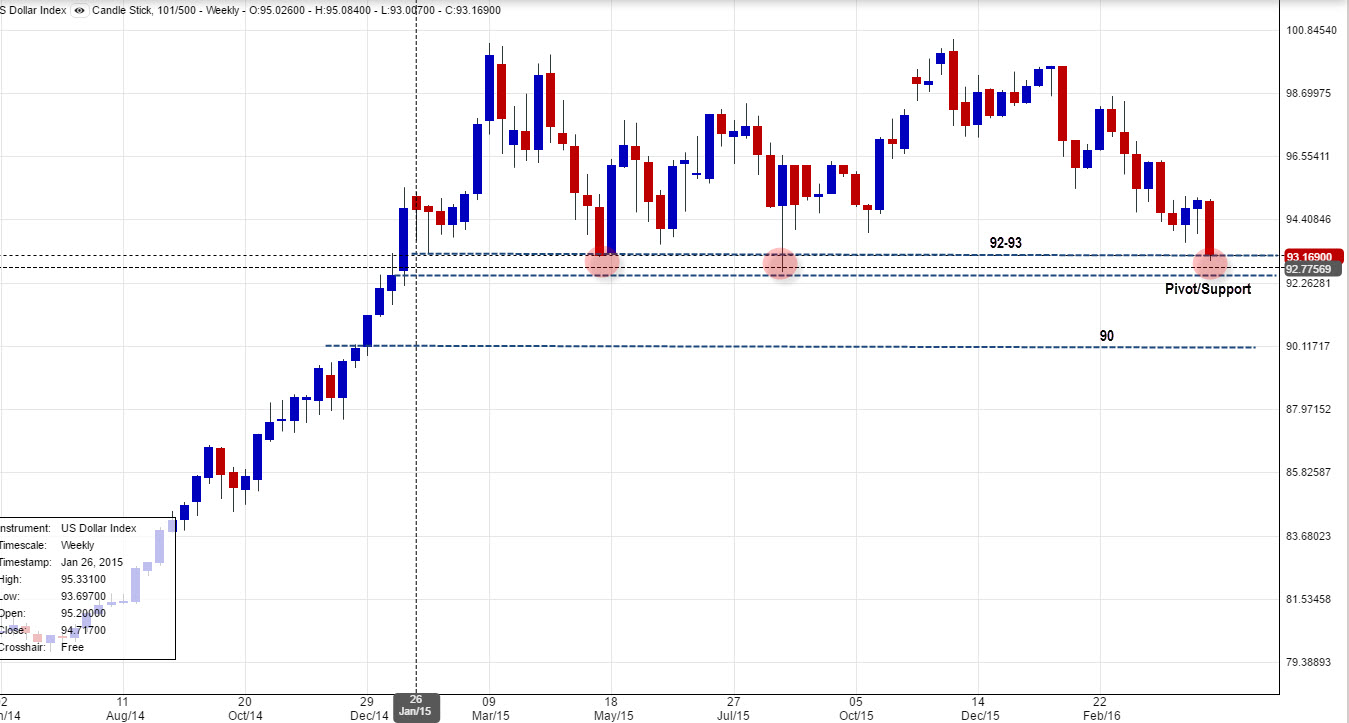 Chart courtesy of Netdania.com
Look for my post next week.
Best,
Lior Alkalay
INO.com Contributor - Forex
Disclosure: This article is the opinion of the contributor themselves. The above is a matter of opinion provided for general information purposes only and is not intended as investment advice. This contributor is not receiving compensation (other than from INO.com) for their opinion.