Hello MarketClub members everywhere. So here's a question for you...
Which stock would you buy, Amazon.com Inc. (NASDAQ:AMZN) or Alphabet Inc. (NASDAQ:GOOG), formally known as Google? Both of these stocks are juggernauts in the Internet world, but now seem to be headed in different directions.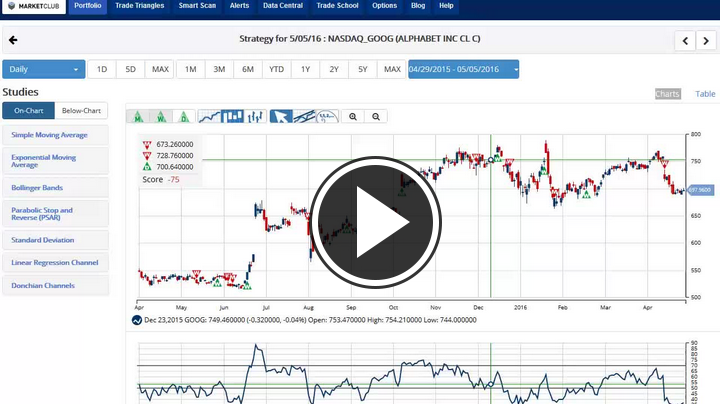 Let's take a look at Amazon. The stock is pretty amazing and just think, it all started by selling books at a discount to the major retail stores. Now they sell everything under the sun, plus they have technical services that are used by many other companies including Netflix.
What Amazon has been doing for years is gathering customer information and tying them in with a loyalty program known as Amazon Prime. Amazon Prime allows members to access free music, videos, free 2-day shipping and so much more. Prime members pay approximately a hundred dollars a year for the service. As far as I know, Amazon has never reported exactly how many Prime members they have, but recent estimates have that number at roughly 54 million, or nearly half of all U.S. households. So you can imagine by just inching up the bar a little bit every few years on the Prime subscription rates they can make more and more money.
The other positive for Amazon is that all of the Trade Triangles are green and pointing higher. Given the fact that the technical picture looks good, plus the loyalty factor and the ever burgeoning Empire of Amazon, I think this is one stock to hold for the long-term.
On the other side of the coin, why not buy Alphabet? This company has tried many different ideas, many of which have gone nowhere and they rely very heavily on their search and advertising revenues to make profits. Nipping at the heels of Alphabet's advertising revenue is Facebook and others. Will they be successful and dethrone Alphabet as the king of advertising? Only time will tell. But advertising, unlike products, can be a somewhat fickle, particularly in times of economic uncertainty.
The one question I have about Alphabet, which was such a strong stock for so long is, why does it have three red Trade Triangles indicating a negative trend? There may be something going on that we don't know, but someone knows and eventually they have to show their hand.
Bottom line, looking at both stocks, I would prefer to own Amazon.com Inc. (NASDAQ:AMZN) for the long-term and not Alphabet Inc. (NASDAQ:GOOG). Caveat: Always use the Trade Triangles to protect capital, because no one is right all the time.
Stay focused and disciplined.
Every success with MarketClub,
Adam Hewison
President, INO.com
Co-Creator, MarketClub