Hello MarketClub members everywhere! Well, here we are at the end of another trading week and what a week it has been.
Gold (FOREX:XAUUSDO): As I warned members yesterday, chasing gold after 8 straight days of moving higher was not the best strategy. Yesterday's massive reversal to over the $1300 level just shows how important this psychological level has now become. In today's video, I will be analyzing gold and telling what you I believe to be the best strategy to follow given yesterday's action. Even with all the turmoil in gold this past week, overall it remains higher for the week. Last week July gold closed at $1273.90.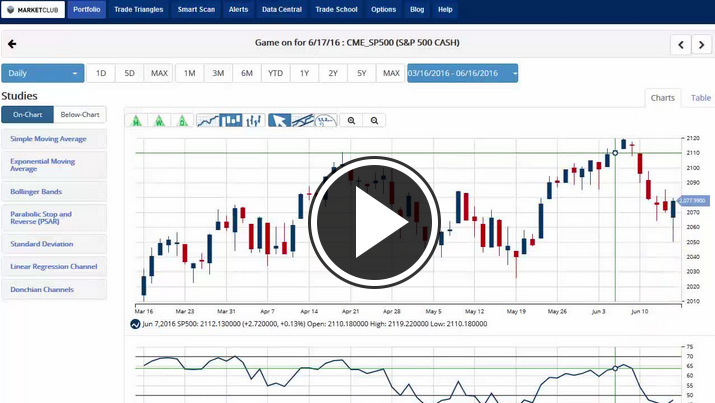 Indices: It's a mixed picture for the major indices with major positive trends still intact for the S&P 500 and the NASDAQ. The odd man out here is the DOW which is in a sidelines position at the moment. However, the week tells a different story with all of the major indices losing ground. Here's where the indexes closed last Friday.
DOW (INDEX:DJI): 17,865.34
S&P 500 (CME:SP500): 2,096.07
NASDAQ (NASDAQ:COMP): 4,898.22
Crude Oil (NYMEX:CL.N16.E): Crude oil put in a very disappointing week for the longs as it closed on a negative note. The Trade Triangles exited a long position at $49.44 and went short on 6/16 at 47.40 based on the red weekly trade triangle. Last week July crude oil closed at $49.07.
Stay focused and disciplined.
Every success with MarketClub,
Adam Hewison
President, INO.com
Co-Creator, MarketClub