If you haven't noticed it around you in public or the news, Pokémon Go is the craze that is sweeping the nation. Now you may be saying to yourself, why is he talking about Pokémon? Well, I have two reasons that I'll lay out below.
The first reason is social interaction and getting outside. My wife and I were out in downtown Annapolis last night enjoying a beautiful evening by the water when my wife said, "what are all these people doing walking around looking at their phones? It's like the zombie apocalypse." This statement cracked me up as I looked around. She was right, there were a bunch of people walking around. I then explained to her the new Pokémon Go craze and how the game had just been released. We decided to sit back and watch as this was going on and a few things stood out to me.
1. At least 90% of the people at city dock were playing this game. And a lot of them were clearly down there to specifically play the game. This has a couple of effects on people and the economy of the area. People are outside getting exercise whereas they may normally be inside watching tv or so on and the local businesses are undoubtedly making more money than normal with the larger than average crowds.
2. There were people all around us that would normally not converse with each other having conversations about this game. I find that compelling in our current state of social tension here in the U.S. I have to say it was refreshing to see.
The second reason is Nintendo Co. Ltd. (NASDAQ:NTDOY) which had an incredible 33% gain on Monday (7/11/2016). The reason I bring that up is members of MarketClub had the opportunity to get long NTDOY on 7/7/2016 based on the weekly green Trade Triangle that triggered that day. I was able to get long that day after doing a search for new weekly Trade Triangles using the Recent Trade Triangle Scan within MarketClub.
Now a bunch of you will say, "but Jeremy, you and Adam are always telling us to search for stocks that have Avg. Daily volume greater that 2 million," and you would be right. I had a good reason or reasons to buy Nintendo Co. Ltd. (NASDAQ:NTDOY), and I've laid them out on the chart below.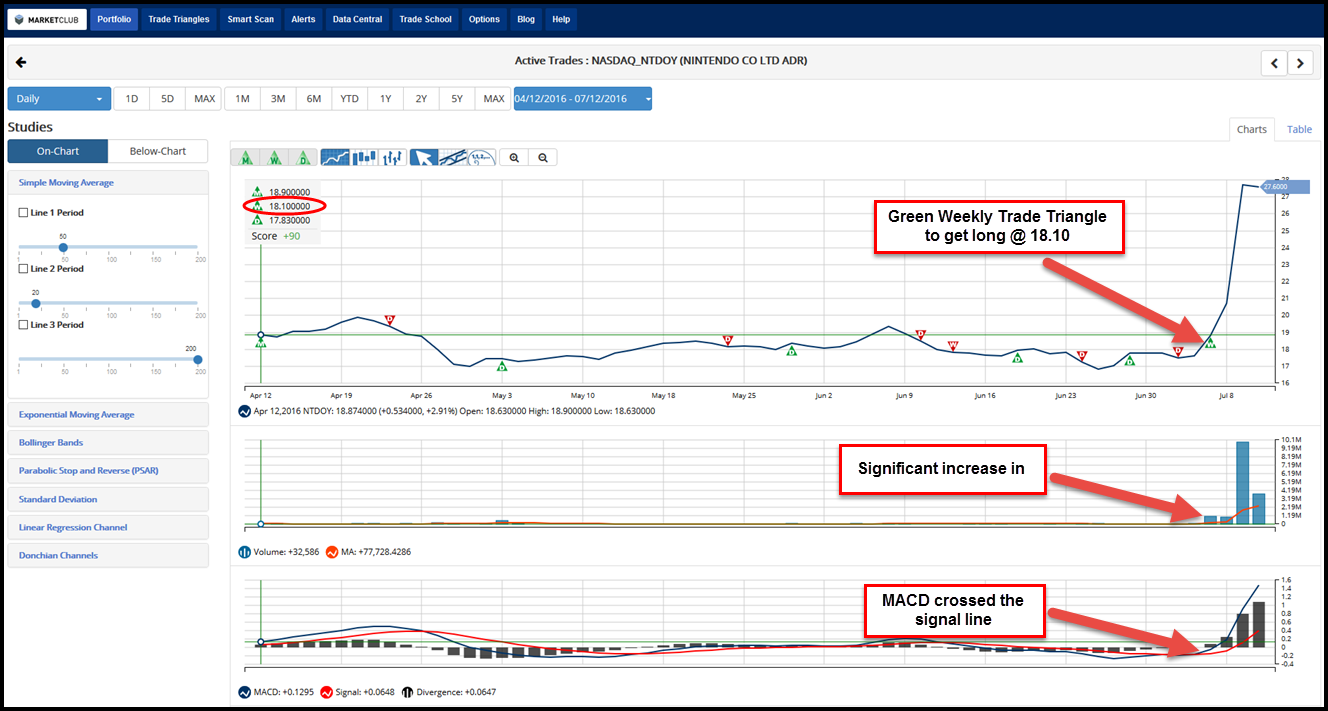 1. New green weekly Trade Triangle at 18.10
2. A significant increase in the daily volume
3. The MACD crossed the signal line indicating a move to the upside.
4. Not on the chart, but I have an eight yr old boy who is CRAZY about Pokémon
Point #4 is a lesson in paying attention to your surroundings. My son had been talking about the new Pokémon game coming out for phones and asked if I would get it for him to play when it came out. After doing some research, I found that Nintendo Co. Ltd. (NASDAQ:NTDOY) was releasing the game last week. So I was well aware of what Nintendo was doing when the stock popped up in my Trade Triangle scan and after analyzing the chart it was a simple decision to invest in Nintendo and Pokémon Go.
As always, I would love to hear your thoughts on the craze that is sweeping the nation. Please take a moment to leave a comment.
Every Success,
Jeremy Lutz
INO.com and MarketClub.com