This morning the gold market is pushing higher and it is within $18 of making a new high for the year. I'm sure this is not because of all the gold that has been won by the U.S. team in Rio, but rather to a global uneasiness hat has permeated the year so far.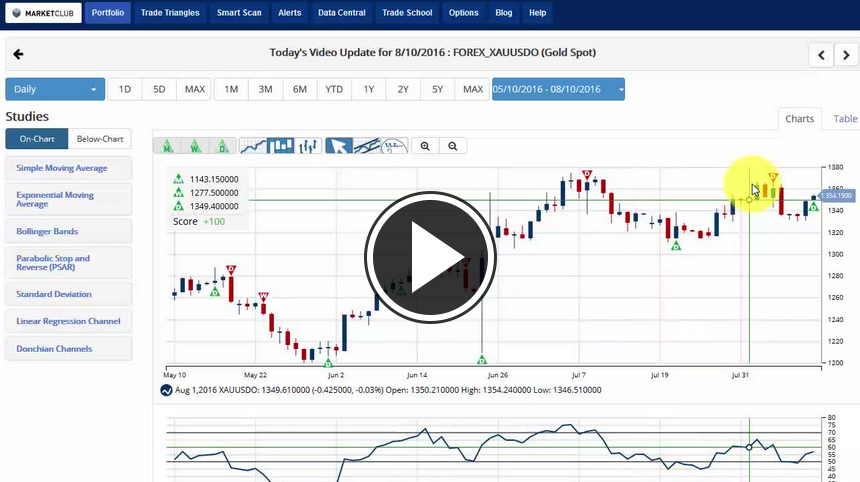 In today's video, I will be analyzing gold (FOREX:XAUUSDO) and the gold mining stocks that I have discussed before. The stocks are Newmont Mining (NYSE:NEM) and Barrick Gold Corporation (NYSE:ABX). Both of these stocks are set to go significantly higher based on the Trade Triangles and their technical chart counts.
I will also be analyzing crude oil (NYMEX:CL.U16.E) and showing you a key level that I see that could pop crude up several dollars in a short period.
After their big push up last Friday, the equity markets have come to a somewhat stationary position. However, that has not altered the longer-term trend that I see in the indices which are currently in an uptrend. I will be examining each of these indexes individually and giving you my latest thoughts on the trends in each of these markets.
I was asked recently as to whether gold and the index markets could continue to move higher in tandem. That's a fair question and one that deserves an answer. However, there is no clear-cut answer, as markets can run together for several days and in some cases several months before they decouple and go their separate ways. What I have found over my years of trading is that they don't pay you more for trying to figure these things out. It is always best just to go with the trends as they are presented to you. Try not to guess tops or in many cases bottoms in a market as you are not necessarily putting the odds in your favor. It is always best to move into a market after it is established a trend albeit on the upside or the downside.
Every time in the past that I thought a market had gone to high or too low I tended to pay a price for that poor judgment. Go with the flow; it's not only easier, but it's far more profitable.
Remember, all the talking heads on TV have to justify their positions before eventually they capitulate and start talking about something completely different.
#1 RULE: Have a game plan which I've discussed many times and follow it. Only then will you become a super successful trader.
Stay focused and disciplined.
Every success with MarketClub,
Adam Hewison
President, INO.com
Co-Creator, MarketClub