Hello MarketClub members everywhere. It would appear as though the markets have gone to sleep or have been mesmerized by the summer Olympic Games. I believe going to come to an end in just 10 more days as we officially say goodbye to summer. After Labor Day I expect we will see more volume and more direction in all of the markets.
This time of year reminds me of how the markets behave after the 15th of December when most traders check out for the year. If you have not made your money by 15th of December, the odds are against you making it in the last two weeks of the year. The keyword right now is patience, patience, patience.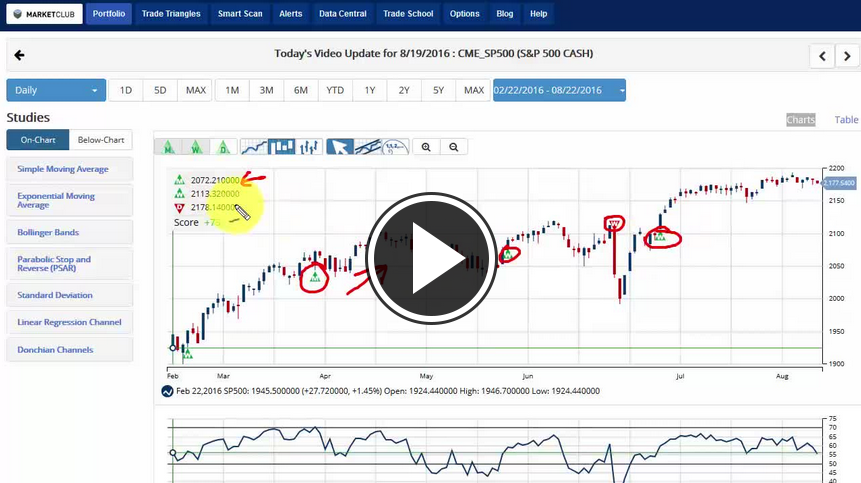 The way to look at the markets when they move into a doldrum period like we are in now is to look at the big trends before we entered into this quiet period as the odds once again favor a resumption of the major trend. It doesn't always work out that way, but if you're betting with the odds, it is the way to go.
Here are the major trends for each of the major markets according to the Trade Triangles.
DOW (INDEX:DJI): Major Trend Positive
S&P 500 (CME:SP500): Major Trend Positive
NASDAQ (NASDAQ:COMP): Major Trend Positive
Crude Oil (NYMEX:CL.V16.E): Major Trend Positive
Gold (FOREX:XAUUSDO): Major Trend Positive
At the moment there is a particular dichotomy with all of the major markets in positive trends. This is not normally the case, and sooner or later there will be a divergence where we will see markets that are trending higher reverse. For example, I don't think we will be seeing gold and the equity markets moving in tandem in the very near future – something has to give. At the moment I'm not sure what that is, it could be a move in interest rates that the Fed has been talking about all year or some "BlackSwan" event. If you are not familiar with this market term, it means: The black swan theory or theory of black swan events is a metaphor that describes an event that comes as a surprise, has a major effect, and is often inappropriately rationalized after the fact with the benefit of hindsight. The term is based on an ancient saying which presumed black swans did not exist, but the saying was rewritten after black swans were discovered in the wild.
In today's video update, I will be looking at all of these markets and analyzing areas of interest and concerns.
Stay focused and disciplined.
Every success with MarketClub,
Adam Hewison
President, INO.com
Co-Creator, MarketClub