Hello MarketClub members everywhere. Yesterday's mandatory recall of all of the Samsung's 7 Note devices is a huge blow for Samsung. Up until yesterday, Samsung was trying to recall and replace batteries that were overheating and causing fires and were a danger to the public and transportation systems everywhere. With this news, the stock of Samsung collapsed literally, and Apple's stock price soared.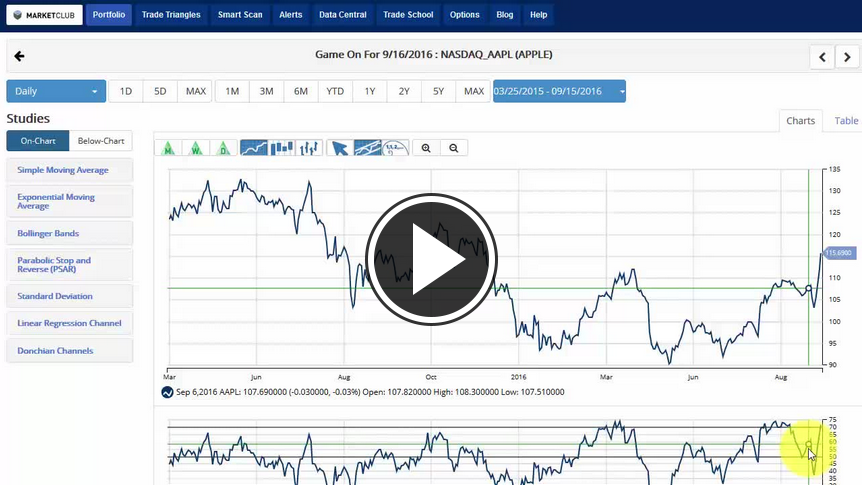 What is interesting is that Apple begins delivery of its new iPhone 7 today. I can't help wondering if there wasn't some political maneuvering behind the scenes in this recall move. Yesterday, the US Consumer Product Safety Commission announced a full recall of the Galaxy Note 7 products in conjunction with Samsung. The formal recall covers about 1 million devices.
The exact wording that the US Consumer Products Safety Commission used was as follows: "Consumers should immediately stop using and power down the recalled Galaxy Note 7 devices purchased before September 15, 2016". Samsung's stock price started slipping on September 9 after what has been a pretty good year for this stock. The big question is how much damage has been done to this mega electronics companies reputation and can it come back to its former glory?
Apple Inc. (NASDAQ:AAPL) was the major beneficiary of this recall. A green weekly Trade Triangle kicked in yesterday at $109.32. Once again all of the Trade Triangles are green on Apple. My current upside target for Apple based on technical considerations is between $125 and $130.
Based on the close of business Thursday, 15 September here are the winners and losers for the week so far:
Apple Inc. (NASDAQ:AAPL): +12.11%
DOW (INDEX:DJI): +0.70%
S&P 500 (CME:SP500): +0.91%
NASDAQ (NASDAQ:COMP): +2.37%
Crude Oil (NYMEX:CL.V16.E): -4.8% (Biggest Loser)
GOLD (FOREX:XAUUSDO): -1.29%
Stay focused and disciplined.
Every success with MarketClub,
Adam Hewison
President, INO.com
Co-Creator, MarketClub