Hello MarketClub members everywhere. No doubt by now you have heard of all the problems Wells Fargo & Company (NYSE:WFC) is having in creating fictitious, and I would say illegal accounts. What you probably didn't know is the fact that the Trade Triangles picked up problems with Wells Fargo on August 21, 2015, when the stock was selling at $54.45. That was over 13 months ago, and the news is just now hitting the market.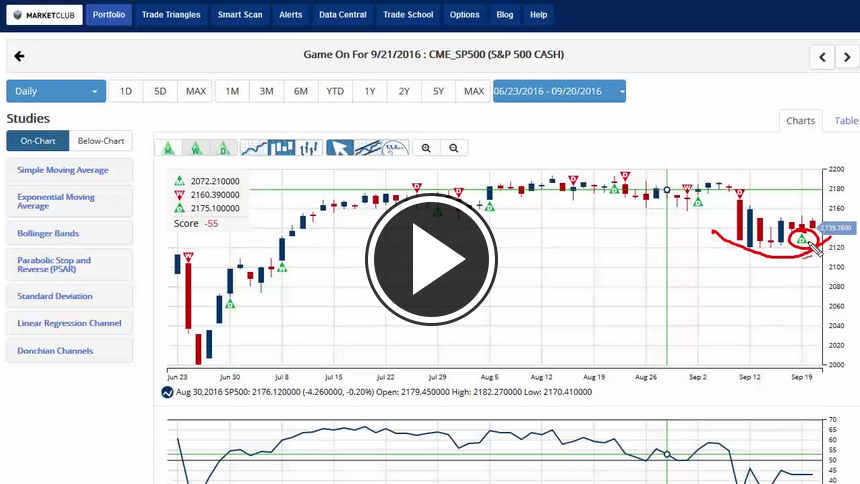 The Trade Triangles provide an entirely unbiased opinion of all the markets. Many times people on the inside know there's a problem and that problem manifests itself in price action. That is where the Trade Triangles shine.
Another interesting indication today is the fact that a green daily Trade Triangle has kicked in on the gold (FOREX:XAUUSDO) market. Today's signal indicated for me to cover my short position at $1321.80, this provided a profit of approximately $13 or $1300 per futures contract.
Don't look at a position like a marriage which is for life, look at a position as a relationship which could end at any time. By having a flexible thought process, it allows you to move in and out for the markets with these and not have an ego problem.
Throughout my trading career, I've seen traders get involved in a position and have it go south on them and then look for every excuse in the book to hold on to that position. You are far better off moving out of a position when you get a signal like the Trade Triangles and waiting on the sidelines until you get another signal. That's the way to do it if you want to be successful in the markets.
Stay focused and disciplined.
Every success with MarketClub,
Adam Hewison
President, INO.com
Co-Creator, MarketClub