At the start of this year, I wrote about Bitcoin and its unrivaled blast-off dynamics compared to conventional assets for the Y2015. Of course, the main reason for this was the effect of the 'start-up.' In other words, if we get something useful and demanded out of 'nothing' or better say virtually it surely will show you the rocket dynamics on the chart.
Digitalization is in a full-scale offensive with the smart things coming more and more in our life. The word 'SMART' at the beginning of something new and technologically advanced from SMARTphones to SMART contracts is now a common thing.
Technology moves at a terrific speed these days and what was at the avant-garde of it a few years ago was Bitcoin; now it could be deemed as traditional or outdated. Today I would like to show you a brand new star of the market, which is called 'Ether.' Ether is a cryptocurrency of the Ethereum platform, which is a decentralized platform that runs smart contracts: applications that run exactly as programmed without any possibility of downtime, censorship, fraud or third party interference. These apps run on a custom built blockchain, an enormously powerful shared global infrastructure that can move value around and represent the ownership of property. This enables developers to create markets, store registries of debts or promises, move funds in accordance with instructions given long in the past (like a will or a futures contract) and many other things that have not been invented yet, all without a middle man or counterparty risk.
Chart 1. Ether Vs. Bitcoin Vs. Silver: Metal Could Beat Bitcoin But Lost To Ether Which Hit The Sky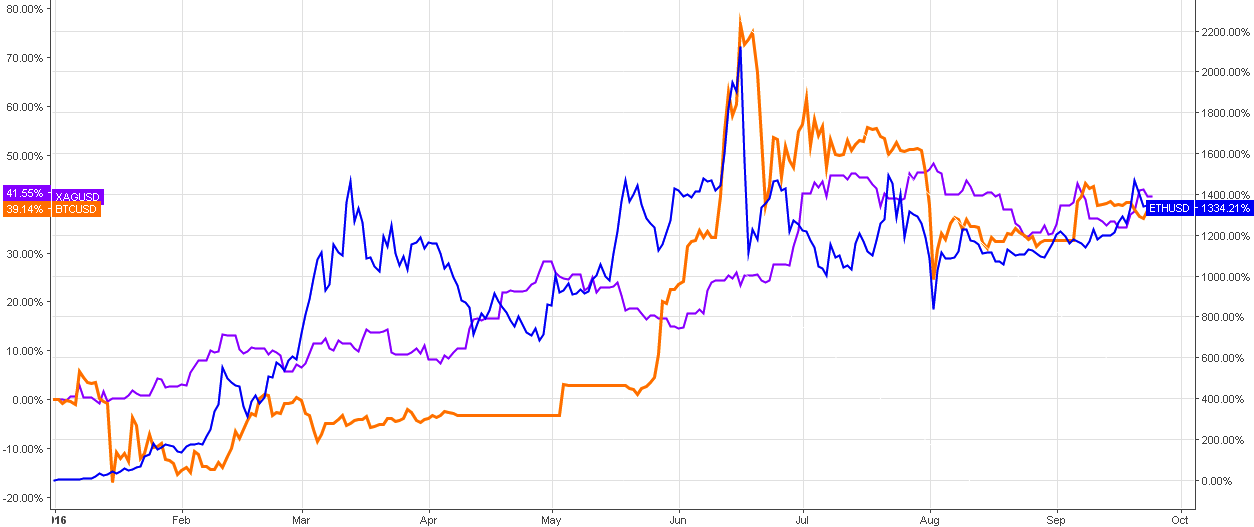 Silver (purple), Bitcoin (orange) (left scale) Ether (blue) (right scale)
Chart courtesy of tradingview.com
The obvious finding of the YTD chart above is the positive outcome of all three instruments. Bitcoin has a wild structure with abrupt moves deep into both negative and positive areas. Silver has a stable uptrend in place with the moderate fluctuations. The neophyte, ether looks like jumping into a salt flats race car and pushing full throttle as it gained 600% (race cars can speed up to 600 km/h) in February. It was so fast that I should have dedicated all the right scale for its move as on single scale silver and Bitcoin would look insignificant and therefore, were put to the left. All of them made their best this summer, which is traditionally vacation season. Silver almost hit a 50% mark; Bitcoin scored even more with a 70% peak, and ether touched the sky-high 2200% at maximum. This trinity got overheated and cooled down to lower levels as nothing lasts forever.
I think silver fans would love to see this chart, without ether (ETH) as their favorite instrument could beat the technological star (Bitcoin) so far this year, taking revenge on it for the past year when Bitcoin smashed all futures.
Chart 2. Ether Weekly: Range Or Exodus?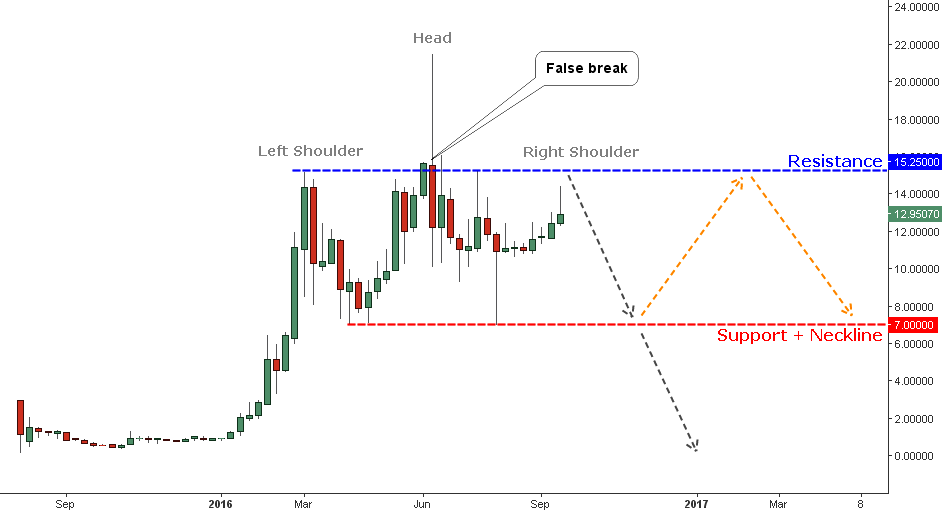 Chart courtesy of tradingview.com
Despite that the history of the ether is short, it already has some interesting chart figures. Those of you who have a trained eye can quite quickly detect a familiar shape on the chart. I highlighted in gray three points on the chart: left shoulder, right shoulder, and the head in between. I chose this soft color for the famous pattern because it has not taken shape yet. We are missing the right shoulder to be formed. So we should wait to see if it will be finished as designed. If this pattern shapes correctly, then there is a high chance of a huge drop of ether to the very outset. If you remember the target for the Head & Shoulders pattern is equal to the height of the Head subtracted from the Neckline. In this case, the target is negative, so the zero point would be aimed, which is bad news for ether. But it is not final as the pattern is not in place yet.
We have a range on the chart between the red support at the $7 mark and the blue resistance at the $15.25 level. The spike to $21.49 was short-lived and can be considered as a false break as the weekly candle closed much lower. The range is very broad, and the price action is wild, so it is not a safe place for your investments unless you are risking small to win big, as did one Norwegian who bought Bitcoin for $26.6 and forgot about it for four years and then bought an apartment for a fraction of sold Bitcoin.
In the end, I want you to think about one thing – the price of virtual currency reached and even surpassed the value of one silver ounce at the peak, the intangible thing has the same value as the tangible product of the labor of the miner in dangerous and unpleasant conditions underground. The world is changing, and it has different valuables.
Be careful with risk, watch where the world is going and keep your mind open!
Intelligent trades!
Aibek Burabayev
INO.com Contributor, Metals
Disclosure: This contributor has no positions in any stocks mentioned in this article. This article is the opinion of the contributor themselves. The above is a matter of opinion provided for general information purposes only and is not intended as investment advice. This contributor is not receiving compensation (other than from INO.com) for their opinion.