Hello MarketClub members everywhere. If you were surprised by the 20% jump by Netflix Inc. (NASDAQ:NFLX) yesterday, you weren't paying attention to the Trade Triangles. On October 3rd the monthly Trade Triangle triggered at $101.27 indicating that the major trend has once again resumed to the upside and that you should now be long this stock. That Trade Triangle signal was a full 15 days before today's big jump.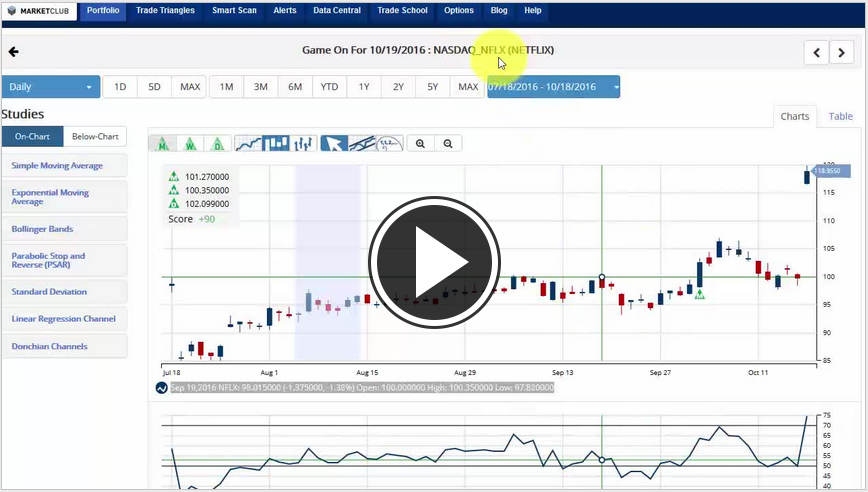 In today's video update, I will be analyzing Netflix and giving you some upside projections for this popular streaming video service.
I urge all MarketClub members and traders to pay close attention to the Trade Triangles as they often times signal big moves before anyone else has a clue of what's going on.
In addition to Netflix will be taking a look at the gold and crude oil market as well as the major indices. But before we do that I would like to bring your attention to the POLL that we ran on Monday. The poll numbers indicated that 60% of our members expected the indices to move lower.
Only 21% of all members expected the market to move higher.
What was interesting to me was the fact that 19% of you which was the lowest polling number expected the market to stay around the same levels. Now I probably would have voted at the 19% level, simply because the Trade Triangles are showing a sideways action at the moment. Once you start projecting what you think is going to happen to the market in the future it becomes somewhat of a risky proposition. Predicting the future is a game that is very hard to win. It is better to go with the known facts you have at the time and adjust your thinking as time goes on.
Just remember that old market adage "The trend is your friend" It's where you make the most profit. And what finds the trend and keeps you in the trend in better than anything else out there it's - MarketClub's Trade Triangle technology. I know this sounds like and advertisement, but I really do believe this is the best program for anyone trading or investing in the market. It has been very good to my family and me, and I'm very confident it will be very good for you and your family too.
Stay focused and disciplined.
Every success with MarketClub,
Adam Hewison
President, INO.com
Co-Creator, MarketClub