INO Health & Biotech Stock Guide
Preview Issue #5 - November 10th, 2016
BIOTECH, HEALTH & PHARMA NEWS
THE POLITICAL SEESAW
Political uncertainty has roiled the markets as of late with initial predictions pricing-in a Clinton victory. As election night unfolded and a Trump victory was evident, the markets responded negatively in pre-market trading with the Dow dropping over 700 points. Upon the realization that Trump was in fact the president-elect, the markets bounced back and the Dow ended the day up ~300 points. In particular, healthcare related stocks from pharmaceutical companies to pharmacies and the wholesalers in-between all notched significant gains as traders viewed a republican controlled government in positive light with regard to this sector. The iShares NASDAQ Biotechnology Index (Ticker IBB) registered a $25 per share or 9% gain on the election news. It appears that investors are factoring-in a healthcare-friendly government that will be in contrast to the likes of Hillary Clinton and Bernie Sanders with regard to mergers and acquisitions and governmental regulations throughout the industry.
PROPOSITION 61 UPDATE
The fate of Proposition 61 was met with a narrow defeat in California's general election which aimed to cap the state's drug expenditures by pegging all future costs to match those costs paid by the Veterans Affairs for the same drugs. Proposition 61 takes aim at the drug pricing debate which continues to be at the forefront of politicians' attacks towards pharma companies while the same fight is being waged in the court of public opinion. As candidates threaten drug companies with containing the costs of drugs, these actions will continue to negatively impact healthcare and biotech stocks in particular. In California's upcoming general election, Proposition 61 takes aim at the drug pricing debate by enacting pricing standards. This initiative will prohibit state agencies from buying any prescription drug from a drug manufacturer at any price over the lowest price paid by the Veterans Affairs (VA), except as may be required by federal law. From a personal relations perspective, this ostensibly will save the system money via allowing the state to tap into the same discounts the VA receives. However the proposition excludes managed care programs funded through Medi-Cal, the state's largest health care program thus not applicable to this space of the health care system. This misguided proposition runs a high risk of increasing prescription drug prices for the VA, reduce patient access, creating more bureaucracy and lawsuits. A backlash against this by drug manufactures if the proposition were to pass, may result in increased pricing to the VA and selectively omitting discounts to the VA for certain drugs altogether. Therefore the amount of any savings is highly uncertain and would likely result in very little savings. This proposition is opposed by California Medical Association, California Taxpayers Association, Ovarian Cancer Coalition of Greater California and Veterans of Foreign Wars Department of California. As the political cycle winds down many of these headwinds will be removed and will likely allow the healthcare cohort to move higher as seen in the price action of IBB over the past couple of months as the political climate matures.
EARNINGS UPDATE
Earnings are underway for a whole host of companies under the healthcare umbrella. Some notable earnings that have been released thus far are UnitedHealth (UNH), Walgreens Boots Alliance (WBA), McKesson (MCK) and CVS Health (CVS). UnitedHealth reported great numbers with beats on both EPS and revenue while raising 2016 EPS guidance. As a result of these great numbers, UnitedHealth's stock rose from $134 to $145 or 8% over the 3 days post earnings. Walgreens reported earnings as well and beat on EPS while missing on revenue expectations. The stock was buoyed by the announcement regarding its proposed $9.4 billion acquisition of Rite Aid closing in early 2017 as opposed to late 2016. Investors had grown wary of the deal closing as of late due to an increasingly resistant Federal Trade Commission. McKesson recently reported Q2 2017 numbers that missed analysts' expectations on both EPS and revenue, missing by $0.11 per share and $1.25 billion, respectively. This was the fourth consecutive quarter in which McKesson has missed revenue targets. As a result of the most recent miss, shares of McKesson sank by ~$40 per share or 23% the subsequent trading day. CVS reported earnings that beat on EPS however missed on revenue estimates. Although EPS and revenue numbers grew by double digits, CVS guided lower for 2017 and the stock sold off, falling from $84 to $70 per share or shedding ~16% of its market capitalization.
WHAT'S NEXT
It's been reported that the Department of Justice may file charges in relation to its recent generic drug investigation by the end of the year. The investigation centered on whether generic drug manufacturers conspired together on drug pricing. Shares of Myan, Teva and Endo plunged on the news, falling 6.9%, 9.5% and 19.5%, respectively. Meanwhile, afterthought presidential candidate, Bernie Sanders has emerged with his latest attacks on drug pricing. Bernie Sanders' tweet sent shares of Araid Pharmaceuticals down 15% in a single session after he criticized the pricing of its leukemia drug (Figure 1). Despite this negative backdrop (in light of the presidential election results) the market appears to be discounting the impact if any regarding these threats.
Drug corporations' greed is unbelievable. Ariad has raised the price of a leukemia drug to almost $199,000 a year. https://t.co/EB4nEPxP2G

— Bernie Sanders (@SenSanders) October 14, 2016
Figure 1 – Bernie Sanders tweet regarding Araid Pharmaceuticals' drug pricing increase.
INDUSTRY OUTLOOK
The entire pharmaceutical supply chain from drug manufacturers (i.e. Mylan and AbbVie) to pharmacies/pharmacy benefit mangers (i.e. CVS and Walgreens) and the drug wholesalers in-between (i.e. McKesson, Cardinal Health) have been hit particularly hard this year. The health insurers seem to have weathered the storm rather well, especially in UnitedHealth's case. The confluence of proposed legislative action via Proposition 61 in California, continuous threats by presidential candidates such as Hillary Clinton and Bernie Sanders, Senate summons for Valent and Mylan to defend drug pricing, pricing pressures throughout the pharmaceutical supply chain have pummeled the sector. Drug manufacturers, wholesalers, pharmacy benefit managers and pharmacies have not been immune to this massive sell-off. With the presidential election now finalized, the mere absence of political uncertainty seems to have provided a much-needed short-term lift to the sector.
FEATURED STOCK / ETF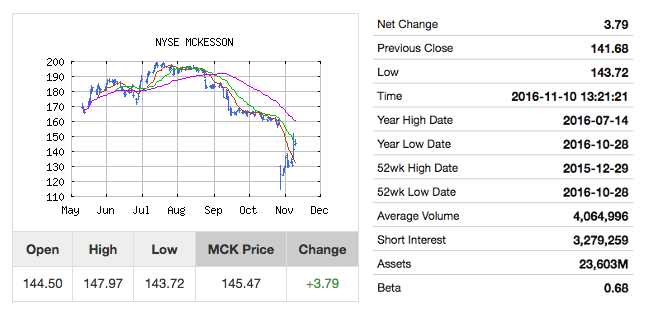 ABOUT THE EDITOR - Noah Kiedrowski
I am biotechnology professional with a diverse scientific background and detailed knowledge in many therapeutic areas such as monoclonal antibodies, immunotherapies and antivirals. I have a personal interest in finance, investing, trading and global markets. My analysis is focused on stocks and exchange traded funds (ETFs) while exploring niche opportunities such as derivative trading via options. This newsletter is intended to provide investors with the latest developments and trends regarding the overall healthcare sector with a biotechnology emphasis. I'll be highlighting sector trends, merger and acquisition activity, noteworthy current events, political developments and drug approvals. My focus will be centered on well-established mid-cap and large-cap companies as well as utilizing appropriate ETFs as proxies for sector trends. This is a bi-monthly newsletter service that reflects my own opinions and analyses. This newsletter is not intended to be a recommendation to buy or sell any stock or ETF mentioned. I am not a professional financial advisor or tax professional, rather an individual investor who analyzes investment strategies and disseminates my analyses. I encourage all investors to conduct their own research and due diligence prior to investing.
---
This bi-monthly newsletter service reflects the opinions and analyses of INO Contributor, Noah Kiedrowski. This newsletter is not intended to be a recommendation to buy or sell any stock or ETF mentioned. Kiedrowski is not a professional financial advisor or tax professional, rather an individual investor who analyzes investment strategies and disseminates his own analyses. All traders and investors should conduct their own research and due diligence prior to investing.