There are only 5 days left to join MarketClub and get 90 days as a member for only $100.
Join INO.com's premium analysis service, MarketClub, as a Quarterly Member by December 31st and we'll take 33% off of our standard membership rate.
With this promotional rate, you will have ample time to try and master our tools.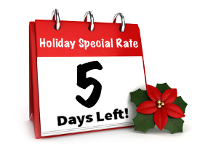 • View entry and exit signals for over 320K stocks, futures, forex, ETFs and mutual funds
• Use a premium portfolio builder and access an advanced charting platform
• Set portfolio alerts so that you never miss a move throughout the day
• Chat with thousands of other traders in our Members Blog
• Scan for hot trading opportunities
• And more
Learn more about MarketClub's Holiday Membership Promotion.
Note To Current Members: You have your Special Holiday offer waiting for you. Check your inbox or your member message area in MarketClub.
Please contact us with any questions.
Best,
The MarketClub Team
[email protected]