INO Health & Biotech Stock Guide
Preview Issue #6 - December 13th, 2016
BIOTECH, HEALTH & PHARMA NEWS
The Political backdrop changed in ways virtually no survey had predicted and come 2017 the United Sates will inaugurate Donald Trump as the new president. As a sense of certainty took a few hours to digest as the presidential news flowed into the markets, essentially uprooting the pricing-in of a Clinton victory, pre-market trading was volatile with the Dow dropping over 700 points. This paradoxical presidential outcome quickly brought the Dow back to breakeven and ended the day up ~300 points. This post Trump victory has continued to rally the markets with what is now being coined as the "Trump Rally" as the Dow has broken all-time highs to power past the 19,000 benchmark. This rally has disproportionally benefited healthcare related stocks ranging from pharmaceutical companies to pharmacies and the wholesalers in-between. The entire cohort has seen significant gains as traders viewed a republican controlled government in positive light with regard to this sector. The iShares NASDAQ Biotechnology Index (Ticker: IBB) has risen from ~$260 to $293 or a 12.5% gain within days of the election news. Ostensibly, investors are now factoring-in a healthcare-friendly government that will be in contrast to the likes of presidential hopefuls Hillary Clinton and Bernie Sanders. Investor sentiment has been positive with regard to governmental scrutiny on the merger and acquisition front, deregulation, potential restructuring of the Affordable Care Act and move favorable tax/repatriation rates throughout the cohort.
WHAT'S NEXT
On the clinical trial front, Eli Lilly reported a disappointing phase III clinical readout on an experimental Alzheimer's treatment. The trial failed to slow the loss of cognitive ability in patients with mild Alzheimer's disease and shares fell ~10% on the news. Juno Therapeutics shed 24% after reporting two more patient deaths in its immunotherapy leukemia trial. The safety and monitoring committee is set to evaluate the next steps and meet with the FDA to determine the next steps in light of these data. This could be a major setback for Juno as it attempts to pioneer the immunotherapy space via leveraging the body's immune system to recognize and destroy cancers.
On the political front, Proposition 61 was defeated in California which aimed to cap the state's drug expenditures by linking all future costs to match those costs paid by the Veterans Affairs (VA) for the same drugs. This initiative would've prohibited state agencies from buying any prescription drug from a drug manufacturer at any price over the lowest price paid by the VA. This proposition was rife with issues such as excluding managed care programs funded through Medi-Cal, the state's largest health care program. This misguided proposition ran a high risk of increasing prescription drug prices for the VA, reducing patient access, creating more bureaucracy and lawsuits. The amount of any savings was highly uncertain and would've likely resulted in very little to no savings and companies may have increased pricing to the VA and selectively omitted discounts for certain drugs altogether. The failure of this proposition in a largely liberal state may derail similar attempts in other states thus removing a state-by-state pharmaceutical headwind regarding pricing.
INDUSTRY OUTLOOK
As Donald Trump readies his entry into the White House, there's been heavy rhetoric regarding significant modifications or total abolishment of the Affordable Care Act (ACA) altogether. With full control of the House of Representatives and the Senate, the republicans may have the ability to realistically pursue any efforts to curtail the ACA. If these attempts are pursued and ultimately successful this will undoubtedly reverberate throughout the healthcare cohort and impact pharmaceutical companies, insurers, pharmacy benefit managers and wholesalers. Leading up the presidential election, the entire pharmaceutical supply chain had been hit particularly hard in 2016. With the presidential election now finalized, the mere absence of political uncertainty seems to have provided a much needed short-term lift to the sector. As the republicans take office in 2017 be on the lookout for a potentially more business-friendly government specifically regarding merger and acquisition activity and favorable corporate tax rates.
FEATURED STOCK / ETF - Eli Lilly and Company (LLY)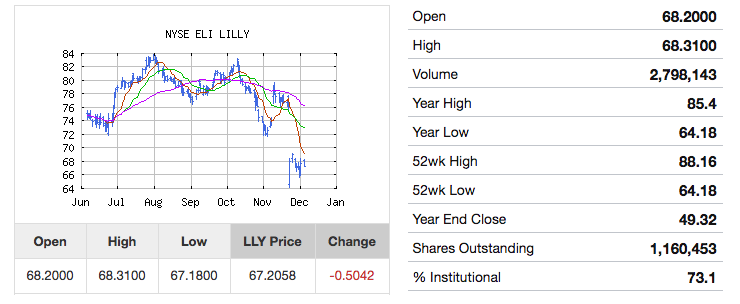 ABOUT THE EDITOR - Noah Kiedrowski
I am biotechnology professional with a diverse scientific background and detailed knowledge in many therapeutic areas such as monoclonal antibodies, immunotherapies and antivirals. I have a personal interest in finance, investing, trading and global markets. My analysis is focused on stocks and exchange traded funds (ETFs) while exploring niche opportunities such as derivative trading via options. This newsletter is intended to provide investors with the latest developments and trends regarding the overall healthcare sector with a biotechnology emphasis. I'll be highlighting sector trends, merger and acquisition activity, noteworthy current events, political developments and drug approvals. My focus will be centered on well-established mid-cap and large-cap companies as well as utilizing appropriate ETFs as proxies for sector trends. This is a bi-monthly newsletter service that reflects my own opinions and analyses. This newsletter is not intended to be a recommendation to buy or sell any stock or ETF mentioned. I am not a professional financial advisor or tax professional, rather an individual investor who analyzes investment strategies and disseminates my analyses. I encourage all investors to conduct their own research and due diligence prior to investing.
---
This bi-monthly newsletter service reflects the opinions and analyses of INO Contributor, Noah Kiedrowski. This newsletter is not intended to be a recommendation to buy or sell any stock or ETF mentioned. Kiedrowski is not a professional financial advisor or tax professional, rather an individual investor who analyzes investment strategies and disseminates his own analyses. All traders and investors should conduct their own research and due diligence prior to investing.