Hello MarketClub members everywhere. The euphoria over Donald Trump's success continues to fuel the equity markets. Certainly, the 20,000 level on the DOW (INDEX:DJI) is no longer a dream but more than likely a reality. So just how high can these markets go that's the billion dollar question?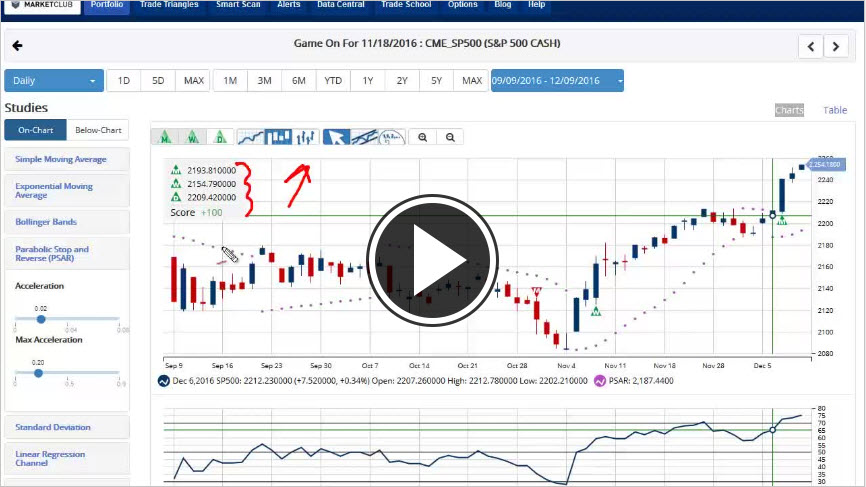 One thing I've learned in trading over the years is you don't stand in front of a freight train coming at you, and that's exactly what this market is at the moment. However, speeding railcars sometimes get derailed and can cause serious crashes.
Last week I warned about how December can be a very difficult month. As this month progresses, volume is going to continue to wane creating vacuums in the marketplace. I expect as we get closer to the 20,000 mark volatility will be exacerbated because of the lack of liquidity as many traders will be out enjoying time with family and friends over the year-end holiday season.
Money Management
Please remember that markets can change quite dramatically especially in the waning days of December when the markets are thinly traded. Always have areas in your mind that if the market penetrates those levels, you will exit your position. This is called discipline and money management and over the long term it will save you and make you money. You don't want to blow up what you've earned in the last two weeks of the year.
Let's move on; it's Friday and the big winner for the week is the NASDAQ which is up 3.06% for the week. The big loser for the week so far is gold which is down 0.61%. Let's examine how the Trade Triangles are positioned on both of these markets
Looking at the major indices here are the changes so far this week (Thursday Closes).
DOW (INDEX:DJI): + 2.32% Trade Triangles = All Green
S&P 500 (CME:SP500): +2.47% Trade Triangles = All Green
NASDAQ (NASDAQ:COMP): +3.06% Trade Triangles = All Green
Crude Oil (NYMEX:CL.G17.E): -0.55% Trade Triangles = All Green
Gold (NYMEX:CL.G17.E): -0.62% Trade Triangles = All Red
Once again, MarketClub's Trade Triangles point the way to successful trading. If you are not tracking the Trade Triangles, you may decide to do so after looking how they are positioned in many of the markets.
Learn more about MarketClub's Holiday Membership Promotion.
Weekend Alert
Here is a weekend trading alert, go to the Smart Scan tab then select "52wk High". Filtered out by choosing Ave Daily Volume, then choose greater than 2 million. After you have done that choose a price point that you like, for example you may want to buy stocks that are $20 as opposed to $100. After you have done that follow these rules.
Here are the three rules you need to trade "The 52-week new highs on Friday Rule":
Rule #1: On a new 52-week high, when the market closes at or near its high on a Friday, buy long and go home for the weekend.
Rule #2: Exit the long position on the opening the following Tuesday.
Rule #3: If the market opens lower on Monday, exit this position immediately.
There you have it. These are the only three rules that you need to trade "The 52-week new highs on Friday rule" successfully.
Stay focused and disciplined.
Every success with MarketClub,
Adam Hewison
President, INO.com
Co-Creator, MarketClub