Analysis originally distributed on January 25, 2017 By: Michael Vodicka of Cannabis Stock Trades
The cannabis industry is loaded with dozens of biotechs.
For example, if you take a look at the North American cannabis sector, you'll see that the field is littered with biotechs such as Axim Biotechnologies (OTC:AXIM), Cara Therapeutics (Nasdaq:CARA) and Insys Therapeutics (Nasdaq:INSY).
These companies are aggressively searching for a cannabis-based medicine to treat some of the worst diseases plaguing humankind, including cancer, epilepsy, and HIV.
It's obvious the cannabis industry sees a big opportunity in pharmaceuticals and is investing billions in research and development to cash in.
On the one hand, it's great that investors have so many cannabis biotechs to choose from.
On the other, investing in biotech stocks is already one of the hardest sectors to pick winners and losers.
It's even harder in the cannabis sector.
Some of these early cannabis biotechs will go on to make billions on blockbuster drugs and deliver market-crushing returns to shareholders.
Others will crumble and file for bankruptcy.
Today, I want to share my #1 cannabis biotech stock that I believe is ready to soar in 2017.
To me, that means this early industry leader has the highest probability of finishing in the green in 2017 and the highest probability of developing the first ever cannabis-based blockbuster – a drug with the potential to deliver more than $1 billion in annual sales.
To get the latest analysis as soon as it is released, please subscribe to our free weekly newsletter.
GW Pharmaceuticals (Nasdaq:GWPH) is headquartered in the United Kingdom. Shares are listed on the London Stock Exchange but also offered to U.S. investors as American Depository Receipts (ADRs) through the U.S. based Nasdaq.
This means that GW is not a penny stock, it is a regular exchange-traded stock. That also shows up in GW's market cap – currently pegged at $3 billion. This is a much bigger company than some of the U.S based cannabis stocks with market values below $200 million.
GW is a popular name in the cannabis biotech sector. There is good reason for that.
The company is developing a robust pipeline of cannabidiol-based drugs with huge revenue potential.
The crown jewel of GW's portfolio is Epidiolex, a drug designed to treat epilepsy.
Right now, there are approximately 5 million people suffering from epilepsy in the U.S. and another 500,000 in the U.K. Available medicine is generally considered inadequate, creating a huge opportunity for GW to deliver a better solution.
Epidiolex is currently in Phase 3 FDA (Food and Drug Administration) testing – the final phase before receiving FDA approval or denial.
The clinical research on Epidiolex has been very promising.
For example, at a conference sponsored by the American Society of Epilepsy in December, GW shared data that showed Epidiolex cannabidiol reduced seizure frequency by more than 50% in 44.2% of recipients.
Epidiolex is also being tested to treat other diseases.
For example, it is in stage 3 trials for tuberous sclerosis complex, a genetic brain cancer that is believed to impact more than 40,000 people in the U.S. and between one and two million in the world.
Epidiolex is also in stage 3 trials for infantile spasms. Although this isn't a huge market like epilepsy, it's another potential source of revenue for the drug.
Here is a nice chart from GW's website highlighting the companyTMs progress with Epidiolex.
Chart courtesy of GW Pharmaceuticals
All applications considered, Epidiolex has huge revenue potential – maybe even blockbuster status.
If the drug is approved by the FDA, analysts are predicting annual sales between $800 million and $3 billion.
Looking forward, GW expects to receive an FDA ruling on Epidiolex by the first half of 2017.
If the FDA does give approval, it would be a huge catalyst for shares. I would expect GW to surge into a new all-time high.
The consensus price target based on current data is $190. That implies 58% upside potential from its current level. Take a look below.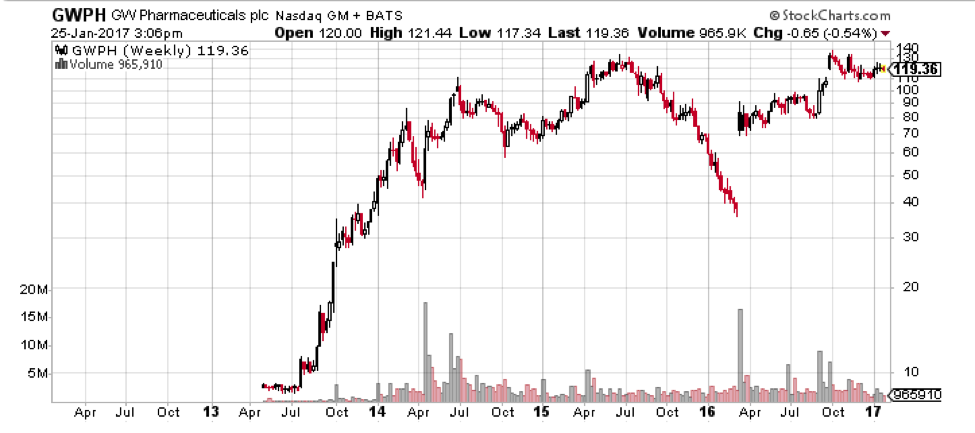 Chart courtesy of StockCharts.com
Risks To Consider
Biotechs live by and die by FDA approvals. Although I am expecting the FDA to sign off on U.S. marketing of Epidiolex, a denial would be a major setback for GW.
Action To Take
GW is one of the most popular cannabis biotechs. The outlook for Epidiolex looks promising. Buy shares anywhere below the all-time high around $135 and look for an FDA approval to send shares jumping towards $200.
Enjoy,
Disclosure: At the time of original publishing, Michael Vodicka did not own shares of ACBFF.
The information contained in this post is for informational and educational purposes only. The trading ideas and stock selections represented on the Cannabis Stock Trades website are not tailored to your individual investment needs. Readers and members are advised to consult with their financial advisor before entering into any trade. Cannabis stocks carry a certain level of risk and we accept no responsibility for any potential losses. All trades, patterns, charts, systems, etc. discussed are for illustrative purposes only and not to be construed as specific advisory recommendations. All ideas and material presented are entirely those of the author and do not necessarily reflect those of the publisher.