Hello everyone, Adam Hewison here coming to you from the digital studios of MarketClub. Yesterday, the Barrick Gold Corporation (NYSE:ABX) had a major trend change to the upside signaled by a new green monthly Trade Triangle. It's the first buy signal ABX has had since it began its move on January 7, 2016. At that time the signal was it $8.33 and the market moved as high as $23 before pulling back.
Today I have put together five different charts that show why I believe Barrick Gold is headed significantly higher.
About This Stock
Barrick Gold Corporation (NYSE:ABX) engages in the exploration and development of gold and copper properties in the United States, Canada, Australia, Argentina, Chile, Peru, the Dominican Republic, Papua New Guinea, Tanzania, Zambia, and Saudi Arabia. It primarily explores for gold, copper, and nickel deposits. The company's main properties include Cortez, Goldstrike, Pueblo Viejo, Lagunas Norte, and Veladero. As of the end of 2015, ABX had proven and probable gold reserves of 91.9 million ounces; and 11.7 proven and probable copper reserves of billion pounds. Barrick Gold Corporation was founded in 1983 and is headquartered in Toronto, Canada.
Chart #1
In chart number one can see that Barrick Gold broke over a 52-month long-term negative force line (1) and moved as high as $23 a share (2) before pulling back 50% (3).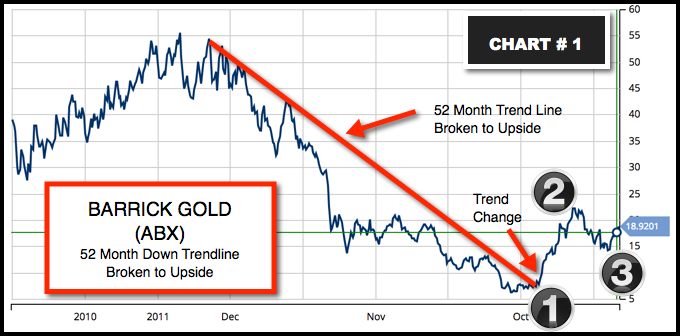 Chart #2
Chart number two is a quarterly chart which gives a strong indication of trends. As you can see on the chart, we have the Parabolic SAR (PSAR) which has only given two signals in the last nine years. The current trend based on the parabolic indicator and the quarterly chart is positive to the upside.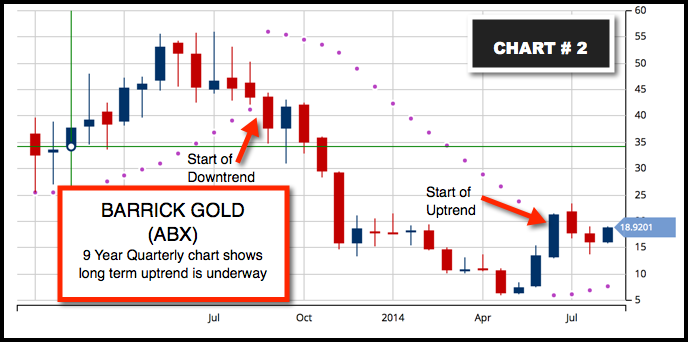 Chart #3
In the chart number three, you can see that ABX pulled back exactly 50% which is a classic Fibonacci retracement level and found good support. The fact that the 50% retracement level held is another strong indication that this market is in a longer-term bull trend.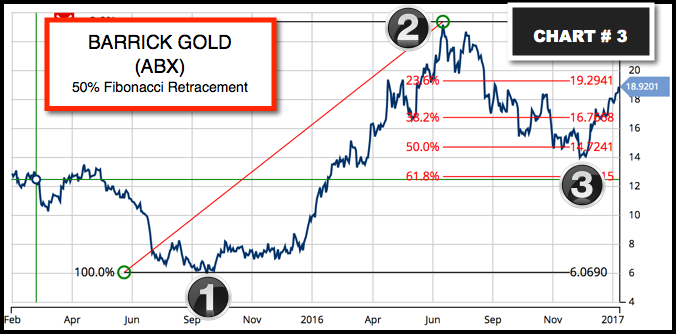 Chart #4
In chart number four you see the massive 45-month base that ABX has been building since April of 2013. You can also see a possible left shoulder (1) the Head (2) and right shoulder (3) of a major head and shoulder base. A decisive move over the $23 level breaks the neckline and resistance (4) and sets this market up to test the target zone of between $36 and $37 (5).
Chart #5
In chart number five I have applied the Fibonacci retracement levels showing that ABX is very capable of moving up almost to the $37 level. A 50% retracement would be $31.07 and a 61.8% retracement takes the stock back to $36.91. I would use both of these retracement levels as upside target zones from current levels.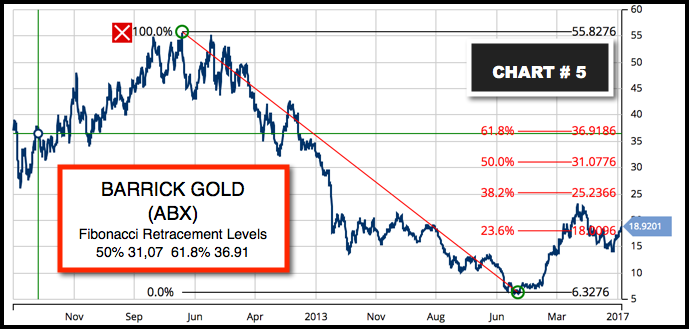 What Should You Do?
Based on the above evidence it would indicate there is a strong possibility that with all the Trade Triangles in place to the upside that Barrick Gold Corporation (NYSE:ABX) has just resumed its upward trend. The green monthly Trade Triangle on February 2 at $18.95 is valid and you would use that level or any pullback in the stock to buy.
What Can Go Wrong?
One concern I would have would be the fact this market doesn't take off and continues its sideways action. If that happens, you're just parking your money in a stock that is going nowhere and that is not the excellent idea. The other concern is that ABX continues to etch out the right shoulder of the head and shoulders formation. If one wanted to be extremely conservative one would probably wait until the move over the $23 level. But like when we had a signal at $8.33 back on January 7, 2016 to ignore signals is to do so at your own peril. There is nothing worse than being right on a stock and not being in it.
Stay focused and disciplined.
Every success with MarketClub,
Adam Hewison
Co-Creator, INO.com and MarketClub
J. Adam Hewison is a retired founder of INO.com, Inc. Adam retired from INO in 2016, and on behalf of the entire staff, we wish him well.