Analysis originally distributed on March 15, 2017 By: Michael Vodicka of Cannabis Stock Trades
Cannabis legalization isn't just happening in the U.S and Canada. It's happening all across the world. It seems like every month or so a new country joins the party.
For example, In early 2016 Colombia's Congress voted to legalize cannabis for medical and scientific purposes.
In the Middle East, Israel is decriminalizing cannabis for recreational purposes.
In late January, Germany passed a bill legalizing the production, sale and use of medical cannabis.
This is good news for cannabis stock investors. It means the industry is growing.
This week, I want to tell you about a well-known country of 24 million that just launched its promising young medical cannabis industry.
BIG NEWS!!! We're now accepting new Cannabis Stock Trades Premium members!
Australia is following the Canadian model where the government hands out a limited number of permits to companies to grow and sell cannabis.
As you might guess, the rush is on for Australian companies to get their hands on these permits. They are extremely valuable. There are tens of thousands of potential patients in Australia that will be lining up to purchase medical cannabis in the next 12 months.
Today, I am going to share the first and only company in Australia to receive one of these permits.
That gives this little-known cannabis company a valuable first-mover advantage and puts it in position be an early leader in the high-growth Australian medical cannabis market.
AusCann Group Holdings Ltd. (ASX:ACNNF) is a new name on the cannabis scene.
Shares debuted on the Australian Stock Exchange on February 21 at $0.20 through a reverse merger.
At first, shares were quiet. But since becoming the first Australian company to receive a cannabis permit, shares have been on the move. Take a look below.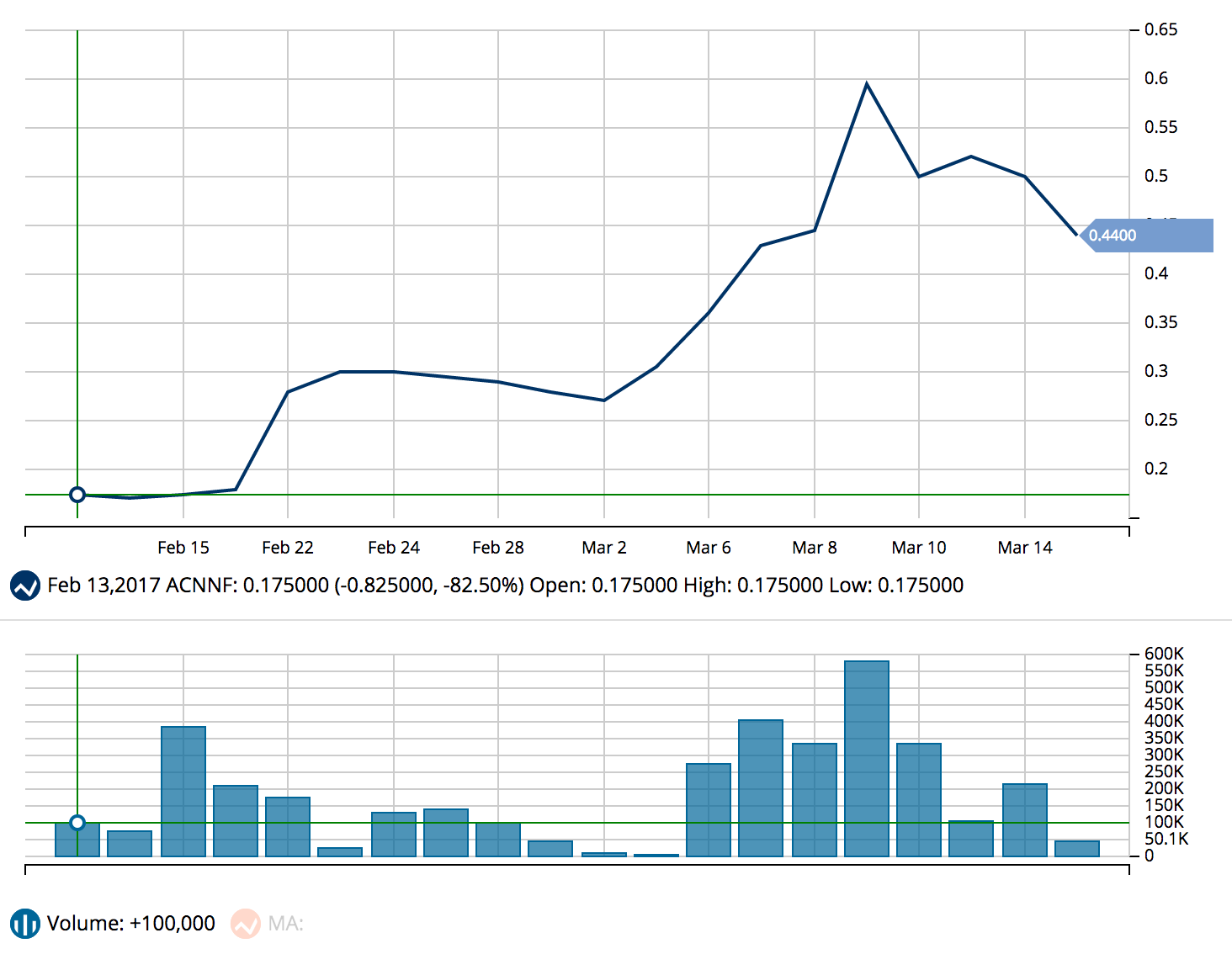 Auscann is hot right now because of its exclusive permit. That was a big win for the company.
That will change in the coming months. There's no question Australia will issue more permits.
But for the time being, it gives AusCann a valuable first-mover advantage and a chance to capture big chunks of market share with little competition.
As it stands, AusCann has never even grown or sold any cannabis. AusCann has no revenue.
This is an early stage company.
But that's about to change. Here's the plan.
AusCann is laying plans to build large cultivation centers in Australia to supply domestic markets. But obviously, these complex cultivation centers take some time to build.
While AusCann builds its domestic cultivation in the next 12 months, it will begin importing cannabis from international trade partners.
AusCann has partnered with Canopy Growth Corp (TSX:WEED) to achieve this goal.
In late 2016, AusCann gave Canopy a 15% equity stake to serve as its primary international supplier. I view this partnership as a big win for both companies. It gives AusCann a quick path to revenue, and it gives Canopy access to a huge new market.
Here's something else that makes AusCann interesting.
It has a 50% partnership with the Daya Foundation in Chile, the first company in Chile allowed to grow medical cannabis.
Through this partnership, AusCann is on target to deliver its first medical crop in Chile this spring.
The crop will consist of 400 plants across eight strains and it intended to supply clinical research trials with the Chilean National Institute of Public Health.
Chile also allows cannabis exports, giving AusCann a platform to tap into the larger South American cannabis market through its Chilean operations.
The Big Picture
AusCann is the first company in Australia with a permit to grow and sell cannabis. That provides the company with a valuable first-mover advantage and gives it a chance to be an early industry leader. I really like the long-term outlook here. I think AusCann could be a very interesting long-term holding.
Right now, investors are pricing in a lot of good news. Auscann has a market value of $122 million and it still hasn't achieved any revenue. For the time being, be patient with this stock and look to buy pullbacks.
BIG NEWS!!! We're now accepting new Cannabis Stock Trades Premium members!
Enjoy,
Disclosure: Michael Vodicka owns shares of Canopy Growth Corp (WEED)
The information contained in this post is for informational and educational purposes only. The trading ideas and stock selections represented on the Cannabis Stock Trades website are not tailored to your individual investment needs. Readers and members are advised to consult with their financial advisor before entering into any trade. Cannabis stocks carry a certain level of risk and we accept no responsibility for any potential losses. All trades, patterns, charts, systems, etc. discussed are for illustrative purposes only and not to be construed as specific advisory recommendations. All ideas and material presented are entirely those of the author and do not necessarily reflect those of the publisher.