Analysis originally distributed on April 5, 2017 By: Michael Vodicka of Cannabis Stock Trades
The year is 1848. Hundreds of thousands of ambitious Americans are heading west to cash in on the California gold rush.
Some of these early speculators became rich. But many went bust.
Through it all, the businesses that ended up scoring the biggest profits were the ones selling picks and shovels to the miners.
This slice of U.S. history gave birth to the modern investment strategy know as the "pick and shovel play."
A pick and shovel play means investing in companies that sell supplies and equipment to an entire industry.
For example, tractor maker Deere & Co. (NYSE:DE) is a pick and shovel play on the global agriculture industry.
Pick and shovel plays happen all across the economy.
Including the cannabis industry.
This Cannabis Pick and Shovel Play Grew Revenue 130% in 2016
Today, I want to share a promising pick and shovel play.
This little-known cannabis stock just reported killer earnings growth of 130% in 2016.
Shares just hit a new all-time high.
To get the latest analysis as soon as it is released, please subscribe to our free weekly newsletter.
And it's one of the most undervalued stocks in the entire cannabis sector.
Grow Generation (OTC:GRWG) sells cultivation equipment and supplies to the cannabis industry. That includes hydroponic equipment, lighting systems and organic nutrients and soil.
Growgen was founded in 2008. Today it owns eight stores in Colorado, one in California and one in Nevada.
Take a look below at Growgen's Colorado Springs location.
Operating in Colorado, the heart of American cannabis country, has been good for business.
Growgen has been on a roll.
The company reported killer fourth-quarter and full-year 2016 results on April 3.
Revenue in 2016 was up 130% in 2016 to $8 million.
Anyone who knows anything about same-store sales in the retail or fast food industries will love this next statistic.
Same-store sales were up 50% to $1.4 million. That's incredible. Investors get pumped when Starbucks pulls 2% same stores sales growth. The numbers coming out of the cannabis sector are sick.
Growgen also made serious progress towards profitability.
Its full-year net loss fell to $431,246, which includes $304,123 in non-cash depreciation and stock-based compensation costs.
Below is a link if you want to check out the full report.
Looking forward I am expecting another record year of record revenue.
Growgen is set to launch an aggressive expansion strategy.
In the next 12-18 months, Growgen has plans to double its store count to 20.
The expansion is coming at the perfect time.
The seven U.S. states that voted to legalize medical or recreational cannabis last November will be launching these programs in the next six to 12 months. That is going to create a tidal wave of demand for cannabis cultivation equipment.
This expansion strategy directly ahead of mass legalization should help Growgen deliver another year of record revenue in 2017.
Growgen is one of the Most Undervalued Stocks in the Entire Cannabis Sector
The cannabis sector isn't exactly known for value.
Most of the early industry leaders and most promising stocks are trading with super high valuations.
For example, Canopy Growth Corp (TSX:WEED) has a market value of $1.3 billion. In the last 12 months the company has generated revenue of $30 million.
That means investors are being asked to pay 43 times annual sales.
Granted, I believe Canopy has huge growth potential, but that's pricey compared to the S&P 500.
Growgen on the other hand is one of the few cannabis stocks that is already throwing up huge growth numbers but is being valued like a "regular" stock.
Growgen's market value is $23 million. Revenue in the last 12 months was $8 million.
That means investors are being asked to pay 3 times annual sales.
Do you see how differently this stock is being valued than Canopy?
It's a great opportunity to find value in a cannabis sector where value is hard to come by.
Growgen isn't the Only Player in the Industry
Growgen isn't the only game in town. Denver based Surna (OTC:SRNA) is similar to Growgen – it also sells cultivation equipment through retail outlets. Its market value of $28 million is also similar to Growgen. As far as I know these are the only two cannabis stocks operating in this sub industry. Do you know of any others? If so send me an email.
Growgen Has Been Weak But this Could be the Bottom on the Chart
Here's where things get even more interesting. Growgen hasn't done particularly well since going public.
Shares are down more than 25% from the all-time high and 11% since going public.
That decline is the reason this stock is undervalued compared to other cannabis stocks.
Shares have recently bounced pretty nice from the low. This low between $1.75 and $2.00 could be a solid area of support for a long-term reversal.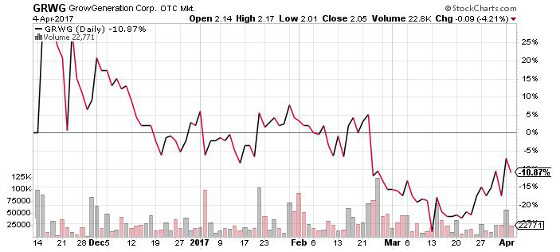 Looking forward, I am expecting Growgen to get more attention.
The company is throwing up ridiculous numbers right now and it's one of the most undervalued stocks in the entire cannabis sector.
BIG NEWS!!! We're now accepting new Cannabis Stock Trades Premium members!