Crude stocks built by 0.9 million barrels in the week ending March 24th to end at 534 million barrels, 30.2 million larger than a year ago, setting a new record high. But crude oil exports also surged to 1.010 million barrels per day.
The stated objective of the OPEC production cut is to reduce OECD global inventories back to their five-year average. The U.S. has the largest excess inventories of any OECD country, and also publishes the most transparent, timely data, and so I had expected OPEC to target reductions in its exports to the U.S.
But based on Energy Department statistics for the weeks ending March 24, 2017, U.S. crude imports from Saudi Arabia averaged about 1.240 million barrels per day in the year-to-date. Saudi Arabia is the second largest source of imports behind Canada. That figure was about 30% higher than in the same weeks last year, and about 17% higher than during December, before its production cuts went into effect.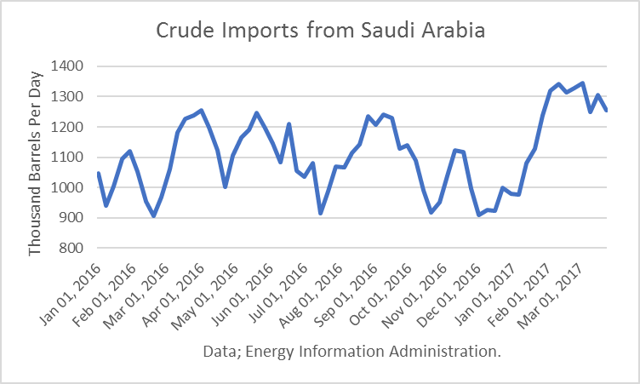 The Saudi energy minister claimed in December that he was reducing tanker nominations effective January 1, 2017, Saudi exports to the U.S. are 178,000 b/d higher than a year ago. Based on the import numbers for the 12 weeks off 2017, there is no evidence of any Saudi production cut.
However, according to a Saudi source, Saudi exports to the U.S. will decline by 300,000 b/d for the next three months. This means they should average about 1.030 million barrels per day, if the information is correct.
Crude oil exports have surged above one million barrels per day in three weeks of 2017. They had averaged 520,000 b/d in 2016.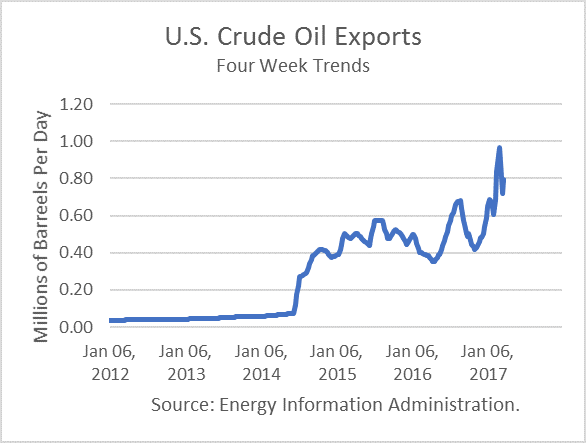 Since the crude export ban was lifted in December 2015, destinations for crude exports has expanded.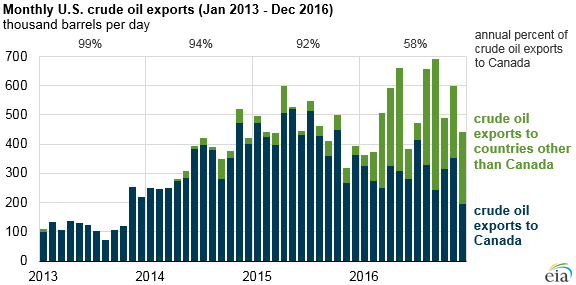 The surges in crude exports are caused by price differentials and tanker rates. If prices are high enough in other locations to justify the tanker rate, crude is exported due to arbitrage, which tends to keep inventories relatively balance globally. Therefore, these exports could mean that crude inventories in other areas of the world are relatively lower than U.S. inventories, which are at their highest level ever. Domestic inventories would of course have been even higher, were it in for these surges in exports.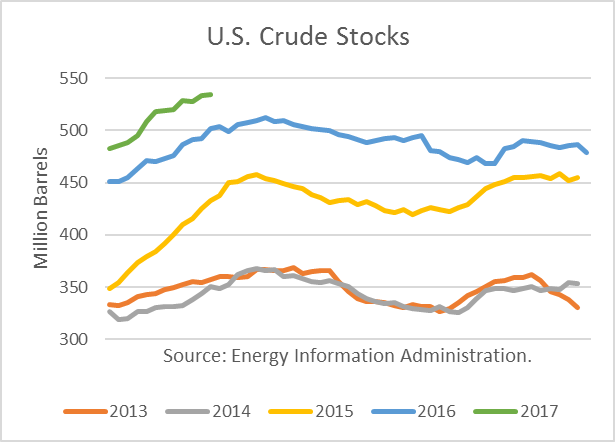 OPEC cannot ultimately control where its crude goes. International prices will dictate that.
During the 1973-74 Arab Oil Embargo, OPEC tried to target the U.S. and some other countries in retaliation for the U.S. decision to re-supply the Israeli military. But the international oil companies ended up redistributing the oil, and all areas of the world were about equally affected.
In 2017, Saudi Arabia is anxious to work with the Trump Administration. It would likely be counterproductive to that effort if the data were showing a reduction of supply to the U.S.
Saudi Aramco is taking 100 percent in the U.S. joint venture, Motiva, effective April first. It had been a 50 percent owner with Shell. Aramco will retain the huge Port Author refinery, but Shell will solely own the other two smaller refineries.
Such a divestiture could result in lower crude exports to the U.S. to supply the one refinery in the short term. But Aramco has said that it wants to make additional investments in refineries.
The Saudi Deputy Crown Prince Mohammed bin Salman and Energy Minister Khalid Al-Falih recently met with President Trump in the White House. The readout from the meeting stated: "President Trump provided his support for developing a new United States-Saudi program, undertaken by joint U.S.-Saudi working groups, and its unique initiatives in energy, industry, infrastructure, and technology worth potentially more than $200 billion in direct and indirect investments within the next four years."
Check back to see my next post!
Best,
Robert Boslego
INO.com Contributor - Energies
Disclosure: This contributor does not own any stocks mentioned in this article. This article is the opinion of the contributor themselves. The above is a matter of opinion provided for general information purposes only and is not intended as investment advice. This contributor is not receiving compensation (other than from INO.com) for their opinion.