Analysis originally distributed on May 10, 2017 By: Michael Vodicka of Cannabis Stock Trades
If you like getting a good deal then once again the time has come to take a look at cannabis stocks.
The cannabis sector has fallen into a bear market. A bear market happens when a stock falls 20% or more from its 52-week high.
After posting massive gains in 2016 and early 2017 – the MJIC Index North American Cannabis Index is down 25% from its 52-week high. Take a look.

I don't see any fundamental reason for the pullback. As always there has been plenty of good news coming out of the cannabis industry.
For example, this story on the potential size of Canada's recreational cannabis market.
I see this bear market as merely short-term profit taking after a lot of cannabis investors were sitting on big gains from 2016 and even early 2017.
Either way, this weakness highlights one of the most important things to know about investing in cannabis stocks.
It's a really good idea to be diversified.
Many individual cannabis stocks have fallen more than 25%. Having too much capital in just one or two companies can lead to steep losses quickly. Owning a basket of cannabis stocks is a good way to reduce risk. If one of your stocks explodes, it's not taking your whole portfolio down with it.
Fortunately – it just became a little easier to diversify in the cannabis sector. Let me explain….
Horizons Medical Marijuana ETF (TSX.V:HMMJ) just became the first ever cannabis stock fund.
Shares began trading in early April on the Toronto Stock Exchange.
The fund holds 14 cannabis stocks. Its goal is to track the North American Cannabis Index. Take a look below.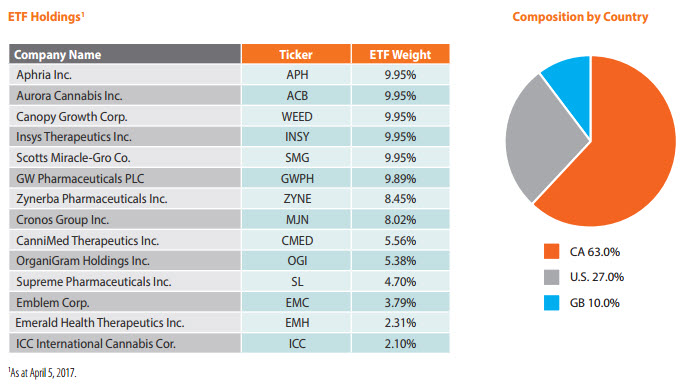 The fund parameters are designed to avoid, illiquid, scammy stocks and focus on industry leaders that offer more stability.
For example, each holding must have a market cap of at least $75 million (Canadian), average daily trading volume of at least 75,000, with single stock being weighted no more than 10% of the portfolio.
It looks like the fund is gaining traction with investors. After one month, the fund is managing $123 million in assets. That's a solid start.
Average daily trading volume has been strong at 705,000. This fund is plenty liquid to handle institutional volume.
The management fee for this ETF is 0.75% – or 75 basis points. So if you invested $100,000, it would cost you about $750 a year to own this fund.
This Fund offers a Quick and Easy way to Diversify
Overall, I'm a fan.
For investors looking for a quick way to invest and diversify in the cannabis sector – for now this is your best option.
I also like this fund because it will attract additional capital and attention into the cannabis sector.
That will be great for all the cannabis investors who own individual cannabis stocks.
But I See Some Limitations Too
However, I also see some limitations.
For example, this fund is heavily focused on Canada. Don't get me wrong. I love Canadian cannabis stocks.
But focusing too much on Canada is like going out to dinner and only looking at half the menu.
The fund does offer diversification. That is a great way to reduce risk.
However, the opportunity cost of less risk is less reward. I expect the individual cannabis stocks that grow into industry leaders to deliver much bigger returns than this fund in the long run.
The Big Picture
This fund could be a perfectly good way to invest in cannabis. It's a quick and easy way to gain diversified exposure to the high-growth cannabis industry.
However, for cannabis investors that want to be more aggressive, you can still own this fund – but I would also recommend owning a diversified portfolio of individual cannabis stocks.
I believe owning individual cannabis stocks will be more profitable in the long run.
To get the latest analysis as soon as it is released, please subscribe to our free weekly newsletter.
Enjoy,
The information contained in this post is for informational and educational purposes only. The trading ideas and stock selections represented on the Cannabis Stock Trades website are not tailored to your individual investment needs. Readers and members are advised to consult with their financial advisor before entering into any trade. Cannabis stocks carry a certain level of risk and we accept no responsibility for any potential losses. All trades, patterns, charts, systems, etc. discussed are for illustrative purposes only and not to be construed as specific advisory recommendations. All ideas and material presented are entirely those of the author and do not necessarily reflect those of the publisher.