The Quiet Buying Opportunity
The Walt Disney Company (NYSE:DIS) has quietly retreated from its recent highs of $116 to sub $104 thus presenting a buying opportunity in this media juggernaut heading into earnings. We've all heard the endless bickering over its slumping ESPN franchise. Although ESPN makes up a disproportionate amount of the company's revenue, all of its other franchises are posting healthy growth hence Disney will be relying less and less on its ESPN franchise over the coming years. Disney's perpetual stock slump leading up to its recent resurgence was almost entirely attributable to the decrease in ESPN subscribers and subsequent revenue and profit declines from that franchise. The ESPN franchise within the Media Networks segment generates revenue/operating income that is disproportionate to the amount of the company's overall revenue and operating profit. Thus, one can see why investors were spooked after consecutive significant declines in ESPN subscribers and thus financial numbers over the past three years. Excluding ESPN, Disney has been executing well and reporting record numbers throughout all of its other business segments. Disney has a deep and diversified enough entertainment portfolio that makes a compelling case that these ESPN fears are overblown. Disney offers a compelling long-term investment opportunity considering the growth, pipeline, diversity of its portfolio, share repurchase program and dividend growth in light of this recent retreat.
Long-Term Narrative and Positive Analyst Sentiment
I've been a long bull of Disney (DIS) stock, particularly since the post-ESPN induced sell-off throughout 2016. Since the lows of October 2016, Disney has seen a huge appreciation in stock price, breaking out to above $116 per share before this current downtrend. This upswing has been on the heels of multiple catalysts such as of reporting record annual results, breaking the all-time worldwide box-office record, witnessing a slew of analyst upgrades, Iger extending his contract as CEO, ESPN woes subsiding, Shanghai Disney opening and Disney's movie line-up announced through 2020. This inflection point coincided with Doctor Strange, Moana and Star Wars Rouge One in calendar Q4 of 2016 followed by record openings for its live action film, Beauty and the Beast and Guardians of the Galaxy 2. The stock fell from the $120s in late 2015 to the high $80s and had been stuck in the $80-$90 range all throughout 2016. That stock slump offered investors an opportunity to purchase a high-quality company at a significant discount.
As Disney started its pivot out of its 2016 lows, the company witnessed a slew of upgrades and positive comments regarding its shares. Initially, RBC stated that Disney possesses "massive balance sheet potential" and would have more than $65 billion for a transformative acquisition. RBC upgraded Disney with a $130 price target. Evercore ISI upgraded Disney with a target price of $120. Goldman Sachs upgraded Disney, issuing a target price of $134. Goldman stated "We see four key drivers: (1) DIS's FY18 film slate might be its best ever; (2) ESPN headwinds may abate; (3) Major new park attractions start opening in CY17 through CY19. (4) DIS would potentially benefit the most in the peer group from corporate tax reform." Guggenheim upgraded Disney to a buy and boosted the firm's price target to $128 from $118. In early April, Disney was added to Goldman's Americas Conviction List with a $138 price target.
"We expect FY2018 to be Disney's best film slate ever with 4 Marvel films, 2 Star Wars films and 3 animated films like Beauty and the Beast, all of these films have large consumer product opportunities which could drive upside at the studio and consumer products" - Analyst Drew Borst, Goldman Sachs
Morgan Stanley recently came out with positive remarks stating that theme parks will now contribute more to operating income than ESPN does. Morgan Stanley reiterated its overweight rating and sees a 25% upside in the stock price. Analyst Ben Swinburne sees new theme park attractions such as Avatar, Toy Story and Star Wars adding to the upside in the theme parks division. Although I feel that these analyst upgrades were far too late as the stock elevated to the high $90 or beyond the $100 range before any analyst issuing buy ratings, this further bolsters the long-term investment case and adds to the bull case (Figure 1).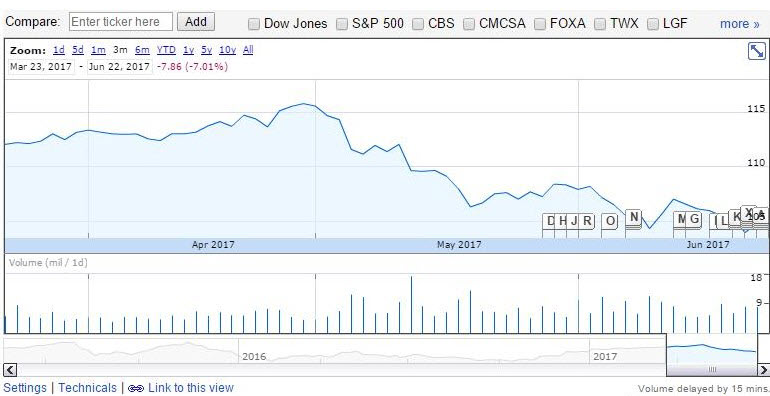 Figure 1 – 3-month Disney stock chart presenting a buying opportunity
ESPN This and ESPN That
The Walt Disney Company (NYSE:DIS) recently announced that its ESPN segment terminated ~100 employees to reflect the changing media environment as well as shaking up management ranks. The result will be focused on a digital presence and per ESPN president, John Skipper changes in ESPN content must "go further, faster… and as always, must be efficient and nimble". As the consumption of media continues to change, Disney is trying to contend with this migration away from traditional media to embrace social and streaming. Disney announced that ESPN lost ~2 million subscribers in FY 2016, marking the lowest number of subscribers since 2005. ESPN subscribers fell by 2.2% to 90 million for the third straight annual decline albeit it's the slowest rate of decline compared to 2015's 3.2% slide to 92 million and 2014's 4% fall to 95 million after peaking at 99 million in 2013. Disney has initiated corrective actions regarding the ESPN declines. Disney recently announced a deal with Hulu for live-TV streaming which will include ESPN live and other Disney/ABC features (Disney owns a 33% stake in Hulu). Vice and Disney also set a production deal with ESPN that will see programming shared between the two companies. Disney is the largest stakeholder in Vice after putting $400 million into the company in addition to the piece it holds through its stake in A&E Networks. Disney announced that it is buying a 33% stake in BAMTech. This is intended to accelerate growth in direct-to-consumer video streaming. This will be a new ESPN-branded multi-sport direct-to-consumer service. Disney said that BAMTech would work with ESPN to launch a direct-to-consumer, subscription streaming service, featuring live sporting events at the regional, national and international levels. During the annual investors meeting, Bob Iger stated that an ESPN direct-to-consumer offering would launch by the end of the year in 2017. ESPN's decline has slowed and perhaps will reach an inflection point where other initiatives will begin to bear fruit and declines will be fully arrested. Once the ESPN declines are fully arrested and initiatives come to fruition, I feel that these shares will have more upside.
Live Action, Star Wars and Marvel – Disney's Perennial Box Office Superiority
In 2015, Disney set a worldwide total box office gross record at $5.84 billion and followed up with breaking its record and through the $6 billion mark in 2016. On the domestic front, Disney broke its own annual box office record by recording over $3 billion in box office receipts in 2016. Disney became the first studio to reach the elusive $3 billion mark at the domestic box office. This was anchored by its "Big Three", the three highest-grossing domestic films of 2016 with Finding Dory, Star Wars: Rouge One and Captain America: Civil War grossing $486 million, $528 million and $408 million, respectively. Let's not forget about Zoopotia and the Jungle Book grossing $341 million and $364 million, respectively. I feel that 2017 and 2018 will be even bigger years for Disney at the box office both domestically and internationally.
Thus far in 2017, Disney has already logged $1.26 billion in domestic box office receipts. Beauty and the Beast and Guardians of the Galaxy 2 have earned $503.5 and $376.7 million domestically. International results continue to be strong as well with Beauty and the Beast, Guardians of the Galaxy 2 and Pirates of the Caribbean 5 posting $1.25 billion, $846 and $655 million worldwide box office gross, respectively. Disney has plans to continue its live-action adaptations after successes with Alice and The Jungle Book with Dumbo, Mulan, Little Mermaid, Aladdin, The Lion King and Cruella De Vil over the next few years.
Disney's pipeline is loaded with Star Wars, Pixar, Disney and Marvel films over the next five years, many of which will be $1 billion plus films. Black Panther has received a lot of buzz which is due out next year in February of 2018. Couple that with licensing, merchandising, sequels, theme parks, etc., and this will likely serve as huge catalysts moving into the future for box office numbers. Specifically, Disney is now able to leverage ancillary Marvel characters that it doesn't own after Marvel had to piece meal its properties due to financial distress. Spider-Man was sold to Sony and The X-Men were sold to Fox for example. Disney owns rights to the vast majority of Marvel characters however when it comes to Spider-Man, a new agreement between Sony and Disney provides a mutually beneficial scenario. Spider-Man was first introduced alongside the Avengers in Captain America: Civil War in 2016 and will be co-starring with Tony Stark/Iron Man later this summer in Spider-Man: Homecoming. An agreement between Marvel (Disney) and Sony states that Marvel can include Spider-Man in Captain America: Civil War and future properties. Both studios will keep their box office returns for any Spider-Man related revenue. This could be a major tailwind now that Spider-Man can be included in spinoffs with Avengers and other Marvel characters with no royalty costs. This will be exciting to see this unfold and how Marvel will layer in Spider-Man to its advantage over the next few years in the cinema. Spiderman hits theaters on July 7th.
Conclusion
It's time to move past the ESPN issues and accept the fact that near-term growth will be elusive. The Walt Disney Company (NYSE:DIS) is doing its best to place ESPN on the right footing and into the future. This can be seen via the very public layoffs and restructuring to evolve towards the future of media consumption. The lingering ESPN issues are being addressed in a variety of ways via Hulu, BAMTech investment, Vice production deal, Sling TV as well. Disney's diverse portfolio consists of Marvel Entertainment, Lucasfilm, Pixar, ESPN, ABC, 32% shareholder in Hulu and of course the core Disney franchise (Disney Studios, Disney consumer products, Parks and Resorts and Disney Cruise Line) which lessens the dependence on ESPN moving into the future. Once the ESPN initiatives begin to show results in a backdrop of all its other franchises continuing to post record numbers, shares will likely more to the upside again. Analysts are also piling on this long-term narrative with significant price targets that are much higher than current levels. Disney continues to deliver EPS and revenue growth despite the ESPN franchise slowing. Disney has steadily increased the dividend and engaged in share buybacks to drive shareholder value. The long-term picture remains well intact with many catalysts in play through 2020, thus I feel that Disney has presented a buying opportunity with the recent retreat.
Noah Kiedrowski
INO.com Contributor - Biotech
Disclosure: The author currently holds shares of Disney and the author is long Disney. The author has no business relationship with any companies mentioned in this article. He is not a professional financial advisor or tax professional. This article reflects his own opinions. This article is not intended to be a recommendation to buy or sell any stock or ETF mentioned. Kiedrowski is an individual investor who analyzes investment strategies and disseminates analyses. Kiedrowski encourages all investors to conduct their own research and due diligence prior to investing. Please feel free to comment and provide feedback, the author values all responses. The author is the founder of stockoptionsdad.com a venue created to share investing ideas and strategies with an emphasis on options trading.