Analysis originally distributed on June 15, 2017 By: Michael Vodicka of Cannabis Stock Trades
In the old days, pot was seen as a way to get stoned.
But now, researchers are discovering that pot can actually have many health benefits.
Most of those come from Cannabidiol - one of the most prevalent compounds found in hemp plants that is commonly refereed to as CBD on the Street.
Studies have shown that the non-psychoactive elements of CBD can deliver relief to a wide range of ailments, including aches, pains, anxiety, insomnia and arthritis - without the euphoric effects provided by THC.
These benefits are creating a huge growth market.
The Hemp Business Journal, a CBD media and data company, estimates the CBD market will grow to $2.1 billion in consumer sales by 2020. That would be a 700% increase from 2016.
This is an exciting segment of the cannabis industry that doesn't get a lot of attention.
In early March I pointed out that Medical Marijuana Inc. (OTC:MJNA) is an early leader in the space and rapidly expanding sales and market share.
To get the latest analysis as soon as it is released, please subscribe to our free weekly newsletter.
Today, I want to share another way to potentially profit from the high-growth CBD industry.
A holding company with an impressive portfolio of CBD companies.
One of its subsidiaries just reported monthly sales growth of 1,300%, booking monthly sales of $1 million.
Potnetwork Holdings, Inc. (OTC:POTN)is a holding company that owns two cannabidiol subsidiaries.
Diamond CBD is its CBD consumer products division, making a line of CBD products. Take a look below.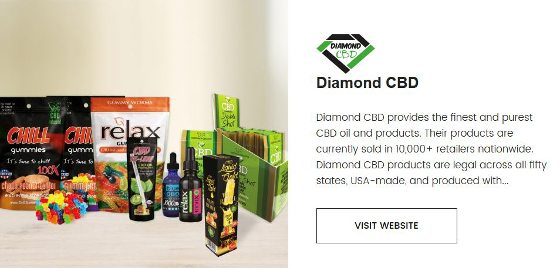 First Capital is its research division. Take a look below.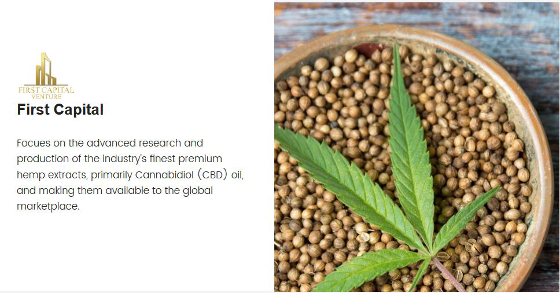 As you might have seen from the first image, Diamond already has a major retail presence.
Its products are sold in more than 10,000 retailers nationwide. Take a look below at some of its best sellers.
And equally important, all of Diamonds CBD products are legal in all 50 states because they do not have THC in them - the compound from the cannabis plants that gets people stoned.
This appeals to me as an advisor and investor because cannabis is still illegal on the federal level and removes unwanted legal risk.
Quarterly and Monthly Sales are Exploding Higher
With the CBD industry booming, Potnetwork has been cashing in.
Its first quarter results for the period ending March 31 were awesome.
Revenue was up more than 200% from the same period last year, climbing from $668,290 to $1,894,464.
This is also a rare cannabis company that is profitable.
Net income surged from $77,291 to $153,587.
More recently, Diamond reported May sales of more than $1 million, more than a 1,300% increase from May 2016 revenue of $70,444. Wow. That's no joke right there.
POTN Shares Are Up Big In 2017
POTN is also one of the few cannabis companies trading in the green in 2017.
Shares saw a pretty sharp pullback in March and April before recovering and rallying back into a 52-week high. Take a look below.

Risks To Consider
Despite its recent surge, this is still a very small company with a market cap of just $45 million. ThatTMs not inherently a bad thing, but these smaller companies can be prone to bouts of extreme volatility because of their size.
Action To Take
This is one of the more promising cannabis companies I have uncovered in the last few months. I'm impressed with Diamonds product line, branding and growing distribution network. I am expecting plenty of volatility, but I will be putting this stock on my short list for a potential addition to the Cannabis Stock Trades member portfolio.
Enjoy,
The information contained in this post is for informational and educational purposes only. The trading ideas and stock selections represented on the Cannabis Stock Trades website are not tailored to your individual investment needs. Readers and members are advised to consult with their financial advisor before entering into any trade. Cannabis stocks carry a certain level of risk and we accept no responsibility for any potential losses. All trades, patterns, charts, systems, etc. discussed are for illustrative purposes only and not to be construed as specific advisory recommendations. All ideas and material presented are entirely those of the author and do not necessarily reflect those of the publisher.