Analysis originally distributed on June 1, 2017 By: Michael Vodicka of Cannabis Stock Trades
Amazon was at the top of the headlines this week after its share price broke $1,000.
Amazon is now up 1,300% in the last 10 years. That is a nice win for shareholders. Early investors are sitting on big gains.
It's also a reminder of where consumers are spending their money these days – online.
Any business that wants to thrive has to be winning online.
This is true in the cannabis industry. Just like the broader retail industry – online cannabis sales are booming.
However, Canada's young cannabis companies are struggling to meet that growing demand.
To get the latest analysis as soon as it is released, please subscribe to our free weekly newsletter.
They are still being hampered by burdensome banking restrictions.
For example, Canadian cannabis producers have been banned from using PayPal because the U.S. based company is subject to US federal restriction on cannabis.
Even some larger banks have declined to provide financial service to Canada's cannabis industry simply because its so new and considered higher risk.
However – these burdensome regularity restrictions are also creating a big opportunity.
Innovative financial technology companies that can deliver solutions to these obstacles have an opportunity to generate significant profits and deliver market-beating returns to investors.
That's why I'm excited about a Canadian micro cap I bet you've never heard of.
This little-known financial technology company is emerging as a first mover and early leader providing mobile payment solutions to the cannabis industry.
Glance Technologies (CSE:GET) (OTCQB:GLNNF) is a Canadian financial technology company headquartered in Vancouver.
Shares are traded on the Canadian Stock Exchange and OTC markets.
Shares only began trading on the Canadian Stock Exchange in early September of 2016. So this company is fairly new to the stock exchange.
Glance specializes in mobile payment systems. The company has carved out a niche for itself in the restaurant industry.
Its most popular payment system is the Glance Pay Mobile Payment App – an app that lets diners pay their bills with a smartphone, categorize receipts and create financial reports.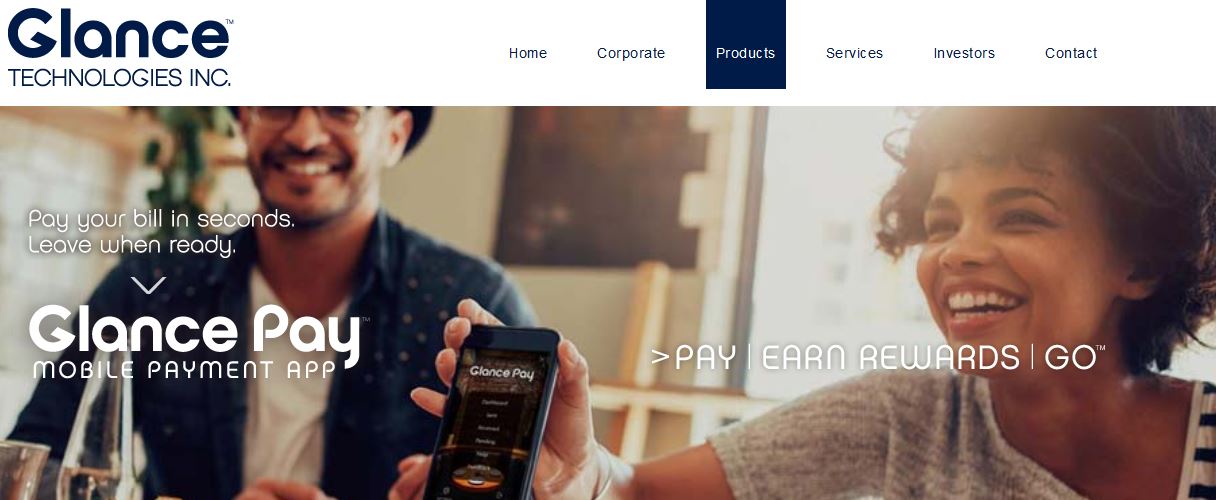 Today – Glance is making moves to tap into Canada's high-growth cannabis market.
On May 30 Glance announced it had signed a contract to license its mobile payment technology to Cannapay Financial Inc. for $1,000,000.
According to the press release, 'The deal will give Cannapay a non-exclusive, worldwide license to white label Glance's mobile payment processing platform and its anti-fraud technology, for legal business to business and business to consumer mobile payments in the marijuana industry."
The license will kick off on a 10-year term and will then be renewable for two more 10-year periods.
Under the terms of the deal, Cannapay will pay Glance an initial fee of $1,000,000, payable in two payments of $200,000 each in cash and a third payment of $600,000 in cash or in common shares of Cannapay that are due within three years of signing the agreement.
Glance Is Also Set To Take An Equity Stake In Cannapay
Glance will purchase a total of 8,000,000 common shares of Cannapay at a price of $0.05 per share for a total investment of $400,000. That will give Glance a 48% equity stake in Cannapay.
A Mobile Payment Solution that is Compliant for the Cannabis Industry
The goal of the partnership is to use the Glance mobile payment system and infrastructure, customize it for Canada's cannabis industry and then roll out the system to cannabis merchants and consumers.
To get the latest analysis as soon as it is released, please subscribe to our free weekly newsletter.
For the time being Cannapay is still privately owned. Although it sounds like the company is planning on having an IPO within the next 12 months.
In the meantime, that means the way to invest in this deal and partnership is with Glance.
Glance is Down 38% Since Going Public in September
Glance is down about 38% since going public in September. Despite that weakness, shares rallied about 10% on the deal news.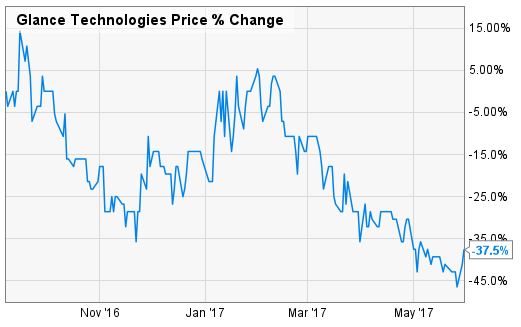 Risks to Consider
Glance is a nano cap – that means it's the smallest of the small publicly traded stocks. Its market cap is just $10 million. These smaller stocks are much easier for big traders to push around in the short run and cause extreme bouts of volatility.
Action to Take
Glance is making a lateral move from the restaurant industry into the high-growth cannabis industry. Shares have been weak since going public. But I expect its entry into a new market to attract the attention of cannabis investors.
Enjoy,
The information contained in this post is for informational and educational purposes only. The trading ideas and stock selections represented on the Cannabis Stock Trades website are not tailored to your individual investment needs. Readers and members are advised to consult with their financial advisor before entering into any trade. Cannabis stocks carry a certain level of risk and we accept no responsibility for any potential losses. All trades, patterns, charts, systems, etc. discussed are for illustrative purposes only and not to be construed as specific advisory recommendations. All ideas and material presented are entirely those of the author and do not necessarily reflect those of the publisher.