Analysis originally distributed on August 23, 2016 By: Michael Vodicka of Cannabis Stock Trades
MGC Pharmaceuticals (TSX:MXC, OTC:MGCLF) is a young cannabis biotech headquartered in Western Australia that specializes in pharmaceutical product research and development.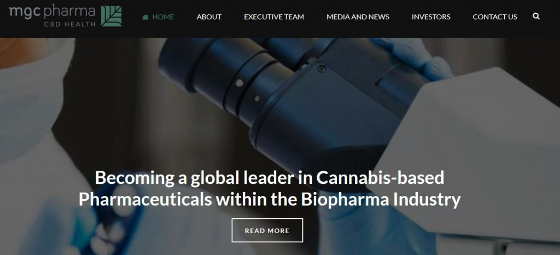 Australian cannabis stocks have been red hot for the last few months.
I added Australian-based Cann Group (ASX:CAN) to the members portfolio on July 31 and we're already up 70% in less than three weeks.
I added fellow Australian cannabis stock AusCann (OTC:ACNNF) to the member portfolio on June 6 and we're up 55%.
If you want to learn more about our member portfolio click here.
Although the company is incorporated and headquartered in Australia it also has operations in both Israel and Europe.
For example, MGC received two licenses from the Slovenian government to grow, process and trade Cannabis Sativa L (Hemp) and its products, including Cannabidoil (CBD) resin, in Europe.
The company's founders were leaders in Israel's growing medical cannabis industry.
The goal is to sell its products in Australia, Europe and North America.
MGC began trading under its current form in February of 2016 after completing a "reverse merger" and taking over the stock listing of Erin resources.
Shares are traded on the Australian Stock Exchange under the ticker symbol MXC. Shares are also traded in U.S. OTC (over-the-counter) markets under the ticker symbol MGCLF.
MGC specializes in CBD pharmaceutical research and product development.
I've talked about the CBD market before, but let me give you a quick refresh.
What are Cannabinoids?
CBD is the second most prevalent compound found in cannabis that has been proven to provide significant medical benefits, without the psycho active effects of THC. That means it doesn't get the user "stoned."
CBD is considered to have a wider scope of medical applications than tetrahydrocannabinol (THC), and with more appealing treatment options for patients seeking anti-inflammatory, anti-pain, anti-anxiety, anti-psychotic, and/or anti-spasm effects without any psychoactive effects.
Because of the big health benefits, CBD extracts are projected to be one of the fastest growing cannabis sub industries.
The Hemp Business Journal recently released a report projecting the global CBD market will grow to $2.1 billion sales by 2020.
Independent research firm GreenWave Advisors is even more optimistic, predicting the CBD market will grow to $3 billion by 2021.
The CBD market was valued at around $200 million in 2015 (I could not find 2016 market data) - so this would be an increase of more than 1,000% in around five years.
In addition to bullish growth projections, there is another reason I am attracted to companies developing CBD extracts - less legal risk than THC.
CBD treatments can be purchased online in most U.S. states.
15 states have legalized the sale of CBD-only products while another 28 states allow the sale of CBD extracts through medical or recreational dispensaries.
Here's How MGC Is Planning on Cashing in on the High-Growth CBD Industry
MGC operates three divisions: MGC Botanic, MGC Derma, MGC Pharma.
This may sound a little confusing but it's actually quite simple.
MGC Botanic grows medical grade cannabis that it uses to research and develop its dermatology and pharma products.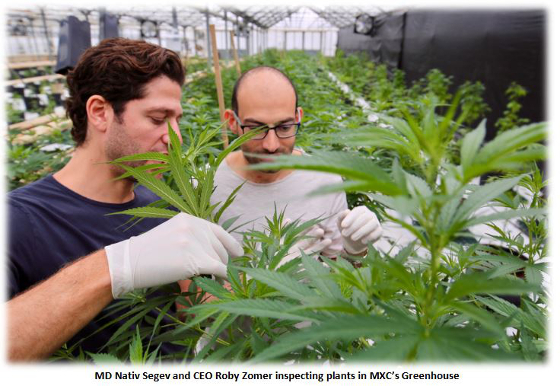 MGC Derma is developing CBD infused consumer products for dermatology and working on wholesale agreements with some of Europe's largest cosmetic retailers.
MGC's dermatological skin care products are targeted for the relief of redness, dry, flaky and oily indications for skin prone to acne, seborrhea and psoriasis like symptoms.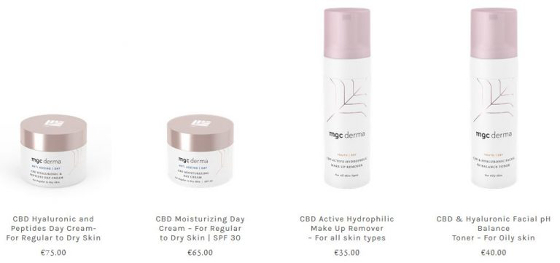 MGC Pharma is developing CBD pharmaceuticals products with the goal of treating cancer and epilepsy patients.
In early July MGC provided an update on all three divisions.
Botanic Division:
In the Czech Republic, over 470 medicinal cannabis plants have been successfully transferred to the Company's 1,000m outdoor greenhouse facility.
In Slovenia, the Company's research project to create new genetics strains of medicinal cannabis at the University of Ljubljana has commenced, with first batch of seeds planted.
Raw material production is underway with the planting of high CBD cannabis strains at the Company's open field farm in Slovenia for harvest in Q3 2017.
In Australia, material progress being made with the Royal Melbourne Institute of Technology collaboration on a full suite of medicinal cannabis research initiatives centered on genetics for medical indications with initial operations scheduled to commence shortly.
Derma Division:
In May MGC reported positive results from the final phase clinical tests on its new proprietary dermatological products, demonstrating strong improvements on highly irritated or inflamed skin conditions.
Three products in MGC's DermaPlus product range were evaluated over a three-month period on 90 volunteers at a leading European dermatological clinic.
92% of volunteers stated that they would continue using the tested cream.
Following the positive final clinical test results, the DermaPlus product range is expected to be granted the 'dermatologically tested' label under European Regulations.
In July MGC Derma announced the signing of new European wholesale reseller agreements for its MGC Derma cosmetics product line. The agreements are first stage distribution deals with dispensaries and lifestyle retail outlets in Spain, Italy and Romania.
Based on early sales MGC believes it will secure deals with other European distributors.
Looking forward, full commercialization and first sales of MGC's derma products are on track for the third quarter of 2017.
Pharma Division:
At the beginning of the quarter, MGC produced its first cannabinoid extracts at its European Extraction facility in Slovenia.
The production was achieved ahead of schedule and marked a major technical and commercial milestone for the company.
Directly from the press release:
"In June MGC announced it had signed a binding agreement with leading laboratory supplier MIKRO + POLO D.O.O. (Mikro+Polo), making it the sole and exclusive provider with the right to sell, market and distribute upcoming MGC Pharmaceutical branded cannabis APIs to all new Mikro+Polo government tender customers across Slovenia, Croatia and Bosnia. Mikro+Polo is the largest Slovenian supplier of laboratory accessories, equipment, chemicals and diagnostics. It provides over 500,000 products such as filtration equipment, instruments, chromatography and measuring instruments as well as pharmaceuticals for clinical trials to its established customer base of research institutions, academies and laboratories ac ross Slovenia, Croatia and Bosnia."
MGC pharma recently announced a binding memorandum of understanding (MOU) with leading Australian research university, Royal Melbourne Institute of Technology (RMIT).
The agreement will entail a full suite of medicinal cannabis research focused on genetics for medical indications, with a specific focus on the development of genetics and medicines to be used for the treatment of cancer.
MGC and RMIT will also establish a world first library of cannabis medicines and collaborate on the development of genetics and breeding programs for medical cannabis strains and protocols in Australia. The parties also intend to initiate trials to determine the optimal formula for the treatment of melanoma cancer.
And finally, and perhaps most interesting, MGC is working on developing cannabis pharmaceuticals to treat epilepsy.
Here's a clip directly from MGC:
"MGC Pharmaceuticals' planned Phase 2A crossover (non-pivotal) epilepsy clinical study in Slovenia is ready to commence immediately upon receipt of the final clinical trial approval from the key regulatory body in Slovenia, the Agency for Medicinal Products and Medical Devices of the Republic of Slovenia (JAZMP).
The Company is very pleased with the preparations made in readiness to commence the clinical trial, to be run by 2 world experts in epilepsy treatments being Dr David Neubauer and Professor Uri Kramer, upon receipt of the final approval from the JAZMP which is currently being assessed.
The results from the study will deliver the Company a defined pathway for it to produce its own registered medicine for the treatment of epilepsy, as its first step to producing and selling its own medical grade product."
What Do The Financials Look Like For MGC?
MGC has a lot of interesting things going on but this is still a very early stage cannabis company.
Right now the company isn't producing any material revenue.
I'm optimistic that will change sooner than later with its derma products and its new wholesaler deals.
Longer term I also see plenty of revenue potential from its pharma division with its pursuit of cancer and epilepsy drugs.
While MGC works on growing revenue the company should have plenty of cash to sustain operations. MGC reported a cash balance of $11.4 million in the quarter ended June 30.
MGC Is Down 69% From Its All-Time High
MGC has been weak with the broader cannabis sector for the last few months. Shares are down about 68% from the all-time high in March. Take a look below.

Right now MGC only has a market value of about $42 million.
I don't view this weakness on the chart as a major problem. In fact, I actually view it as good. It means that investors are not pricing in mega growth into this company like we see in so many other cannabis stocks.
MGC still has a lot to prove. But if the company succeeds, anyone buying right now would see some pretty big gains in the long run.
Enjoy,
The information contained in this post is for informational and educational purposes only. The trading ideas and stock selections represented on the Cannabis Stock Trades website are not tailored to your individual investment needs. Readers and members are advised to consult with their financial advisor before entering into any trade. Cannabis stocks carry a certain level of risk and we accept no responsibility for any potential losses. All trades, patterns, charts, systems, etc. discussed are for illustrative purposes only and not to be construed as specific advisory recommendations. All ideas and material presented are entirely those of the author and do not necessarily reflect those of the publisher.