Analysis originally distributed on September 27, 2017 By: Michael Vodicka of Cannabis Stock Trades
The Priceline Group Inc. (NASDAQ:PCLN) has been one of the best performing stocks in the S&P 500 for the last ten years.
Priceline's gain of 1,970% destroyed the S&P 500's 64% return in the same period. Take a look below.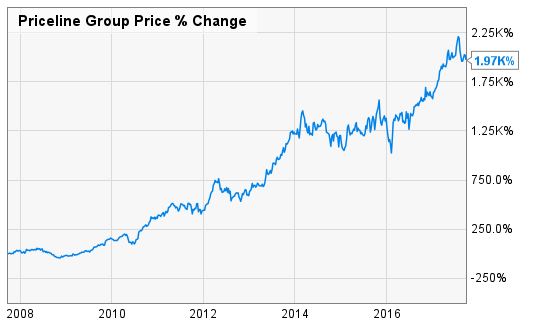 Investing $1,000 ten years ago would be worth $19,700 today.
Investing $10,000 ten years ago would be worth $197,000.
The reason for Priceline's success is simple. It uses technology to help consumers find great deals.
Today - I see this same cycle repeating itself in the cannabis sector.
Just like Priceline ten years ago, this young cannabis company is using technology to help consumers find the best cannabis deals and strains.
That's why TheStreet just called this company "the Priceline of Pot."
Leafbuyer Technologies (OTC:LBUY) is an online cannabis superstore.
The company was founded in 2012 and is headquartered in Greenwood Village, Colorado.
Shares went public in April of 2017 - so this is a relatively new cannabis stock on the scene.
Similar to the Priceline model, Leafbuyer's website and mobile app help connect local cannabis buyers and sellers.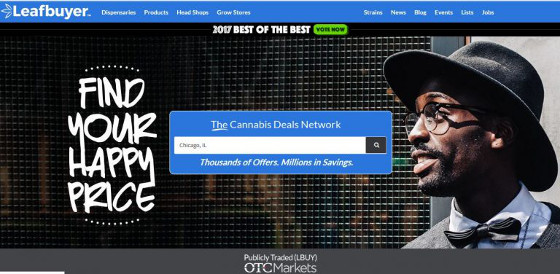 Anyone who's ever bought cannabis in California knows the value of this service.
Buying cannabis isn't like buying Budweiser where the consumer can expect to buy the exact same product anywhere in the world.
The cannabis industry is still highly fragmented. Local dispensaries are supplied by local growers.
That means there are tons of different strains - at different prices - floating around a small local market.
In Pacific Beach, California for example - a town of just 47,000 - there are more than 50 cannabis shops.
This can be confusing for local cannabis buyers.
Buyers need an online, one-stop show where they can view all the best deals and strains.
Leafbuyer is filling this need with its website and mobile app - operating like a database of all the best deals and strains.
If a user's favorite dispensary is out of Sour Diesel - user can quickly scan other shops in the area selling Sour D.
Here's what Leafbuyer says about its service:
Use Leafbuyer's advanced searching options to filter through our database of deals and find exactly the offer you seek! Looking for medical edibles or recreational 1/8ths? We have you covered!
Leafbuyer has some Competition in its Industry
Despite the recent attention - Leafbuyer isn't the only game in town. There are a few other well-known players in this cannabis technology sub industry.
Weed Maps is the most well known. Weed maps basically does the same thing - connecting local sellers and buyers through its website and mobile app.
Massroots (OTC:MSRT) also operates in the space.
However, Weed Maps is still privately owned. And Massroots has struggled big-time in 2017 with its share price down 65% this year.
In the meantime - Leafbuyer is up 213% since going public in late May.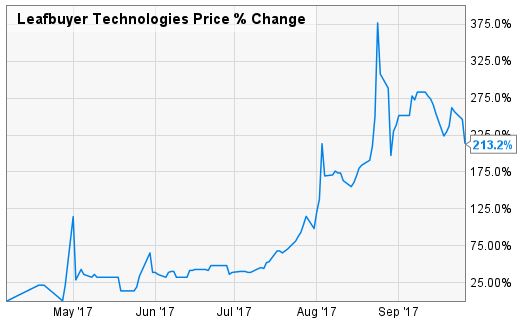 Those gains have been driven by a steady stream of good news.
The way Leafbuyer grows is simple: adding users. From that perspective it's a lot like Facebook.
Leafbuyer has been busy releasing new updates and functionality to attract new users and revenue.
For example, in July Leafbuyer launched a mobile app with some really cool new features.
From the press release:
The new app includes three main sections: a deal-searching tool, a dispensary locator (both with a matching map view), and a strain search engine. One highly anticipated feature of the app, is that users can save or "favorite" individual deals, dispensaries, or strains, giving the user tremendous flexibility.
In August Leafbuyer announced an expansion into the high-growth and lucrative west coast markets of California, Washington and Oregon.
This places Leafbuyer in position to capitalize on the launch of California's recreational market in January.
With its network of users growing quickly Leafbuyer has seen its revenue spike in the last 12 months.
Leafbuyer Revenue is up more than 100% in the Last 12 Months
In the nine month ended on March 31, 2017 revenue more than doubled to $715,000.
Those numbers tell me Leafbuyer should produce about $1 million in revenue in 2017.
While that's an impressive revenue gain, this stock is trading with a sky-high valuation.
With a market cap of $100 million, shares are trading at about 100 times sales.
For the broader stock market, trading at three times sales is considered value. Trading at 10 times would be considered high. 100 is almost unheard of.
Anyone buying shares must understand that a lot of good news is already prices into this company.
Shares are Traded on the US OTC Exchanges
Shares of Leafbuyer are traded on US OTC markets under the ticker symbol LBUY.
I see average daily trading volume of 218,000. With a share price of $2.37, that means about $516,000 worth of shares are trading hands every day.
This ticker symbol is plenty liquid to handle any retail trades and even smaller institutional trades.
The Big Picture on Leafbuyer
Leafbuyer is an early industry leader in the web and technology cannabis sub sector. The company is helping cannabis buyers and sellers connect. Revenue is up more than 100% in the last 12 months and shares have a lot of upward momentum. The valuation is sky high, a lot of good news is already priced into shares. However, if Leafbuyer can keep adding new users shares can easily keep rising. I view Leafbuyer as a satellite holding in a diversified cannabis portfolio.
Enjoy,
The information contained in this post is for informational and educational purposes only. The trading ideas and stock selections represented on the Cannabis Stock Trades website are not tailored to your individual investment needs. Readers and members are advised to consult with their financial advisor before entering into any trade. Cannabis stocks carry a certain level of risk and we accept no responsibility for any potential losses. All trades, patterns, charts, systems, etc. discussed are for illustrative purposes only and not to be construed as specific advisory recommendations. All ideas and material presented are entirely those of the author and do not necessarily reflect those of the publisher.