On November 15th, Saudi Energy Minister Khalid al-Falih said, "We need to recognize that by the end of March we're not going to be at the level we want to be which is the five-year average, that means an extension of some sort."
He went on to say that Saudi Arabia favors making an extension decision at the OPEC meeting at the end of this month. "My preference is to give clarity to the market and announce on November 30 what we're going to do."
At the conclusion of the last OPEC meeting in May, the Saudi minister had stated that the current production quotas will "do the trick" of rebalancing stocks to normal levels within six months. Earlier this month, the DOE projected that global OECD stocks at end-2017 would be right where they were at end-2016. And it projected that 2018 inventories will be higher, not lower.
Russia's continued participation seems to be a linchpin, and the Russian energy minister, Alexander Novak, reportedly met with Russian oil producers about their view of extending the production deal. According to TASS, everyone but Gazprom Neft agreed to a six-month extension, not the nine-month extension favored by Mr. Al-Falih. Gazprom Neft expects to launch new projects in 2018.
U.S. Producers' Response
Since early August, the North American rig count had been dropping until a couple of weeks ago. The rebound in oil prices, which commenced in late June, may finally have just begun to reverse the downtrend.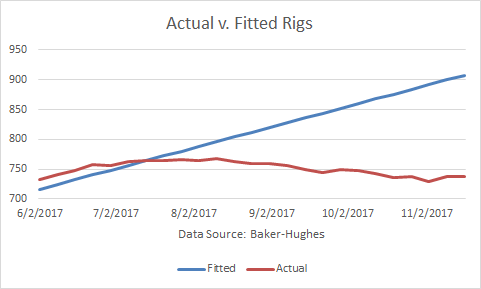 In addition, oil producer hedges had peaked in February. They are low enough to provide scope for a 100 million barrels of hedge sales if producers expect prices have peaked for this cycle.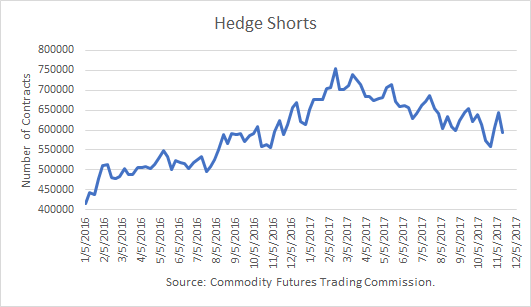 Also, speculative short positions have dropped down the lower end of their range. They are now positioned for a major rebound (selling) when the timing is right.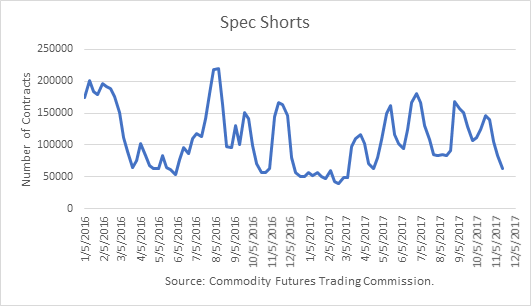 Finally, hedge spec longs have risen to a precariously high level. Such a crowded trade risks a major reversal as it did last February and March.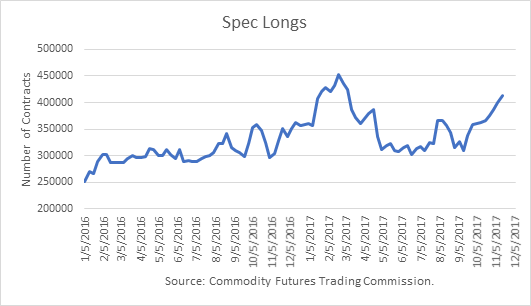 Mr. al-Falih was quoted saying, "I certainly don't spend time looking at hedge funds and the flows into financial investment instruments." That probably means he is concerned with trader positioning but does not want to admit it.
Conclusion
The market rose following the White House guidance in early October that President Trump would not re-certify Iran as in compliance with the nuclear deal. It effectively added a geopolitical risk premium.
U.S. inventories had also been dropping as a function of the hurricane effects on refineries and then Gulf of Mexico production. In addition, U.S. exports of crude and products reached record highs.
The market appears to be treading water ahead of the OPEC meeting on November 30th. The most likely outcome, given the posturing, seems to be an agreement to extend the deals for an additional six months until the ending of September.
The group is likely to report that the decision of whether to continue through all of 2018 will be made at the next OPEC meeting in May. At that time, they will decide with to extend the cuts, or "taper" increases at a rate the market can absorb without flooding inventories once again.
The Iran certification issue will come to a head in December or January. Its resolution will provide a new catalyst, one way or the other. I do not expect an armed conflict.
The seasonal stock build expected in January will also provide direction to prices. If it becomes clear that the glut was not reduced during 2017, as DOE projects, I would expect a strong sell-off once again, as occurred in 1Q2017.
Check back to see my next post!
Best,
Robert Boslego
INO.com Contributor - Energies
Disclosure: This contributor does not own any stocks mentioned in this article. This article is the opinion of the contributor themselves. The above is a matter of opinion provided for general information purposes only and is not intended as investment advice. This contributor is not receiving compensation (other than from INO.com) for their opinion.