Hello traders everywhere. Bitcoin mounts a comeback and is on the rise for the ninth day in the last ten pushing through it's 50-day SMA where resistance had been located. Is this the new level of support? It's too soon to tell, but after rebounding off the 200-day SMA, it very well may be.
After a crash in January wiped out all of Bitcoin's gains from its record run in December it found support in mid-February at the 200-day SMA around the 7,800 level. Since then it has traded in a tight range before breaking out today and issuing a new green weekly Trade Triangle.
That drop coincided with statements by many analysts and market watchdogs that seemed to offer implied acceptance that the assets won't be regulated out of existence.
Still, until regulators gain a better grip on them, digital currencies will struggle for broader acceptance in mainstream finance and media.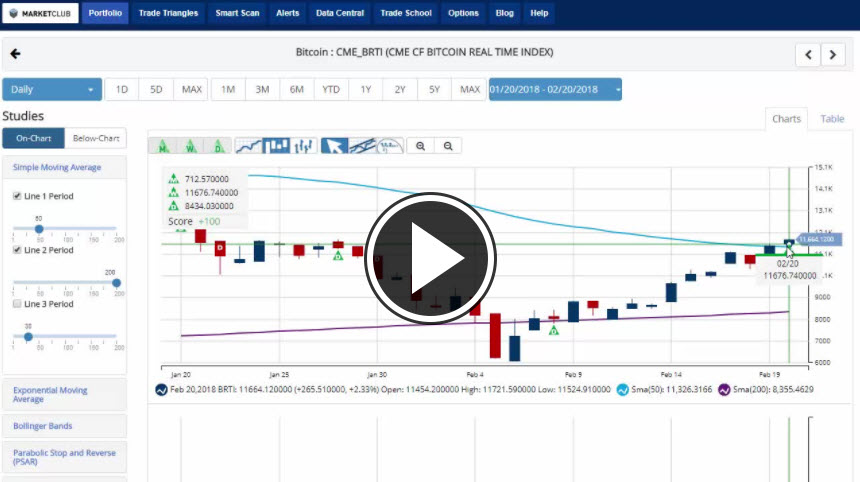 Wal-Mart Disappoints
Wal-Mart (WMT) is experiencing its largest intraday percentage fall in more than two years. The move down comes as they reported a lower-than-expected profit and posted a sharp decline in online sales growth during the holiday period. Its shares slumped 9.4%.
Other retailers including Target (TGT), Kroger (KR) and Costco Wholesale (COST) fell between 1.3% and 3.7%, dragging the S&P consumer staples SPLICES index down 1.62%.
Key Levels To Watch This Week:

S&P 500 (CME:SP500): 2,872.87
Dow (INDEX:DJI): 26,608.90
NASDAQ (NASDAQ:COMP): 7,501.58
Gold (NYMEX:GC.G18.E): 1,354.00
Crude Oil (NYMEX:CL.J18.E): 61.43
U.S. Dollar (NYBOT:DX.H18.E): 90.45
Bitcoin (CME:BRTI): 6,194.46
Every Success,
Jeremy Lutz
INO.com and MarketClub.com