Analysis originally distributed on February 7, 2018 By: Michael Vodicka of Cannabis Stock Trades
If you think robots are about to take over the world, I've got a great cannabis stock for you.
This early industry leader is leveraging the power of robotics and automation to develop some of the most innovative cannabis manufacturing equipment I have ever seen.
The company's flagship product is a highly engineered machine that helps cannabis producers quickly and cost-effectively extract oil from the cannabis plant.
If it catches on, this young cannabis company could grow into an industry pioneer and global leader.
Let's take a closer look.
Quadron Cannatech (QCC) is a young Canadian cannabis company headquartered in Vancouver.
Shares began trading on the Canadian Stock Exchange in February of 2017 under the ticker symbol QCC. I see average daily trading volume of 784,000 so this ticker is plenty liquid for 99% of regular investors.
I also see a US OTC listing under the ticker symbol QUDCF. I see much less liquidity here with average daily trading volume of 51,000. But that volume should still be adequate for most investors.
Here's why QCC grabbed my attention.
The company makes a specialized cannabis oil extraction system that makes it easy and more profitable to produce cannabis oils.
Its flagship product is the BOSS CO2. Check out this amazing piece of machinery below.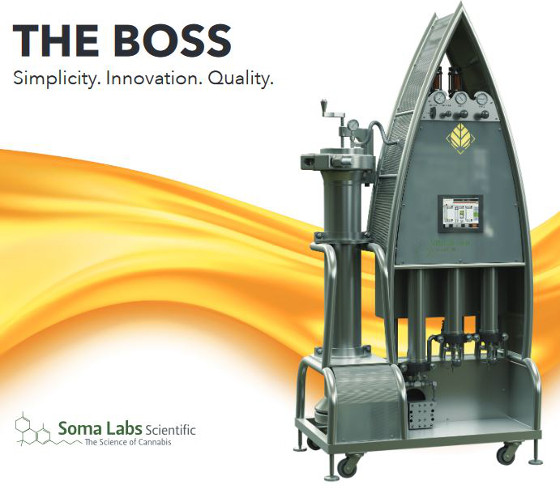 This is some of the most sophisticated cannabis production machinery I have ever seen.
It tells me the production process is quickly becoming more advanced. That is good.
And it solves a major problem in the cannabis industry.
As it stands, there is no industry standard for extracting cannabis oil. Every cannabis company builds its own home-grown oil extraction system, which is both cumbersome and expensive.
The BOSS provides a plug and play solution that is highly engineered and specifically designed for one function - extracting oils from cannabis plants.
I see a lot of innovation here, and I also see a lot of intellectual property that can be patented.
BOSS is still in its very early stages. QCC is currently taking pre-orders, but it has yet to be commercially released so this product has not produced any revenue. I'll be watching closely for the next few months for updates on new sales.
I think the BOSS machine has a lot of potential. But even if the product falls flat, QCC isn't a one-trick pony.
QCC Also Operates Two Other Divisions, Giving it Broad Exposure to the Cannabis Industry
QCC's Greenmantle division develops branded and customized vape pens for large cannabis manufacturers.
And finally, its Cybernetic Control Systems division provides consulting services to cannabis companies looking to automate production and manufacturing processes.
With these three divisions targeting three different segments of the cannabis industry, QCC has the feel of a cannabis conglomerate - a company involved in multiple sectors to diversify its business.
QCC is still a very early stage cannabis company. However, the early financials look solid.
In early January QCC reported results for the last fiscal six months and for such a young company the numbers look pretty solid.
Revenue for the six months ending October 31 came in at $952,000 Canadian dollars - up 45% from the same period in 2016.
These numbers tell me that QCC should be able to produce annual revenue of close to $2 million in the near future.
With a market cap of just $22 million, this stock's price to sales ratio of 11X is still a little high compared to the broader stock market, but within the cannabis sector where a lot of stocks are trading with super high P/S ratios, that 11X sales are relatively low.
If QCC hits a home run with BOSS, I would expect to see big sales growth.
Shares Have Pulled Back But are Still up 135% in the Last Three Months
QCC has traded in line with the broader cannabis sector.
Shares rallied pretty big in the fall of 2017 but ran into some weakness in January. Despite the pullback, QCC is still up 135% since early September.

Risks to Consider
QCC is still an early stage cannabis company. The BOSS machine looks promising but it still needs to deliver revenue.
Action to Take
QCC is a classic pick and shovel play in the cannabis sector. The BOSS extraction machine looks promising. If it catches on, QCC would be in position to be an early industry leader in a highly specialized cannabis sub-sector - cannabis production machinery and systems.
Enjoy,
The information contained in this post is for informational and educational purposes only. The trading ideas and stock selections represented on the Cannabis Stock Trades website are not tailored to your individual investment needs. Readers and members are advised to consult with their financial advisor before entering into any trade. Cannabis stocks carry a certain level of risk and we accept no responsibility for any potential losses. All trades, patterns, charts, systems, etc. discussed are for illustrative purposes only and not to be construed as specific advisory recommendations. All ideas and material presented are entirely those of the author and do not necessarily reflect those of the publisher.