Introduction and Backdrop:
Hasbro Inc. (NASDAQ:HAS) just released earnings, and the stock shot up from $94 to $103 or 9.5% as a result of navigating the challenging retail landscape and positive commentary on the conference call for future growth avenues. In mid-summer of 2017, Hasbro had witnessed a two-leg sell-off from its 52-week high of $116 to $88 or a 24% slide. The first leg down was from $116 to $95 followed by a second leg down from $95 to $88. These sell-offs were primarily due to retail softness and lowered guidance due to the Toys R Us bankruptcy filing which drove the stock down to $88. Hasbro was faced with a challenging environment and had to lower its guidance through the holiday season. The stock has been trading erratically since mid-summer of 2017 with 10% swings in the stock price. Ostensibly, Hasbro looks to be turning the corner and effectively managing this challenging backdrop and forging ahead with many current and future growth catalysts.
Hasbro has many current and future growth catalysts with major movie franchises, specifically with Marvel and Star Wars. Thor: Ragnarok and Star Wars: The Last Jedi rounded out 2017, posting worldwide box office gross of $854 million and $1.33 billion, respectively. Black Panther posted record-breaking numbers in its debut with $235 million domestic opening at the box office over the Presidents Day weekend. Upcoming Marvel and Star Wars movies include Avengers: Infinity War, Star Wars Han Solo and Ant-Man and The Wasp to highlight a few major films. Taking into account Hasbro's growth, the potential acquisition of Mattel, Q1-Q2 2018 catalysts, trading at a P/E of ~20, boasting a 2.4% dividend yield and initiatives within Hasbro Studios to propel growth further presents a compelling long-term buy.
Major Catalysts Ahead – Marvel, Star Wars, Netflix and More
Hasbro is the exclusive toy developer for many of the multi-billion dollar movie franchises such as Marvel Universe, Star Wars, Disney Princesses, Frozen, Transformers and Jurassic World. The Hasbro-Disney exclusivity rights span Marvel Comics and Star Wars toys which last through 2020 and Hasbro is also the licensed doll maker for the Disney Princess line (Moana and Frozen are included). There's a lot of buzz surrounding the Black Panther movie which has already crushed expectations with a $235 million record-breaking weekend for the Marvel Universe (Figures 1 and 2). Toys, collectibles, books, apparel and more will help drive Hasbro's results via digital and physical footprint channels. Specifically speaking to Disney's release schedule, Thor: Ragnarok and Star Wars: The Last Jedi that rounded out 2017 posting worldwide box office gross of $854 million and $1.33 billion, respectively. The aforementioned Black Panther will be followed by Avengers: Infinity War, Star Wars Han Solo spinoff and Ant-Man and The Wasp coming in the front half of 2018 bodes well for Hasbro's relationship with Disney.

Figure 1 – Blank Panther opened with a record-shattering $238 million opening over the Presidents Day weekend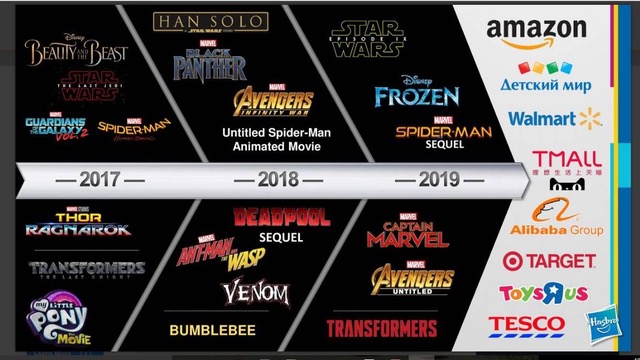 Figure 2 – Hasbro and major movie catalysts through 2019
In addition to the Hasbro-Disney relationship, Hasbro and Netflix (NFLX) have an agreement to create toys and games based on the Super Monsters kids series. Hasbro will launch the line in fall 2018 under its Playskool brand in the U.S., with additional markets to follow in 2019. Hasbro and Netflix partnered last year on toys and games based on Stranger Things. Hasbro has also created a new animated series, Stretch Armstrong which will premiere on Netflix. Hasbro Studios will reimagine the classic Stretch Armstrong into a new teenage superhero animated series into a relatable kids adventure.
Toys R Us Chapter 11 Filing:
Toys R Us sent shock waves through the toy makers after it announced that it was filing for chapter 11 bankruptcy before the biggest holiday season in calendar Q4 of 2017. Hasbro Inc. was hit particularly hard on the news especially after the company lowered guidance as a result. Hasbro is working with Toys R Us through this bankruptcy process and will continue to do business with the struggling retailer. Per CEO Brian Goldner, "It's taken us a month to get a plan together and a new agreement with them which we signed." To mitigate the Toys R Us impact, Hasbro has also built out its retail footprint and direct-to-consumer digital channels. It's expected that Toys R Us will emerge from bankruptcy and hopefully, this will only serve as a temporary headwind for Hasbro. Hasbro is managing this transition and aiming to circumvent any negative impact to revenue via opening more channels to its products and expanding its other business units.
Potential Acquisition of Mattel
Like analysis from Noah Kiedrowski?
Get Our Free Political Plays Newsletter
This free, bi-weekly newsletter from Noah Kiedrowski will give you actionable stock plays based on political action. Spot and profit from the political plays that matter.
Hasbro Inc. reportedly made an offer in late 2017 to acquire Mattel, the maker of Barbie and Hot Wheels. This acquisition would combine the two largest U.S. toy makers to create a massive umbrella of some of the biggest toy franchises. Per Mattel CEO Margo Georgiadis, 62% of the growth in the global toy industry over the next four years is expected to come from emerging markets, which is slated to add $20 billion in sales by 2021 with most of that growth coming from emerging markets. Hasbro and Mattel have been in talks before: In 1996, when Mattel was the would-be acquirer and early last year, with Hasbro as the would-be acquirer.
Mattel has been struggling over the past few years along with its plummeting stock price. Mattel certainly isn't the powerhouse it once was, and a combination of the two companies may provide a great synergy. In a recent interview with Jim Cramer on Mad Money, Hasbro's CEO dodged the potential Mattel acquisition and stated that he wouldn't comment on the potential acquisition. "We, first and foremost, are investing in our business," he told Mad Money host Jim Cramer. "That's been our focus, and I couldn't comment on any M&A speculation."
Hasbro Studios:
Hasbro Studios has made a major push into original content as of late. Hasbro Inc. released its first movie with My Little Pony: The Movie in October of 2017 and is projected to accelerate revenue in the digital and merchandise channels. This is Hasbro's first inroads into this realm, and more content will follow. Recently, Hasbro filed a debt securities shelf registration with an undisclosed offering to grow its future business. "As we seek to grow our business in entertainment, licensing and digital gaming, we will continue to evaluate strategic alliances, acquisitions and investments, like Hasbro Studios, Boulder Media, the Network and Backflip, which may allow us to build out our competencies around the brand blueprint, such as in storytelling and digital, complement our current product offerings, allow us entry into an area which is adjacent or complementary to our toy and game business." These Hasbro initiatives will ensure growth and diversification beyond their core toy business.
Conclusion:
Hasbro Inc. (NASDAQ:HAS) has many growth catalysts on the horizon via Marvel, Star Wars, the potential acquisition of Mattel and 2018 overall movie slate. Hasbro is trading at a P/E of ~20, boasting a 2.4% dividend yield and initiatives within Hasbro Studios will augment further growth. Hasbro presents a compelling buy at current levels subs $100 per share off from its 52-week high of $116. With the stock trading ~20% off its highs with an attractive yield I think this presents a compelling long-term buying opportunity given the growth catalysts. Despite the Toy R Us bankruptcy filing, Hasbro looks to be managing this relationship with further penetration into digital and footprint channels of distribution to mitigate this factor. Additionally, any potential deal between Hasbro and Mattel will be a long-term growth catalyst with added franchises and synergies between the proposed combined enterprises.
Noah Kiedrowski
INO.com Contributor - Biotech
Disclosure: The author holds shares of Hasbro and is long Hasbro Inc. The author has no business relationship with any companies mentioned in this article. He is not a professional financial advisor or tax professional. This article reflects his own opinions. This article is not intended to be a recommendation to buy or sell any stock or ETF mentioned. Kiedrowski is an individual investor who analyzes investment strategies and disseminates analyses. Kiedrowski encourages all investors to conduct their own research and due diligence prior to investing. Please feel free to comment and provide feedback, the author values all responses. The author is the founder of stockoptionsdad.com a venue created to share investing ideas and strategies with an emphasis on options trading.