Hello traders everywhere. After a tumultuous few weeks, the S&P and the NASDAQ are set for their best week since December 2011, while the DOW is on track for its best week since November 2016. This is quite the turnaround after we saw record-breaking drops in the markets just last week, but it seems that most traders just shrugged off the correction and went into buy mode.
All three indexes are now trading back above the 50-day SMA and looking to continue higher as a bullish sentiment enters back into the markets. In fact, with this weeks move up the S&P 500 is only 4% lower from it's all-time of 2872.87. That a pretty incredible and quick recovery from the 11.8% drop, last week at it's lowest point.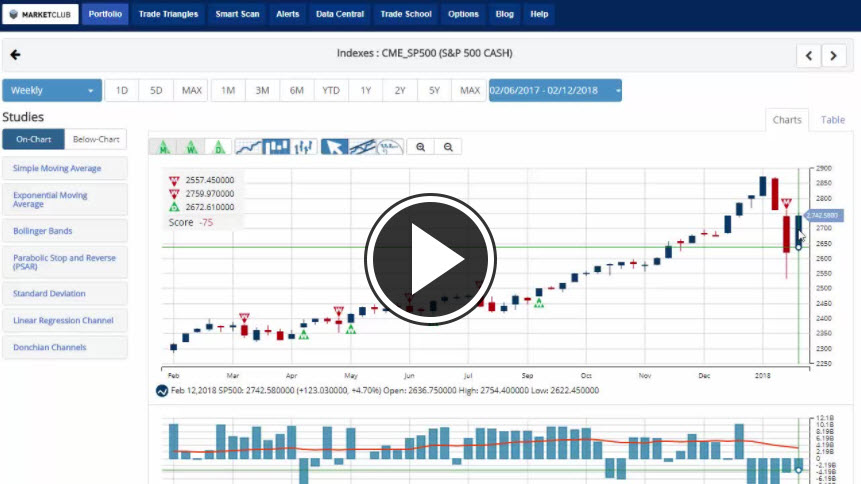 Crude Oil
Crude oil headed for its first weekly gain since last month as the rising stock market eased concern about economic growth. A weakening dollar has boosted the appeal of commodities priced in the U.S. currency. Crude oil has once again made it's way above $60 a barrel and is currently trading above $61. However, it's still below its 50-day SMA.

Gold
Gold has come back into favor as volatility remains in the market. Gold is looking to close out a great week with a 3% gain, it's biggest weekly gain in over a year, and looking to test resistance at the $1370 level, which if broken, would be a new yearly high. Is gold on a march to break the $1400 level next week?
Bitcoin
Bitcoin is posting it's first weekly gain in six weeks gaining almost 17% on the week. It briefly crossed the $10,000 mark, before falling back into a familiar range. It continues to trade above its 200-day SMA, but below it's the 50-day SMA. Bitcoin has remained trapped in this channel since mid-January. It will need to break above the $11,500 level to break out.
Key Levels To Watch Next Week:
S&P 500 (CME:SP500): 2,872.87
Dow (INDEX:DJI): 26,608.90
NASDAQ (NASDAQ:COMP): 7,501.58
Gold (NYMEX:GC.G18.E): 1,364.40
Crude Oil (NYMEX:CL.H18.E): 58.20
U.S. Dollar (NYBOT:DX.H18.E): 90.45
Bitcoin (CME:BRTI): 11,676.74
Every Success,
Jeremy Lutz
INO.com and MarketClub.com