Hello traders everywhere. Volatility is indeed the theme of the week, and you have to wonder if this is the new normal for the foreseeable future. The DOW opened over 300 pts higher only to reverse course to head as much 460 pts or 1.9% lower on the day as we head into the close where the big moves have come in the last hour of trading. The DOW will issue a new red monthly Trade Triangle if it breaks through the 26,616.71 and that would indicate it's heading lower.
Both the S&P 500 and NASDAQ have both issued new red monthly Trade Triangles indicating that they have both entered into a short trading territory. In fact, the S&P 500 is very close to breaking through its support at the 200-day MA at 2539.03. If that's broken, we could see the market head lower. However, we've seen the S&P 500 pass through the 200-day twice in recent memory only to head back higher. Will it be different this time?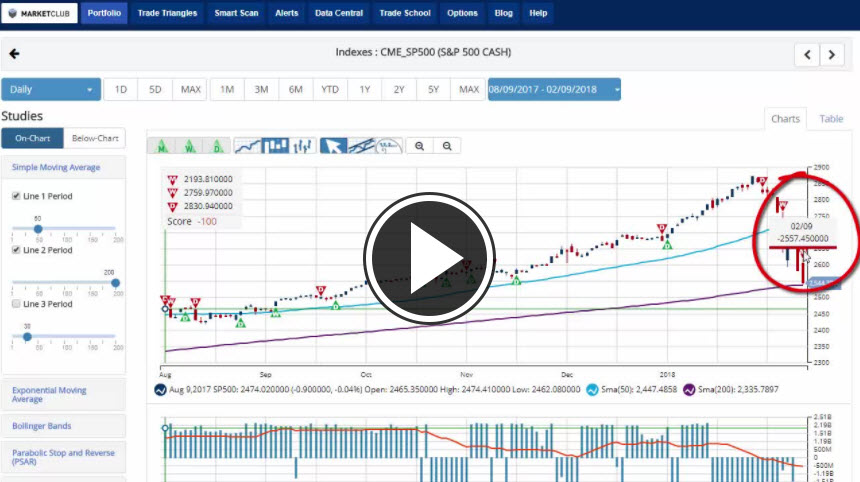 Crude oil is trading below $59 a barrel for the first time in 2018. This move lower has been about the growing U.S. inventory, an ever-increasing rig count, and a rising U.S. Dollar. It was reported today by Baker Hughes that 26 rigs were added this week bringing the total count to 791 active rigs. That's 200 more active rigs than a year ago at the same time.
Bitcoin is up on the day and trading slightly above its 200-day MA which has given the cryptocurrency a level of support at the $7,958.53. Bitcoin seems to have calmed down and moved into a sidelines mode as we end the week.
Key Levels To Watch This Week:
S&P 500 (CME:SP500): 2,872.87
Dow (INDEX:DJI): 26,616.71
NASDAQ (NASDAQ:COMP): 7,501.58
Gold (NYMEX:GC.G18.E): 1,334.80
Crude Oil (NYMEX:CL.H18.E): 64.18
U.S. Dollar (NYBOT:DX.H18.E): 90.50
Bitcoin (CME:BRTI): 11,705.00
Every Success,
Jeremy Lutz
INO.com and MarketClub.com