Hello traders everywhere. The DOW, S&P 500 and NASDAQ are lower on the day and ending the week lower after the 10-year yield rose quickly to 2.84%, a four-year high. This will be the first weekly loss of 2018 and the largest weekly loss in over a year. Is that a signal of things to come in February?
The U.S. economy added 200,000 jobs in January, according to the Bureau of Labor Statistics. Economists had expected growth of 180,000. Wages, meanwhile, rose 0.3% last month, in line with expectations.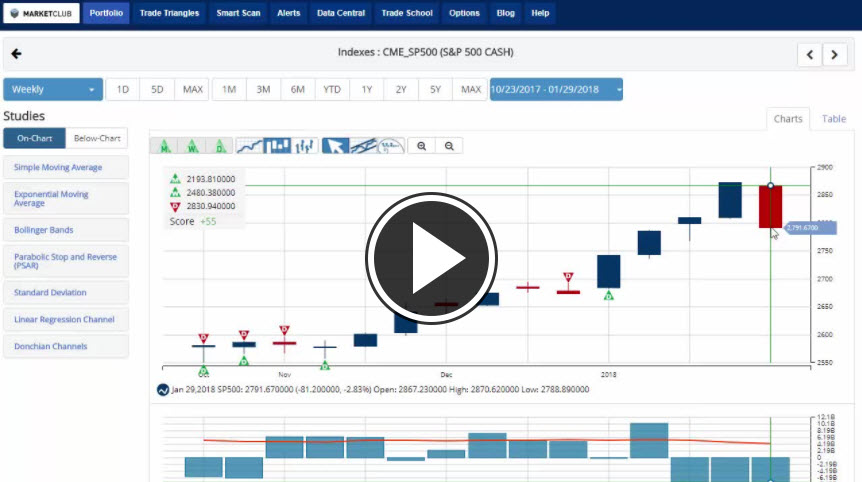 The report sent interest rates higher. The benchmark 10-year yield rose to 2.84% on the back of the report, hitting a four-year high. Investors have been jittery about the recent rise in interest rates, worrying they may be rising too fast. On Thursday, the 30-year yield rose to 3.074%, its highest level since March.
The CBOE Volatility Index (VIX), the most widely followed gauge measure of stock market volatility, rose to 14.48, after having fallen in the previous two sessions.
Key levels to watch next week:
S&P 500 (CME:SP500): 2,768.64 (New - 2,760.80)
Dow (INDEX:DJI): 25,702.99 (New - 25,500.44)
NASDAQ (NASDAQ:COMP): 7,205.93
Gold (NYMEX:GC.G18.E): 1,330.10
Crude Oil (NYMEX:CL.H18.E): 63.67
U.S. Dollar (NYBOT:DX.H18.E): 90.76
Bitcoin (CME:BRTI): 14,166.28
Every Success,
Jeremy Lutz
INO.com and MarketClub.com