Hello traders everywhere. Crude oil climbed to its highest level in six weeks, a 2.6% gain to $65, after inventories in the U.S. dropped for the first time in a month, catching traders many off guard.
Refiners and brokers pulled more than 2.6 million barrels of crude from American storage facilities last week as many analyst and traders were expecting an increase. The withdrawal occurred amid speculation that the U.S. may intensify sanctions against Iran, OPEC's third-largest supplier.
Check our Robert Boselgo's updated 2018 crude oil outlook that we posted this morning.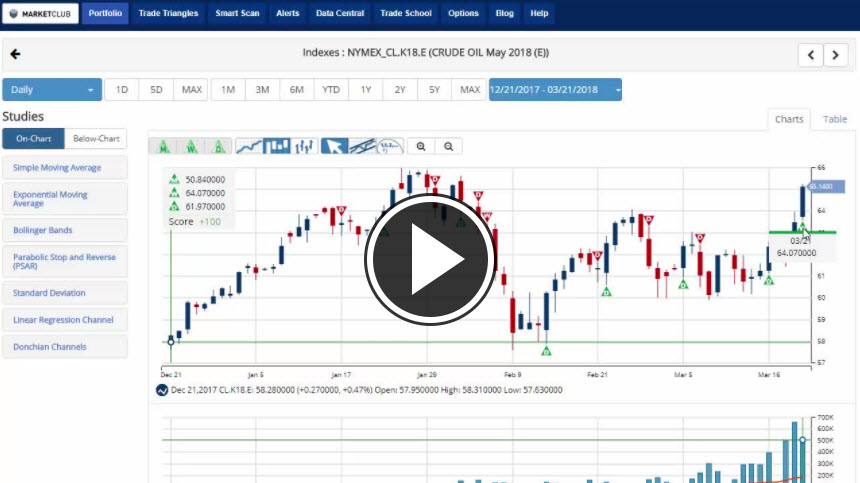 The stock market is anxiously awaiting Fed Chairman Jerome Powell's news conference this afternoon at 2 pm where it is widely expected that he'll announce a rate hike after wrapping up the FOMC's two-day meeting. The expectation is for a 25 basis-point bump in rates.
Investors will also look for clues about the Fed's tightening trajectory for the rest of 2018.
Key Levels To Watch This Week:

S&P 500 (CME:SP500): 2,647.32
Dow (INDEX:DJI): 24,217.76
NASDAQ (NASDAQ:COMP): 7,084.83
Gold (NYMEX:GC.G18.E): 1,306.60
Crude Oil (NYMEX:CL.K18.E): 61.45
U.S. Dollar (NYBOT:DX.M18.E): 89.33
Bitcoin (CME:BRTI): 11,662.32
Every Success,
Jeremy Lutz
INO.com and MarketClub.com