Hello traders everywhere. After opening slightly higher for the day, the stock market has once again retreated into negative territory. The S&P 500 and DOW are both posting losses of over 4% on the week while triggering new red weekly Trade Triangles. The NASDAQ is heading for a 5% loss on the week.
The recent volatility over trade turmoil has turned gold's "good week" into a great week as traders flock to the haven. Gold is up 1.6% on the day and 2.7% on the week, making it the best weekly gain in over a month.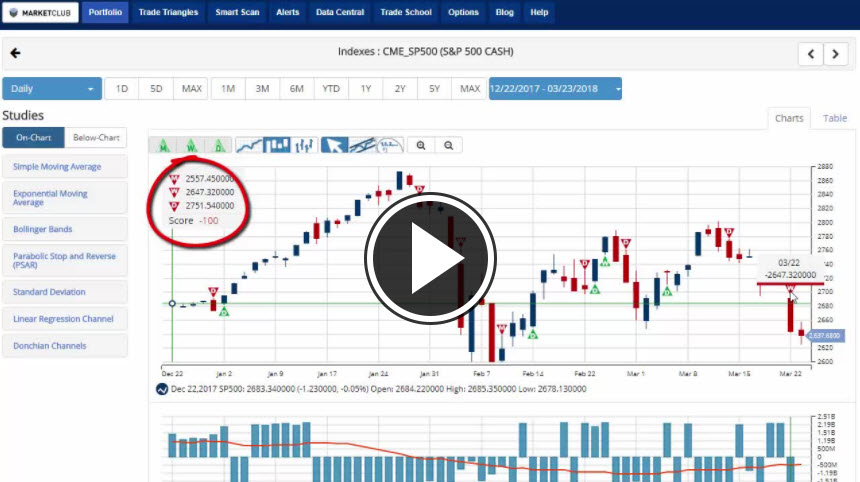 Crude oil is looking to close out a great week with a 4.8% gain, its best weekly gain in ten weeks. Oil has maintained the $60 a barrel level as OPEC and its partners have trimmed inventories, helping crude stockpiles in the U.S. tick below the five-year average mark.
Bitcoin is going to post a weekly gain of 7.8% for the week after two consecutive weeks of losses. However, the push to break its 200-day MA has come under pressure as Bitcoin retreated from that level. The RSI also remains below the 50 level indicating that a bearish move could still be in play. Keep a close eye on Bitcoin as it tries to fight off the potential death cross.
Key Levels To Watch Next Week:

S&P 500 (CME:SP500): 2,801.90
Dow (INDEX:DJI): 23,360.29
NASDAQ (NASDAQ:COMP): 7,096.16
Gold (NYMEX:GC.G18.E): 1,309.50
Crude Oil (NYMEX:CL.K18.E): 63.58
U.S. Dollar (NYBOT:DX.M18.E): 88.91
Bitcoin (CME:BRTI): 11,662.32
Every Success,
Jeremy Lutz
INO.com and MarketClub.com