Analysis originally distributed on March 28, 2018 By: Michael Vodicka of Cannabis Stock Trades
Due to restrictive federal banking regulations, cannabis dispensaries are known to operate with large amounts of cash.
Copious amounts of cash have attracted criminal activity to the industry.
For example, in 2016 a security guard at a Colorado dispensary was killed.
In late summer 2017, a cannabis dispensary in San Fransisco was robbed of $600,000 in cannabis products.
Police say these kind of robberies are becoming more common.
If you poke around on the Internet, you will find hundreds of stories about criminals targeting cannabis dispensaries for cash and product.
Until the US cannabis industry is free from these restrictive federal banking regulations, cannabis dispensaries remain as hot targets for criminals.
While this is a speed bump in the long-term growth potential of the US cannabis industry, it's also creating a significant opportunity for a former military security specialist and his promising security company.
This little-known security company:
Recently reported 85% sales growth in 12 months.
Expanded its portfolio of services.
Moved into high-growth California market.
Helix TCS Inc. (HLIX) is a little-known company from Colorado that is helping the cannabis industry solve its security issues.
Helix offers a portfolio of customized security solutions to the cannabis industry.
Armed and Unarmed Security: Helix employs military, law enforcement, security, and corrections veterans with experience on the front lines of personal and commercial security. Helix puts its security specialists through a week-long training program specifically tailored to the cannabis industry.
Alarm/Threat Response: Helix can provide alarm and threat response forces in a timely manner that many law enforcement agencies can't or won't provide.
Armed Cash Delivery Services: Helix TCS offers transportation services. For example, centralize cash, make deposits, and pay taxes monthly. Helix can also help ancillary service businesses conduct invoice and cash pick-ups on your receivables.
In-House Security Force Training: Helix offers security training courses to cannabis dispensaries and other industry security companies.
Monitoring and Response is its newest service: This is a live stream video feed from a cannabis dispensary into the Helix security center that allows for monitored security coverage 24/7.
Here's how Helix describes this service:
"Our top-notch dispatchers will constantly screen your cameras feeds, watching not just for external security threats, but employee theft and procedures. At the first sign of disturbance or attempted intrusion, the dispatcher will get our field operator to race to your facility to secure the situation. Our Audio Deterrent Solution will give our dispatchers time to delay or even prevent threats before our operator even arrives."
As you can see, this company is no joke. Armed security guards. Former military personnel. Live video feeds with 24/7 monitoring. This is some serious security.
The mastermind is Helix CEO, Zachary Venegas. Mr. Venegas has major experience creating and delivering high-tech security systems across the world.
"Venegas is a West Point graduate who served with distinction as a U. S. Army infantry officer before embarking on an equally distinguished career in finance, Mr. Venegas brings extensive experience investing and operating in frontier markets like the nascent legal cannabis industry. He has established and led cutting-edge firms in the competitive intelligence and security industries in Africa and the Middle East. Since beginning his career at JP Morgan in Geneva, Switzerland, he has lived in 14 different countries, operated in over 70, and speaks Arabic, French, Portuguese, Spanish, and Romanian and has a conversational command of Afrikaans and Swahili."
With Venegas at the helm, Helix is delivering impressive revenue growth.
Third-Quarter Sales up 85% in 12 Months
Third-quarter sales of $1.13 million were up 85% from the same period last year. The jump in revenue was driven by an acquisition last year and growth in growth in its client base.
Shares are Trading near the 52-Week Low
Helix ripped higher after its IPO in late 2016. Since then, shares have been in a steady decline.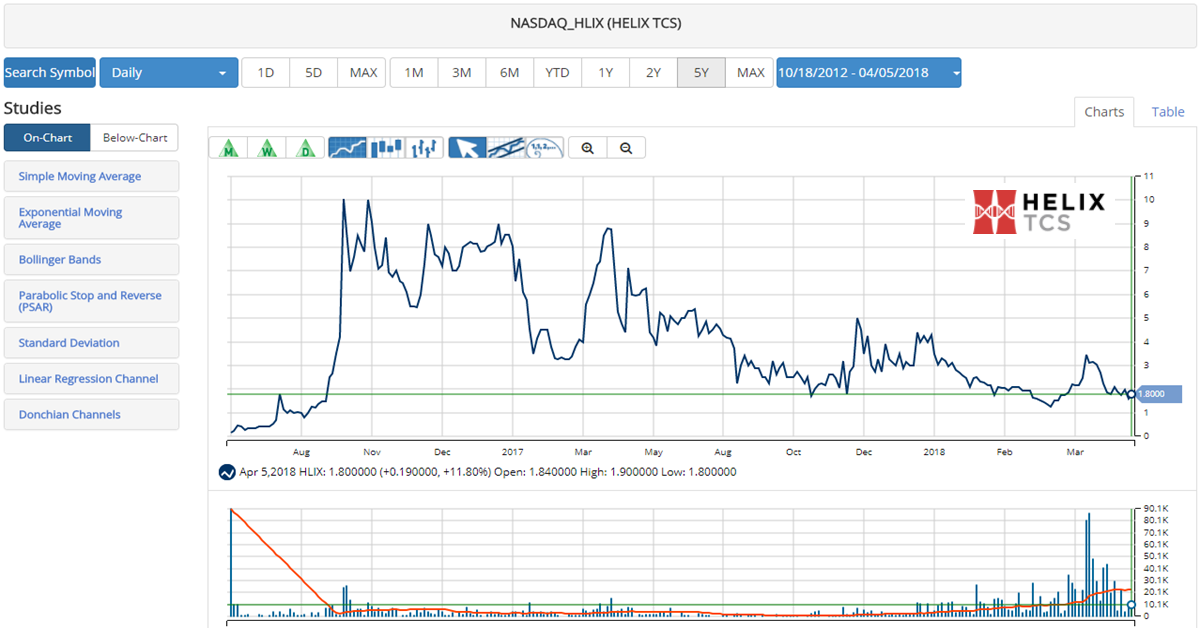 Today, shares are trading near the 52-week low. I don't think this means the company is failing. Current sales growth look solid and I see more growth ahead.
I think the weakness is being driven by broader weakness in the US cannabis sector. Particularity in smaller companies with markets caps of $100 million or less. Larger cannabis companies have been in favor with investors looking to curb risk.
I see support developing around the $1.00 area. And the relative strength index is leaning toward oversold.
If shares can gain some traction, this would be a good area to start a reversal.
Risks to Consider
Even if federal banking restrictions ease up - reducing cash risk - I still see plenty of demand for security services within the cannabis industry. Helix has a diversified portfolio of security offerings to meet those needs.
Action to Take
Helix is pushing into a highly focused cannabis sub-industry. I see strong demand for security services in the cannabis industry. The company has first-mover advantage that puts it into position to be a future industry leader.
Enjoy,
The information contained in this post is for informational and educational purposes only. The trading ideas and stock selections represented on the Cannabis Stock Trades website are not tailored to your individual investment needs. Readers and members are advised to consult with their financial advisor before entering into any trade. Cannabis stocks carry a certain level of risk and we accept no responsibility for any potential losses. All trades, patterns, charts, systems, etc. discussed are for illustrative purposes only and not to be construed as specific advisory recommendations. All ideas and material presented are entirely those of the author and do not necessarily reflect those of the publisher.