Hello traders everywhere. The 10-year U.S. Treasury yield has risen above 3% for the first time since January of 2014, signaling that higher interest rates are ahead for the U.S. bond market as the Federal Reserve is intent on boosting interest rates after keeping them at historically low levels for some time. The yield, the benchmark for everything from U.S. mortgages to dollar bonds in developing nations, climbed as high as 3.0014% in morning trading, before slipping back below 3% to 2.979% in the early afternoon.
As the 10-year yield broke three percent the stock market turned lower with the DOW losing over 1% on the day with the S&P 500 losing .80% and the NASDAQ falling 1.4% as tech is posting heavy losses.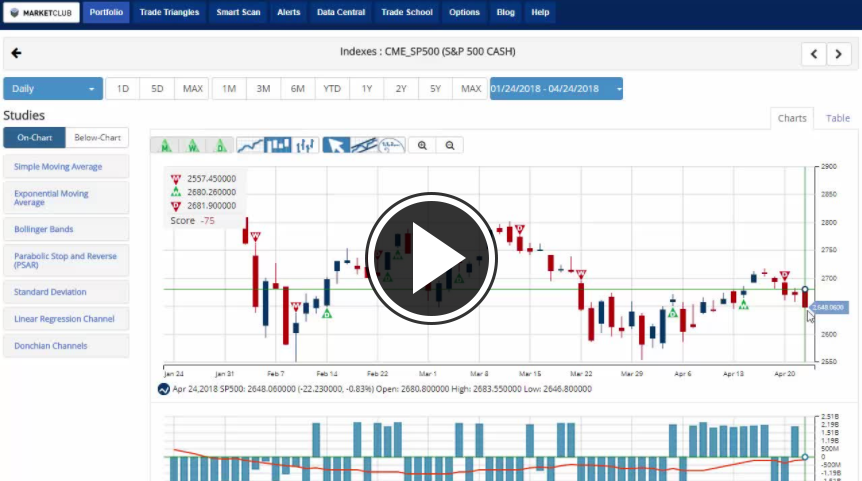 Speaking of tech, the FAANG stocks are all lower on the day with Alphabet leading the way. Alphabet (Google) is posting a loss of over 4.5% on the day after reporting earnings where they made a lot of money, but investors are worried about rising expenses.
The other FAANG members are posting steep losses as well. Facebook declined 3.4%, Amazon 3.8%, Netflix declined 4.2% and Apple is losing just a tad over 1% on the day.
Key Levels To Watch This Week:
S&P 500 (CME:SP500): 2,553.80
Dow (INDEX:DJI): 23,344.52
NASDAQ (NASDAQ:COMP): 6,805.90
Gold (NYMEX:GC.M18.E): 1,337.60
Crude Oil (NYMEX:CL.M18.E): 67.14
U.S. Dollar (NYBOT:DX.M18.E): 88.94
Bitcoin (CME:BRTI): 6,616.14
Every Success,
Jeremy Lutz
INO.com and MarketClub.com