Hello traders everywhere. The U.S. economy posted a 2.3% annual growth rate in the first quarter of 2018 as consumer spending turned in the weakest performance in nearly five years. However, the January-March increase came in better than expected, supporting hopes for a solid rebound for the rest of the year where analysts are looking for growth to surpass 3% once again.
The Commerce Department reported Friday that the gain in the gross domestic product (GDP), the economy's total output of goods and services, followed a 2.9% rise in the fourth quarter of 2017 and gains above 3% in the previous two quarters.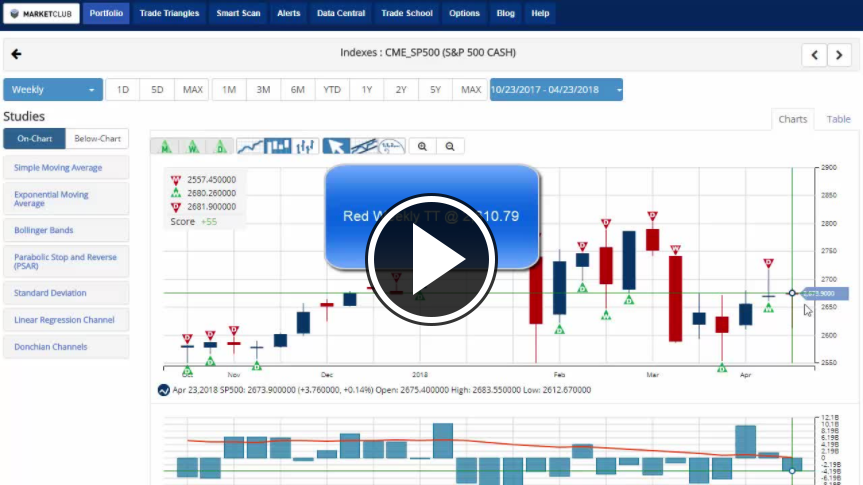 The DOW and NASDAQ are on pace to post a loss for the week overall after having two weeks of weekly gains, while the S&P 500 is sitting relatively unchanged for the week, although it is desperately close to posting a weekly loss as well.
The U.S. dollar is ending a strong week with a gain of 1.4% adding to the gains that it saw last week and looking to break 92.02 which would give us a new green monthly Trade Triangle indicating that the long-term trend is up for the dollar. Earlier in the week, Treasury yields broke above 3% on the week for the first time since 2014. But have since fallen on weak consumer spending data.
Crude oil will post a weekly loss for the first time in two weeks in which it saw an incredible run-up of 10% in two weeks. The recent weakness is due to geopolitical risk centered around Iran and its nuclear program.
Gold continues its downward trajectory this week with a loss if 1.15% adding to the losses that were seen last week. An aggressive move higher by the dollar and easing geopolitical risk is likely the reason for golds' recent weakness.
Bitcoin continues its march higher posting a weekly gain of 5.4%. This marks the third week in a row that the cryptocurrency will add +5% to its bottom line. The key level to watch is 9,870.37, which is the 200-day moving average. Bitcoin had tried to break through this level earlier in the week to only be turned away. If it can break through that level look for bitcoin to head higher.
Key Levels To Watch Next Week:
S&P 500 (CME:SP500): 2,610.79
Dow (INDEX:DJI): 23,823.08
NASDAQ (NASDAQ:COMP): 6,926.97
Gold (NYMEX:GC.M18.E): 1,333.80
Crude Oil (NYMEX:CL.M18.E): 68.78
U.S. Dollar (NYBOT:DX.M18.E): 92.02
Bitcoin (CME:BRTI): 6,616.14
Every Success,
Jeremy Lutz
INO.com and MarketClub.com