Hello traders everywhere. I'm not referring to the hit song "The Beat Goes On" by The Whispers, but the continuing "Trade War" talk that is putting extreme pressure on the stock market. The latest news out Washington D.C. has put the tech sector in the crosshairs, and that can be seen with the S&P 500 shedding -1.7% and NASDAQ -2.6% on the day so far, issuing new red weekly Trade Triangles that I highlighted last week. In fact, the move lower has pushed the DOW down over 400 pts issuing and new red weekly Trade Triangle as well indicating that the downtrend is gaining momentum and strength to the downside.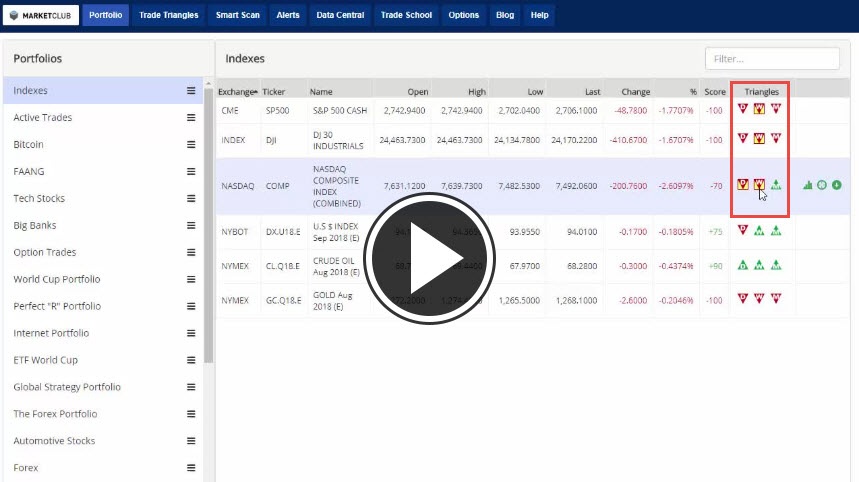 The Wall Street Journal first reported Monday that the President would use the wide-reaching International Emergency Economic Powers Act of 1977 to invoke national security concerns to limit the ability of China-owned or China-backed firms to invest in U.S. companies that are linked to "industrially significant" U.S. technology. The reports also said that the U.S. Treasury and Commerce Departments, as well as the National Security Council, was drafting plans to introduce "enhanced" export controls, that could be unveiled as early as this week, to keep American technology from finding its way to China.
Harley-Davidson is also making news today with shares falling over 4% after the company announced it would shift production of motorcycles headed for Europe to factories outside the U.S. The company sold nearly 40,000 bikes to the European Union, second only to the U.S.
Shares of chipmakers Micron Technology and AMD all fell at least -7%. Boeing, Caterpillar and General Motors, all companies with significant exposure to China, also dropped by -2.8%, -2.9% and -1.5, respectively. Boeing, Caterpillar, and GM were also on track to post substantial monthly losses.
Key Levels To Watch This Week:

S&P 500 (CME:SP500): 2,791.47
Dow (INDEX:DJI): 25,402.83
NASDAQ (NASDAQ:COMP): 7,806.60
Gold (NYMEX:GC.Q18.E): 1,274.40
Crude Oil (NYMEX:CL.QN18.E): 65.71
U.S. Dollar (NYBOT:DX.M18.E): 92.76
Bitcoin (CME:BRTI): 7,753.98
Every Success,
Jeremy Lutz
INO.com and MarketClub.com