Hello traders everywhere. Crude oil outperforms stock market for the week, that's not a statement that you hear very often, but it's true this week as crude is set to have it's biggest weekly gain in over two months posting a +8% gain on the week. The reason, shrinking U.S. stockpiles, supply disruptions from Canada to Libya, tensions between Iran and the U.S. and last week's decision by the Organization of Petroleum Exporting Countries (OPEC) and allied producers to relax supply limits.
As for Iran, if the recent re-imposition of U.S. sanctions succeeds in driving the Islamic Republic's oil exports close to zero, crude could surge to $100 a barrel, according to many analysts.
The Energy Information Administration (EIA) reported on Wednesday that national crude stockpiles fell by 9.89 million barrels last week, the most significant decline since September 2016. Inventories in the storage hub at Cushing, Oklahoma, also declined, while domestic crude exports surged to a record.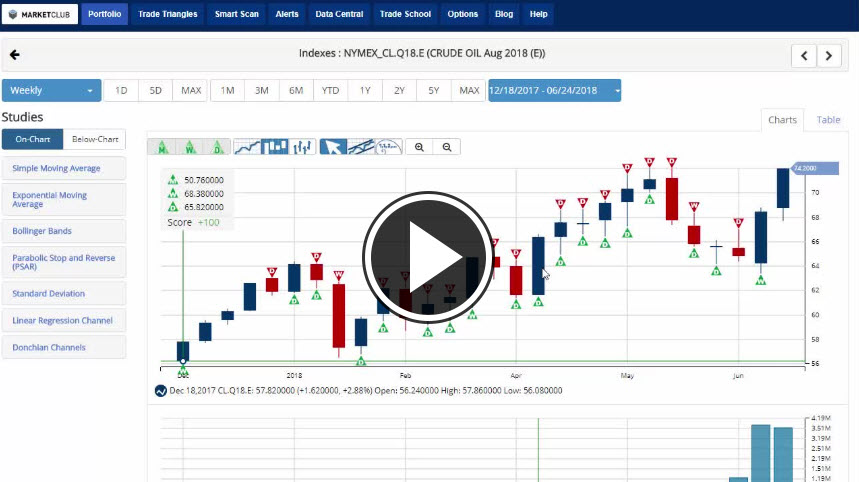 The stock market is closing out the week on a high note with the DOW, S&P 500 and NASDAQ all higher on the day getting a boost from the big banks and Nike, but it's still headed for weekly losses as traders are still skittish over global trade frictions.
The NASDAQ is leading the way lower with a weekly loss of -1.8% followed by the S&P 500 -.7% and the DOW standing at -.60%. The U.S. Dollar is posting a minimal gain of +.08% rebounding from last weeks loss. Gold continues to be under pressure from the bears and is down -1.23% on the week continuing it's weekly loss streak now standing at three weeks. And last, but not least we have Bitcoin which remains to be caught in the bear trap losing another -4.0% on the week and trading below the $6,000 level as we wrap up the week.
Key Levels To Watch Nest Week:

S&P 500 (CME:SP500): 2,791.47
Dow (INDEX:DJI): 25,402.83
NASDAQ (NASDAQ:COMP): 7,806.60
Gold (NYMEX:GC.Q18.E): 1,261.90
Crude Oil (NYMEX:CL.QN18.E): 70.56
U.S. Dollar (NYBOT:DX.M18.E): 92.82
Bitcoin (CME:BRTI): 7,256.11
Every Success,
Jeremy Lutz
INO.com and MarketClub.com