Hello traders everywhere. The dominant topic of the week has been the escalating trade tensions between the U.S. and China after Trump threatened to impose tariffs on $200 billion of Chinese imports and Beijing vowed to retaliate. But the market got a bit of a reprieve on Friday after OPEC agreed to a modest increase in crude oil production at their meeting in Vienna.
That move by OPEC helped the Dow Jones Industrial avoid what was shaping up to be it's worst daily loss (9 days) record in nearly forty years. The decision by OPEC has let the DOW post a daily gain led by the energy stocks, but it's still posting a weekly loss of -1.86% on the week, its second weekly loss of the month. Much like the DOW the S&P 500 is posting a weekly loss of -.70% and the NASDAQ has joined the weekly loss party for the first time in four weeks with a loos -.59% on recent weakness on Friday.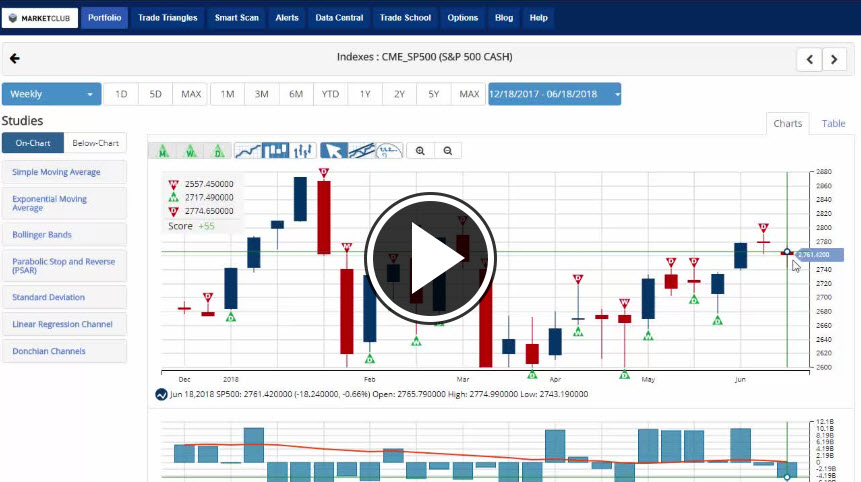 Crude oil has jumped +5.6% on the week, but most of those gains are from today as it jumped +4.4% after news of the OPEC decision. The Organization of the Petroleum Exporting Countries and other top crude producers, meeting in Vienna, agreed to raise output from July by about 1 million barrels per day (bpd) after its de facto leader Saudi Arabia persuaded Iran to cooperate in efforts to reduce the crude price and avoid a supply shortage.
The real increase, however, will be between 600,000 to 800,000 bpd because several countries that recently suffered production declines will struggle to reach full quotas, while other producers may not be able to fill the gap in production.
Key Levels To Watch Next Week:

S&P 500 (CME:SP500): 2,739.51
Dow (INDEX:DJI): 24,406.63
NASDAQ (NASDAQ:COMP): 7,561.20
Gold (NYMEX:GC.Q18.E): 1,278.60
Crude Oil (NYMEX:CL.QN18.E): 64.34
U.S. Dollar (NYBOT:DX.M18.E): 92.76
Bitcoin (CME:BRTI): 7,753.98
Every Success,
Jeremy Lutz
INO.com and MarketClub.com