Hello traders everywhere. The NASDAQ posted yet another record high for the year hitting $7,928.79 after Alphabet Inc. (GOOG) reported stronger-than-forecasted quarterly results sending the stock price to a record high of $1,275.00 at the open before it back off a touch. The outstanding earnings report from Alphabet helped to propel the FAANG stocks higher as well with Facebook (FB) climbing over 2%, Amazon (AMZN) gained 1.6%, Apple rose 0.8%, while Netflix (NFLX) inched up 0.3% before slipping back into negative territory.
The earnings season is off to a strong start, according to data compiled by FactSet. Of the 21.4% of S&P 500 companies that have reported, 80.6% have topped analyst expectations for second-quarter earnings. Meanwhile, 74.1% of those companies have surpassed revenue estimates.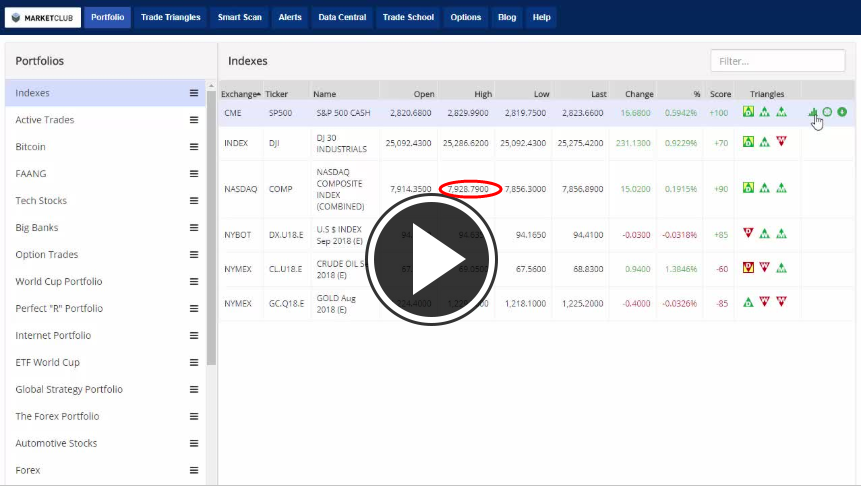 Crude oil is on the rise as U.S. inventories continue to shrink and to get close to setting new three year lows for the product. Oil futures opened trading early in the am hitting a new three day low before reversing course and gaining a high of a little over 1.5% on the day so far. A U.S. government report is forecast to show a 3.1 million-barrel decline in commercial stockpiles when it's released on Wednesday, according to a Bloomberg survey.
China has also come into focus as reports have come out that China will increase infrastructure spending helping to lessen fears that U.S.-China trade tensions will reduce the country's demand for oil. In the past, infrastructure spending from China has jacked up oil demand in that country. This could be an extremely bullish sign for crude oil down the road.
Key Levels To Watch This Week:
S&P 500 (CME:SP500): 2,698.95
Dow (INDEX:DJI): 25,402.83
NASDAQ (NASDAQ:COMP): 7,443.10
Gold (NYMEX:GC.Q18.E): 1,215.30
Crude Oil (NYMEX:CL.UN18.E): 69.31
U.S. Dollar (NYBOT:DX.M18.E): 93.44
Bitcoin (CME:BRTI): 6,075.95 - 9,925.55
Every Success,
Jeremy Lutz
INO.com and MarketClub.com