Hello traders everywhere. Solid earnings results for the likes of Microsoft Corp. (MSFT) and Honeywell International Inc. (HON) have helped to offset the latest round of tough trade war talk from President Trump.
President Donald Trump said he's "ready to go" with tariffs on $500 billion of Chinese imports, saying the U.S. has been taken advantage of for too long.
"I'm not doing this for politics. I'm doing this to do the right thing for our country," Trump said in a CNBC interview with Joe Kernen on "Squawk Box" that aired Friday. "We are being taken advantage of and I don't like it."
Microsoft Corp. (MSFT) was rising 2% on Friday after the software giant posted better-than-expected fiscal fourth-quarter earnings on the surging strength of its cloud computing business. Microsoft reported adjusted earnings of $1.13 a share in the quarter, topping forecasts of $1.07. Revenue in the period rose 17.5% to $30.09 billion and also beat analysts' estimates. Driving the earnings beat and the revenue jump in the fourth quarter was a 93% increase in sales for Microsoft's flagship Azure clouding computing business, and solid growth for its productivity and business processes unit, which includes its Office 365 suite, where sales rose 13.1% to $9.67 billion.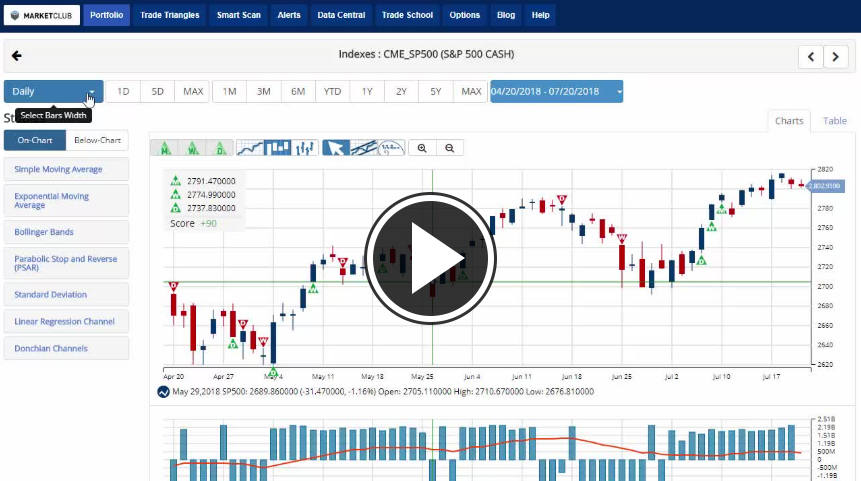 Honeywell International Inc. (HON) reported better-than-expected results for second-quarter 2018. Adjusted earnings in the reported quarter came in at $2.12 per share, outpacing the analysts' estimate of $2.01. The bottom line also improved 18% year over year. This upside primarily stemmed from the company's stellar operational performance during the quarter. Revenues of $10,919 million in the second quarter surpassed the Zacks Consensus Estimate of $10,776 million. The top line also grew 8% year over year. Organic revenues improved 6% on an annualized basis.
Key Levels To Watch Next Week:
S&P 500 (CME:SP500): 2,698.95
Dow (INDEX:DJI): 25,402.83
NASDAQ (NASDAQ:COMP): 7,443.10
Gold (NYMEX:GC.Q18.E): 1,245.80
Crude Oil (NYMEX:CL.UN18.E): 66.29
U.S. Dollar (NYBOT:DX.M18.E): 93.44
Bitcoin (CME:BRTI): 6,075.95
Every Success,
Jeremy Lutz
INO.com and MarketClub.com