Hello traders everywhere. After a strong finish to last weeks trading the stock market once again opened within striking distance of the S&P 500's all-time high set on on Jan. 26 of this year. In fact, it was sitting just 15 pts shy of that mark in early trading but has since backed off a touch as we enter afternoon trading. However, that's proven to be a tough level to crack.
The reason for last week's mid-week reversal was due to reports of planned trade talks between the United States, and China raised hopes of a potential resolution in the ongoing trade war. Lower-level trade talks will be held on Aug. 22 and 23, according to the Wall Street Journal, just as new U.S. tariffs on $16 billion of Chinese goods take effect, along with Beijing's retaliatory tariffs on an equal amount of U.S. goods.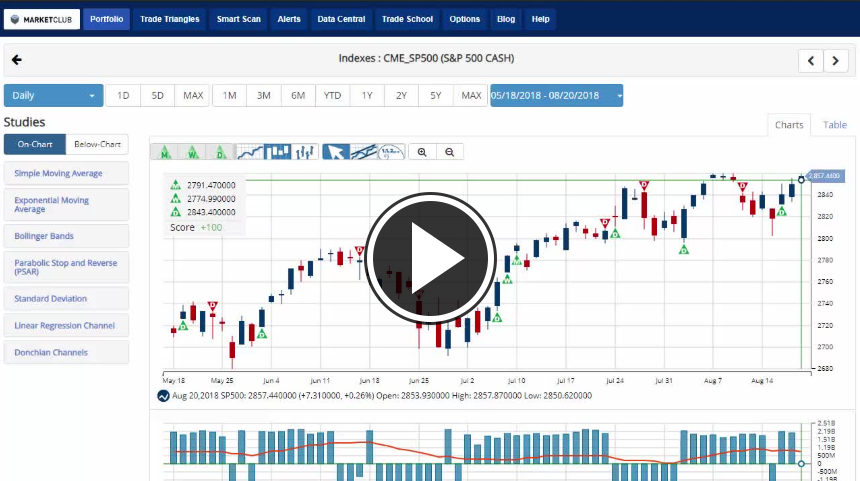 This week could also be record-setting for the U.S. stocks market for another reason. On Wednesday, the bull market turns 3,453 days old. Barring a 20% decline between now and then, some investors believe it would mark the most extended bull market in history while other investors think that the S&P 500 needs to make a new high by Wednesday for it to become the longest bull market in history. No matter what, the S&P 500 is up over 300% in that time. Quite unbelievable!
Key Events Coming Up This Week:
Companies announcing earnings include Alibaba, Royal Bank of Canada, Lowe's, Target, BHP Billiton, Qantas, Ping An and China's Bank of Communications.
Central bankers gather at the Kansas City Fed's annual Jackson Hole symposium, where Federal Reserve Chairman Jerome Powell speaks Friday.
The Fed releases the minutes from latest FOMC meeting on Wednesday.
Key Levels To Watch Next Week:
S&P 500 (CME:SP500): 2,796.34
Dow (INDEX:DJI): 24,988.31
NASDAQ (NASDAQ:COMP): 7,933.31
Gold (NYMEX:GC.Z18.E): 1,225.60
Crude Oil (NYMEX:CL.V18.E): 69.37
U.S. Dollar (NYBOT:DX.U18.E): 93.87
Bitcoin (CME:BRTI): 8,476.34
Every Success,
Jeremy Lutz
INO.com and MarketClub.com